How China's ZT-180 Drones Could Change Russia's Fortunes in Ukraine War
Chinese-made "kamikaze" drones could be used to target the Ukrainian capital of Kyiv and other major civilian hubs, according to a drone expert.
On February 23, Der Spiegel reported that Chinese company Xi'an Bingo Intelligent Aviation Technology was in talks with Russia's military over the "mass production of kamikaze drones."
The outlet said the Russian defense ministry could receive 100 units of the prototype ZT-180 drones by April this year, reported to be capable of carrying a warhead of up to 50 kilograms. However, a spokesperson for the company denied the reports, telling VICE World News that it "has no commercial contact with Russia."
Secretary of State Antony Blinken previously said on February 20 that Beijing could provide "lethal support" to Moscow, which was strongly denied by Chinese officials.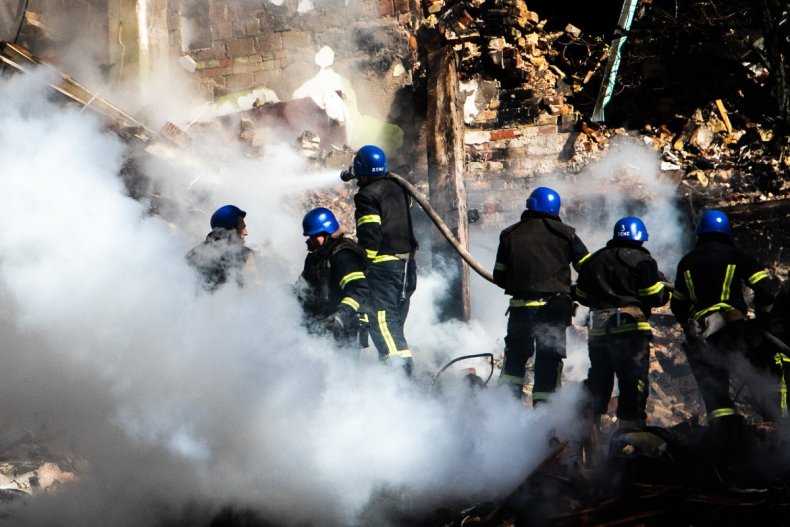 Although few details are confirmed about the ZT-180 drones, Western analysts do know that the single-use loitering munitions would be "sent to hit key targets, with as much precision as possible, to ensure the destruction of those targets," according to James Rogers, a war historian and NATO adviser specializing in drones.
With a range thought to be similar to Iranian-made Shahed-136 drones, the unmanned aerial vehicles could be deployed from within Russian territory or from neighboring Belarus "to quite comfortably hit key targets within Ukraine, including Kyiv," Rogers argued.
These types of drone systems can be used against civilian centers like Ukraine's capital as well as battlefield targets because they are very "versatile," he told Newsweek.
This appears more likely when Russian President Vladimir Putin "wants to send a very powerful political message" through what Rogers called "vengeance attacks." If Russia does receive deliveries of the ZT-180, the Kremlin could deploy the new prototype drones to turn up the political pressure in the coming months, he continued.
But reports of Russia possibly receiving the as-yet largely unseen drones could also indicate that Moscow believes its current strategy to be successful, Rogers said.
Throughout the war, Russian forces have used Iranian-made Shahed-131 and -136 drones to zero in on military and civilian targets in Ukraine. The Kremlin likely deemed the destruction of Ukraine's critical energy infrastructure "a successful strategy" over the winter months, Rogers argued, which Kyiv's Western backers have "found it hard to respond to."
"We know that, no matter the air defenses that have been put in place so far, these drones appear to keep getting through," Rogers said. "And so for the Russians, I think it's an indication of them wanting to double down on their existing strategy."
Uzi Rubin, a senior researcher at the Jerusalem Institute for Strategy and Security and the Begin Sadat Center for Strategic Studies, told Newsweek the Chinese-made drones will likely be used much in the same way as the Shahed-131 and -136.
The reports of Russia receiving the ZT-180 drones could also indicate that Moscow's forces "need more of such weapons than the Iranians are willing or able to supply," he added.
On Saturday, the British defense ministry said Russia had not deployed Shahed-136 drones in Ukraine since February 15, suggesting it had "run down its current stock" of the unmanned aerial vehicles.
Moscow will "likely seek a resupply" of the drones, which Tehran denies providing during the war, although Iran's leadership said in November that the regime had sent a "small number" of drones to Russia "months before the Ukraine war."
On Sunday, National Security Advisor Jake Sullivan said if Beijing provides lethal aid to Moscow, it will come at a "real cost" for China.
"Beijing will have to make its own decisions about how it proceeds, whether it provides military assistance - but if it goes down that road it will come at real costs to China," he told CNN.
CIA Director William Burns said the U.S. was "confident that the Chinese leadership is considering the provision of lethal equipment." In an interview that aired on Sunday, he stressed that intelligence had not shown a "final decision" from Beijing, adding that "we don't see evidence of actual shipments of lethal equipment."
On Friday, President Joe Biden told ABC News that the U.S. "would respond," should Beijing provide lethal aid to Moscow, although he said he did not "anticipate a major initiative on the part of China providing weaponry to Russia."
On Monday, Chinese foreign ministry spokesperson Mao Ning said Washington had "been pouring weapons into one side of the conflict, thus prolonging the fight and making peace elusive, while spreading disinformation that China would supply weapons to Russia and sanctioning Chinese companies under that pretext."
"This is out-and-out hegemonism and double standard, and absolute hypocrisy," she added, according to a Beijing read-out of the press briefing.
"On the Ukraine issue, China has been actively promoting peace talks and the political settlement of the crisis," she added. "The U.S. is in no position to point fingers at China-Russia relations. We do not accept coercion or pressure from the U.S."
On February 23, foreign ministry spokesperson Wang Wenbin said the U.S. is the "biggest source of weaponry for the battlefield in Ukraine, yet it has kept smearing China by falsely claiming that China might offer weapons to Russia."
Newsweek has contacted the Russian and Chinese foreign ministries for comment.