How China's Communists Came to Lead World's Largest Army, Soon Economy, in 100 Years
In the span of one fateful century, a brief stretch for one of the oldest civilizations on the planet, the Chinese Communist Party has evolved from an intellectual guerilla movement of a few doven revolutionaries to a 95-million-strong titan that commands the world's largest standing army and soon-to-be top economy.
As the 100-year milestone passes Thursday, the Chinese Communist Party celebrates the arduous road to success, while reflecting on substantial challenges both past and present, while looking ahead to a future that offers cause for both excitement and anxiety.
Uncertainty abounds as the United States and the Western world challenge Beijing to an extent not seen since the demise of Mao Zedong, the revolutionary founder of the People's Republic.
Mao's eventual successor, Deng Xiaoping, who came to power at roughly the halfway mark in the history of the People's Republic, recalibrated China's hardline approach to one that embraced globalism and a market economy that would eventually enrich the country.
Today, Chinese President Xi Jinping has defined his own take on "socialism with Chinese characteristics" as he presided over the centennial in a testament to the country's achievements and an acknowledgment of its challenges.
"In contrast to Americans, Chinese experienced the 20th century as tumultuous and harrowing," Susan A. Thornton, a retired U.S. diplomat with over three decades of experience at the U.S. State Department in Eurasia and East Asia, told Newsweek.
"Part of that tumult was, of course, owing to CCP policies, and is captured for Chinese these days in the 70% right-30% wrong formula Deng Xiaoping attributed to Mao's leadership," Thornton said. "By the measure of most (not all—see Tibetans, Uighurs) of China's 1.4 billion citizens, though, the CCP's accomplishments are obvious and worthy of marking."
Thornton, who is a fellow at Yale Law School's Paul Tsai China Center and the Brooking Institution's John L. Thornton China Center, identified the driving factors behind China's rise as "economic growth, internal stability and consensus behind national priorities, growing international influence and growing technological and military prowess."
She also attributed this ascendance to "a ruthless prioritization and focus, reforms to free up extensive capital and labor reserves amid market forces, subordination of other goals enabled by political repression, willingness to engage with and learn from others, leapfrog and corner-cutting advantages, hard work and sacrifice in the present for the sake of the future."
The prospects of this future are by no means guaranteed, however. And as the pomp and circumstance of the centennial drew to a close, that uncertainty is likely the focus of Xi and his top cadre.
"Not all these factors can be counted on to continue, and China's society, economy and security environment are all becoming more complicated and difficult to manage," Thornton said. "Whether the Chinese Communist Party can adapt fast enough to 'keep up with the times' is the question that keeps Chinese leaders up at night."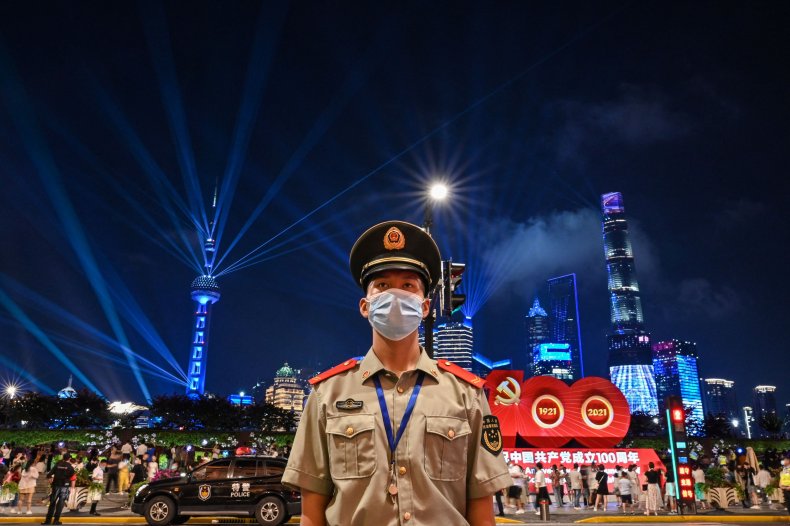 While China has navigated the COVID-19 pandemic with unrivaled success and its growing GDP continues to narrow the gap with the U.S., the accompanying downturn in relations with Washington and other major powers has aggravated key areas of contention such as allegations of mass human rights violations and territorial disputes.
Xi issued a staunch message Thursday, however, to those seeking to coerce changes in China's policies. He recalled China's imperial past and the ravages of colonial powers in its latter days, and warned no such attempts would be tolerated today.
"We will never allow any foreign force to bully, oppress, or subjugate us," Xi said. "Anyone who would attempt to do so will find themselves on a collision course with a great wall of steel forged by over 1.4 billion Chinese people."
The original Mandarin-language version warned aggressors would "face broken heads and bloodshed" should they take on the nation and its people.
To ensure China's physical defense, Xi has set out in recent years to reform the People's Liberation Army into a "world-class" military by the middle of this century. Mass investments have enabled China to pull ahead of the U.S. in certain fields such as naval ship-building and defensive and offensive missile systems, developments that the Pentagon is keenly watching as it sets out to maintain its sizable lead in military might.
Xi reiterated the necessity of accelerating China's military modernization during his centenary remarks delivered Thursday at Tiananmen Square. He called the People's Liberation Army "a strong pillar for safeguarding our socialist country and preserving national dignity, and a powerful force for protecting peace in our region and beyond."
But Thornton said there was far more to the conversation than military power.
"I wouldn't say that the challenge China poses to the U.S. is mainly a military one," Thornton said. "PLA modernization was actually suppressed in China for a long time, as priority went to economic development. National identity is a key driver of China's rise, and it is also a key aspect of the U.S. response to China's rise."
The issue of national identity in China has become particularly controversial, as Washington and a growing chorus of its allies have accused Beijing of "genocide" in its establishment of vocational education and training centers to detain up to a million Uighur Muslims residing in the officially atheist state.
U.S. officials have likened centers to concentration camps.
Chinese officials have fiercely denied the allegations, and have accused the U.S. of attempting to foster separatist disunity with the People's Republic. They have also attempted to highlight race-based issues and other societal woes plaguing the U.S.
But even as Washington and Beijing appear as far apart as ever, Thornton felt there was a need to find ways to bridge the gap for the sake of the international community in which both countries play leading roles.
"As for coexistence, I don't think we have much choice," she said. "The question is how to do it in a way that leads to a more, not less, stable world."
The perils of the alternative know no bounds, and voices from both the U.S. and China have highlighted the risks of the two countries failing to find common ground. Beijing has particularly emphasized the need for cooperation in a bilateral relationship Washington has acknowledged as the most important of its kind.
"China is committed to developing a relationship with the U.S. featuring non-conflict, non-confrontation, mutual respect and win-win cooperation," Liu Pengyu, spokesperson for the Chinese embassy in Washington, told Newsweek.
This also means the emergence of red lines, such as those China has drawn over affairs it deems to be off-limits to foreign analysis, including in Tibet and Xinjiang provinces, in the semi-autonomous region of Hong Kong and, perhaps most problematically in the eyes of the U.S., in self-ruling Taiwan island and the greater South China Sea.
Xi reiterated his nation's perceived obligations to Hong Kong and Taiwan, specifically, in his remarks Thursday, and Liu echoed such commitments to ensuring China's defense.
"China will continue to firmly safeguard its national sovereignty, security and development interests," Liu said.
He also expressed hope that the U.S. "will view China and China-U.S. relations in an objective and rational manner, keep up with the trend of the times, and replace its obsolete zero-sum thinking with rational and pragmatic policy towards China."
Liu referred to discussions between Xi and President Joe Biden, who have recognized the need to maintain a working relationship despite their diverging views on major topics.
"Building on the telephone conversation between the two heads of state," Liu said "China and the U.S. should work together to focus on cooperation, manage differences, bring China-U.S. relations back on the right track, and deliver greater benefit to the people of our two countries and the world."
In their typical fashion, Chinese officials have presented a rosy image, a story of a country whose rise since its civil war has been largely peaceful in spite of the fires burning across the globe for the past seven decades.
"China is and will always be a builder of world peace, a contributor to global development, and an upholder of international order," Liu said. "China's development, bringing opportunities instead of challenges to the international community, will be a boon for the world peace."
But Lui made certain to credit China's unique brand of socialism for the country's progress.
"Over the past one hundred years, the CPC has rallied and led the Chinese people to embark on the path of socialism with Chinese characteristics that suits China and has strong support from the Chinese people," Liu said. "Such endeavors have benefited not only the Chinese people, but also the whole world."
The metrics offered include the lifting of 700 million people out of poverty, or roughly 70% of global poverty reduction, and a rapidly-rising GDP that has accounted for nearly 30% of global growth on an annual average.
Both accomplishments were largely made possible by Deng's reversal of Mao's Cultural Revolution-era policies. Xi referenced both men, along with others deemed critical to China's modern history, in his centenary address, and issued a call to "deepen reform and opening up across the board."
Xi said the development of "socialism with Chinese characteristics" has "enabled China to transform itself from a highly centralized planned economy to a socialist market economy brimming with vitality, and from a country that was largely isolated to one that is open to the outside world across the board."
"It also enabled China to achieve the historic leap from a country with relatively backward productive forces to the world's second largest economy," Xi said, "and to make the historic transformation of raising the living standards of its people from bare subsistence to an overall level of moderate prosperity, and then ultimately to moderate prosperity in all respects."
Shouyue Zhang, a historian of U.S.-China relations studying at Indiana University Bloomington, interpreted this as meaning that Xi would continue on course first chartered under Deng.
"One of the driving factors behind China's economic prosperity is relocating the role of local governments in the market economy," Zhang told Newsweek. "Deng Xiaoping's Reformation and Openness empowered the local governments and motivated competition among provinces and cities, which balanced national collaboration and local initiatives. Deng's Southern Tour in 1992 gave confidence to local officials' experiments. In this way, China could proceed with both national projects like five-year plans and pioneering cities' experiments like Shenzhen and Coastal Open Cities."
Such a model, Zhang felt, was "adaptable" under Xi.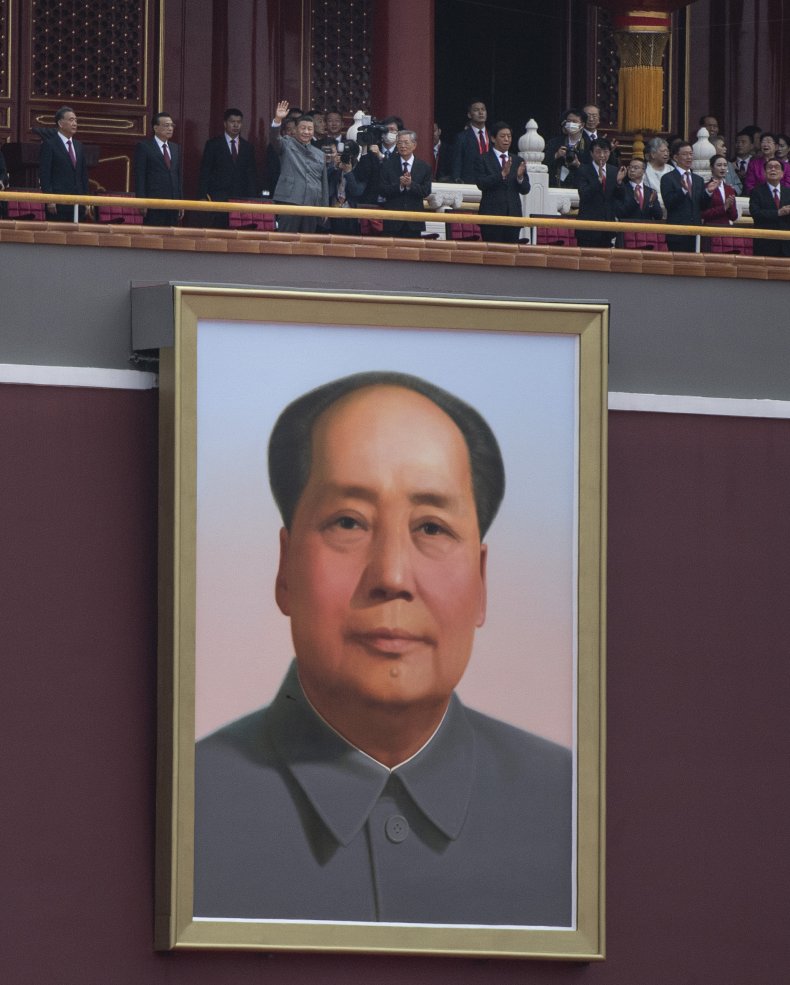 This adaptability has proven critical to not only China's victories but the survival of the Chinese Communist Party itself.
Neysun Mahboubi, a research scholar and law school lecturer who is one of the project leaders for the University of Pennsylvania's Project on the Future of U.S.-China Relations, attributed the present position of the Chinese Communist Party to "a mix of general adaptability and pragmatism, punctuated by occasional targeted ruthlessness."
Despite maintaining a hard line on ideology, flexibility has proven central to the success of the Chinese model.
"Fueling China's economic rise over the past 40 years have been many complex factors which do not all fit comfortably within the state-led capitalist model which today is put forward in both official Chinese and conventional discourse as the predominant variable," Mahboubi told Newsweek.
"Certainly, the explosion of economic growth in the 1980s had much more to do with the Chinese state empowering grassroots development (and getting out of the way)," he said, "than with massive subsidies to large state-owned enterprises."
However, some underlying threats to China's continued economic growth do exist. A declining workforce in the world's most populous nation has emerged as a result of the country's rapid development and childbirth control policies implemented at a time when China had the opposite problem.
In this area as well, China has demonstrated a capacity to change with the times, as Xi recently shifted the country's two-child policy to a three child-policy. Only time will tell if it produces the desired results.
Speaking in Beijing, Xi promised a path forward that would respect international principles while ensuring even greater prosperity for the Chinese people.
In Washington, Liu said China's achievements have benefited the world, and will continue to do so.
"As the world's largest developing country and a permanent member of the UN Security Council, China will as always honor the purposes and principles of the U.N. Charter, and vigorously promote the spirit and approach of multilateralism," Liu said. "It will continue to make tireless efforts and important contributions to development and progress of mankind, so as to build a community of a shared future for mankind."
Matthew Geraci, research associate and program officer with the Institute for China-America Studies, said that despite the degree of skepticism that exists outside the People's Republic, statements from Chinese officials warrant the attention of outside observers, especially in the West.
"Although economic statistics and grand statements from Chinese government sources are frequently thought to be highly embellished or inaccurate altogether by Western economists, it cannot be denied that extreme poverty has been drastically diminished across the country in the last several decades," Geraci told Newsweek. "This, of course, did not come without its own costs, such as rapidly increasing wealth inequality and environmental devastation."
"But, no matter what metrics are used," he added, "this is an impressive feat, and the people of China generally feel gratitude towards the Party for this achievement."
He also credited China's success to its economic opening up in the 1980s, and the luring in of foreign investment capitalizing on the country's massive, cheap labor force. Geraci saw education as a major factor as well, an area of investment that has helped to drive domestic research and development in the service of transitioning focus from "the world's factory" model to one that prioritizes producing more advanced technologies.
This too has worsened frictions with the U.S. and its allies.
"Further, as China has indicated a determination to compete with the West in the realm of high technology," Geraci said, "it will have to learn to better navigate geopolitical tensions that this shift has brought upon it."
A growing tendency toward hawkishness in both Beijing and Washington has threatened what had long been a virtual consensus on China's peaceful rise and the prospects of working together.
The State Department did not respond to Newsweek's request for comment and spokesperson Ned Price simply told reporters Thursday that the administration "was aware" of the centennial event and Xi's speech, and that he felt "this administration has, over the course of several months, been very clear about our impressions of the CCP in general."
Biden inherited severely soured ties with China from former President Donald Trump, and has outlined areas of anticipated cooperation, competition as well as confrontation with the People's Republic. The third choice is a relatively new addition to the mainstream thinking in Washington, but it's gaining bipartisan ground given the intensification of the geopolitical rivalry between the two nations.
"Confrontation takes many shapes," Geraci said. "In many respects, a confrontation between Washington and Beijing is inevitable, as there would naturally be growing pains in such a massive and multifaceted relationship."
Both Xi and Biden, Geraci noted, have prioritized their domestic agendas, and would likely continue to do so for the foreseeable future.
"Just as Xi and the CPC promote nationalistic ideas to reinforce unity and rally support," Geraci said, "the Biden administration has 'played the China card' as a means to push forward domestic legislation such as its infrastructure bill that would otherwise likely not rally enough bipartisan support."
But here, he warned that further breakdown in communication could lead to crisis.
"Both sides should recognize unintended consequences of these actions which could jeopardize areas where dialogue and communication are urgently needed between China and the U.S., such as mil-to-mil [military to military] communication and trade negotiations," he said.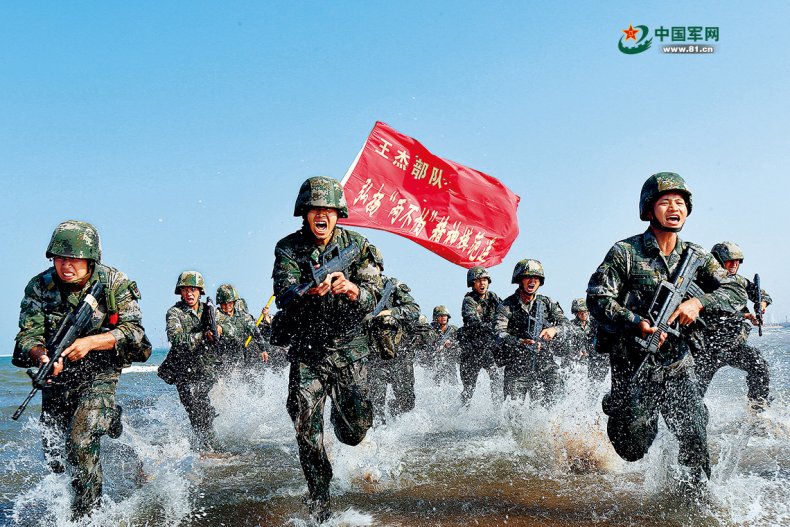 Ye Min, an associate professor at Boston University's Pardee School of Global Studies, agreed that "recent events in the U.S and China have made confrontation inevitable."
"I anticipate intense competition in a wide range of issues, including the digital race, infrastructure diplomacy, and global governance," Ye told Newsweek. "However, there are a few stabilizers. First, the hotspots with the potential to lead wars are few. The most prominent is the Taiwan Strait. Second, middle classes are abundant and offer huge potential for business, exchange, and collaboration."
And while she emphasized the importance that people-to-people exchanges play in promoting understanding between the U.S. and China, improving on this front may mean having to come to terms with the premier role played by the Chinese Communist Party in the nation.
"In today's China," Ye said, "the CCP cannot be separated from China (the country) or Chinese people; they constitute and respond to each other."
Ultimately, the Chinese Communist Party's power, she said, lies in "the CCP membership of ruling elites in different apparatuses of the state and core economic entities," as well as "information and education that reflect preferences of the ruling elites."
She said that despite its powerful position, the Chinese Communist Party's rule does face tests.
Ye said that the "CCP is widely supported in China," but "it has experienced and is continuing to experience severe challenges domestically," and "its rule is far more complicated than domination and control."
Thursday's centenary symbolized not only to the party's lasting power, however, but also its capacity to self-correct and thrive even in the face of adversity. She boiled its legitimacy down to "two paradoxical aspects."
"First, the party organization, and the mechanisms it controls, excel at mobilizing the Chinese state and society to address significant crises—public health, natural disasters, economic collapse, and through such episodic crisis management, its legitimacy and popular support get revived after periods of disinfection," Ye said. "Second, the Party's rule is highly fragmented and decentralized. Day to day, it rarely controls bureaucratic, economic, and societal activities, as long as they are not in sensitive, subversive, and regime-threatening domains."
In an era of what the U.S. has deemed "great power competition," threats emanate from abroad as well. A newfound effort to slow China's economic strides has global implications, whether it succeeds or not.
"China's economic rise was rooted in two forces: one, globalized market, production, and technology which China has tapped on and contributed to in the past four decades," Ye said. "Two, local dynamism in China, where local governments, entrepreneurs, and individuals are mobilized to focus on economic performance."
She argued that, while "the U.S and Western allies are working to undermine the first driver of China's growth, it is likely to take a long time to unravel globalization, and it hurts China as well as the West."
"Thus, whether China can rival or surpass the U.S in GDP and technology is shaped by its own domestic trends," Ye said, "whether it is still able to allow local dynamism to flourish."
Ultimately, she argued China's future may be more up to China itself than its rivals.
"In the end, whether China can emerge as a superpower equivalent or surpassing the U.S is decided by domestic development, not the U.S opposition," Ye said. "China's behavior, however, can shape how it is viewed in the U.S and the world."