How China's New Data Law Disrupts the Already Congested Supply Chain Ahead of the Holidays
China implemented a new data privacy law in early November, and it hasn't taken long for it to impact the global supply chain. As a result of the new law, some companies in China have stopped providing data that international shippers need in order to navigate supply chains, Reuters reported Wednesday.
The law, known as China's Personal Information Protection Law, blocks foreign companies from accessing the data needed for shippers to gain an understanding of cargo volumes so that they may plan their routes in a manner that allows them to avoid congested ports and reduce the overall amount of time ships spend waiting for cargo.
Under the new law, the Chinese government has a greater ability to regulate how domestic and foreign entities gather and distribute Chinese data. Reuters reported while the law does not specifically address shipping companies, Chinese companies are operating under its guidelines nonetheless.
Representatives from MarineTraffic, which provides information on the movements of ships globally, told Reuters that has been impacted by the law. With much of the world's manufactured goods coming from China, Anastassis Touros, a leader at MarineTraffic who oversees the Automatic Identification System (AIS) that pinpoints the locations of ships, stressed the effects of this law could be wide-reaching.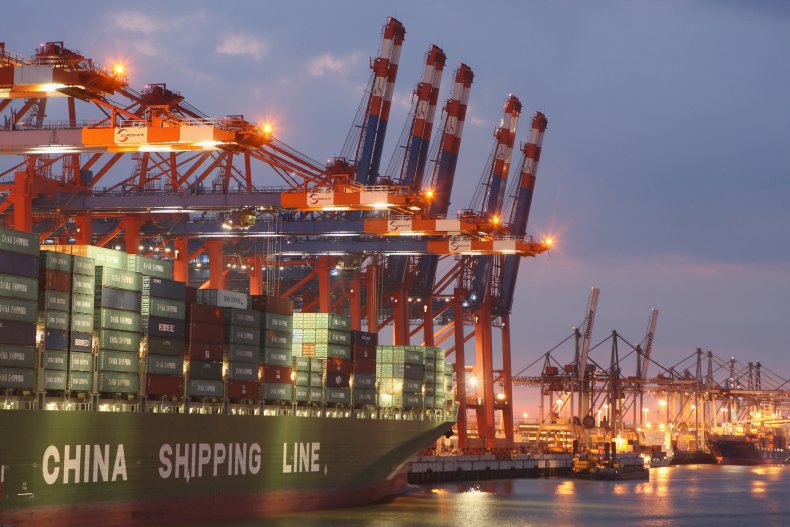 "If this continues, there will be a big impact in terms of global visibility especially as we come into the busy Christmas period with supply chains already facing huge problems all over the world," Touros told Reuters. "All of a sudden we do not know when ships are leaving and from where, and we also don't have the full picture on port congestion which AIS offers us."
In America, products have remained stuck at ports as dozens of ships remained docked and unable to unload their goods as they wait for truckers to arrive and transport the wares off to their next location. David Dollar of the Brookings Institution told Newsweek in mid-October that this was largely tied to a shortage in truck drivers. He said at the time that he felt that issues in the supply chain did not largely stem from matters abroad.
Reuters reported that between October 28 and November 15, the level of shipping data across China's waters fell by an estimated 90 percent, according to market intelligence and information gathered by valuations provider VesselsValue. As the demand for shipped goods continues to surge alongside global energy shortages, this issue may only grow in its severity.
"With China being a major importer of coal and iron ore and one of the main container exporters globally, this decline in positional data could cause significant challenges concerning ocean supply chain visibility," Charlotte Cook, VesselsValue's head trade analyst said.