How Chris D'Elia Was Replaced in 'Army of the Dead' by Tig Notaro
Director Zack Snyder had to digitally recreate scenes in the upcoming film Army of the Dead in order to replace Chris D'Elia with Tig Notaro.
The zombie heist movie had to recast the comedian's role after D'Elia was accused of sexually harassing multiple underage girls in 2020—allegations he still denies.
Snyder was already in postproduction, which meant that producers had to figure out a way to swap him for stand-up comedian Notaro, who was chosen to take over the role.
The action film follows a team of mercenaries led by Dave Bautista in a zombie-ridden Las Vegas on a mission to recover millions of dollars from a casino vault.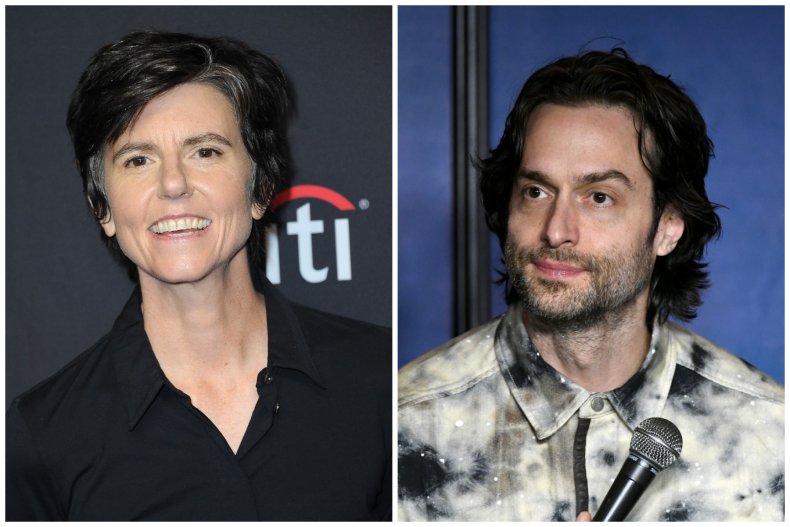 Snyder and Notaro spoke about the digital swapping process in a detailed report by Vulture where they explain that D'Elia was erased from the footage. The move is reminiscent to that of Kevin Spacey being replaced by Christopher Plummer in All the Money in the World in 2017. But in the latter case, the scenes were reshot.
According to Vulture, it was not possible to bring back the cast to reshoot scenes with Tig Notaro. Therefore, she found herself mostly acting alone in front of a green screen. Her scenes would then be edited in the existing footage.
The Justice League director admitted that he "had no idea how hard" the process would be.
"I had to do this incredibly technical experiment, re-creating every scene, shot for shot," Snyder told the publication. "My visual-effects supervisor, Marcus Taormina, did the work of taking Chris completely out of the movie so Tig could have freedom [to move] within the scenes."
The movie's visual-effects team had to replicate the physical spaces and camera angles of the original scenes as Notaro's footage couldn't just be pasted over D'Elia's as matching exact movements would make for an even more complicated task.
"Some of the trickiest shots were where she's walking in the group," Snyder explained. "I had to match the [camera] pans, and it was difficult to get the perspective to match.
"It was a few months to get all the individual effects and make it seamless. Marcus was able to fudge it around and get it to work, and [her footage] went in surprisingly easily."
"It didn't seem possible for me to take on what Chris did. We're such different actors and comedians," Notaro said.
As for scenes where she had to physically touch another character, Norato's assistant, Patrick McDonald, was sometimes called in to help, wearing a green suit.
"They'd line up a piece of tape on the ground and say, 'Okay, you've fallen in line with a group of people. You're walking into a building,'" she explained.
"I'd be like, 'Is it kind of a mosey? Okay, I'll mosey.' Then Zack might say, 'That's a little too fast with the moseying,' and we'd start over again."
Army of the Dead will be released in theaters on May 14 before landing on Netflix on May 21.