How to Claim Your Free Wendy's Breakfast Baconator
Wendy's is absolutely owning Twitter again, revealing it has partnered with DoorDash to give away free burgers.
Following its burn of Burger King when it launched the French Fries Sandwich, the fast-food restaurant chain took to its Twitter account to tease an upcoming offer. Speaking to its followers, the company said: "Alright Friendys, breakfast is just around the corner, so we've gone private. It's just you, us, and the tweets."
But then, the company teased followers by bringing in delivery company DoorDash into the conversation: "Wait, real quick.. just realized @DoorDash is in the private mode building. @DoorDash whatchu got?"
The delivery company then got involved and confirmed it had free breakfast for followers: "We've got FREE Breakfast Baconators on orders of $5+. Who wants one? Redeem now-3/3. #WendysBreakfast."
Confirming the offer, Wendy's explained how followers could get their hands on the free bacon burgers: ".@DoorDash with the hookup, all you have to do is slide into the DMs."
Wendy's Breakfast Baconator is a sandwich with a savory sausage and freshly-cracked egg, as well as a stack of six strips of Applewood smoked bacon. Twitter followers only have to direct message Wendy's Twitter account (@Wendys) to receive a code to claim their free Baconator.
Codes have to be redeemed before March 3. The offer is only valid for one person for one Breakfast Baconator while supplies last. The offer is valid at participating locations and on orders with a minimum subtotal greater than $5, excluding taxes and fees. Unfortunately, this offer is not valid for pickup or dine-in, with all deliveries subject to availability.
Baconator lovers will need to create or already have a valid DoorDash account with a valid form of accepted payment on file—the code has no cash value and isn't transferable. Users can see the full terms and conditions at dasherhelp.doordash.com/offer-terms-conditions.
Wendy's is well known for its tongue-in-cheek personality on social media. When Burger King launched its French Fries Sandwich at the beginning of February 2020, Wendy's didn't hold back. Taking to Twitter to comment on the new menu addition, the brand says: "When literally anything would be better on a bun than their beef."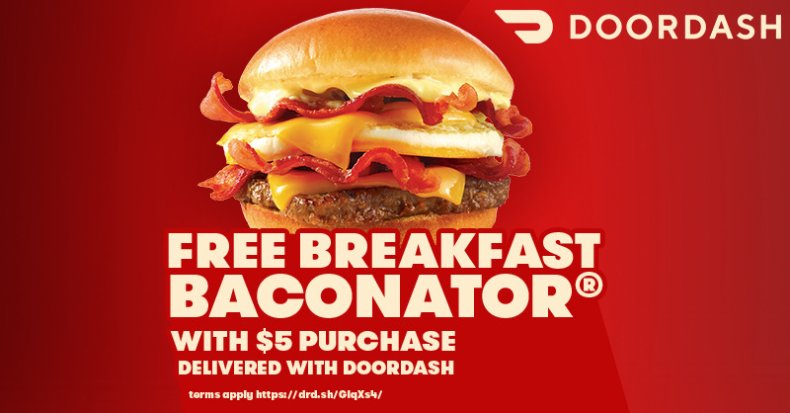 When someone responded "Please tell me this is a joke," the brand responded: "Their whole restaurant is." Another Twitter account responded, "Do yall got beef with Burger King and McDonald's". Again, totally tongue in cheek, Wendy's replied: "We have beef. No idea what they have."
Newsweek has affiliate partnerships, so if you make a purchase using our links we may earn a share of the sale.