How to Clean White Shoes and Trainers
White shoes are notoriously difficult to keep clean, the more you wear your beloved pair the dirtier they can become.
One accidental step in a puddle can turn the entire fabric from glistening white to a murky gray.
If you are planning to revive your trainers it is important to note different materials require different care, and stains can come from all manner of places.
Newsweek asked the experts how to clean white shoes and trainers, so you can restore your kicks to their former glory.
Can You Protect White Shoes From Stains?
Many believe prevention is the best way to avoid getting stains on white shoes.
Although steering clear of dirt is an obvious first step, Stylist to the stars Amanda Sanders told Newsweek that, in the case of white shoes, they will naturally fade over time. While we can do our best to keep them as clean as possible, they will not remain bright white forever.
She said: "You can't prevent sneakers from turning white to yellow that just happens."
However, Eugene Tong, the style director at Details magazine, told Mr Porter that repellent sprays can make a difference to stain prevention.
He suggested using ScotchGard fabric protector spray, as it applies an invisible coating over the shoes to protect them from water and other stains. Another brand he recommended was Jason Markk's repel spray.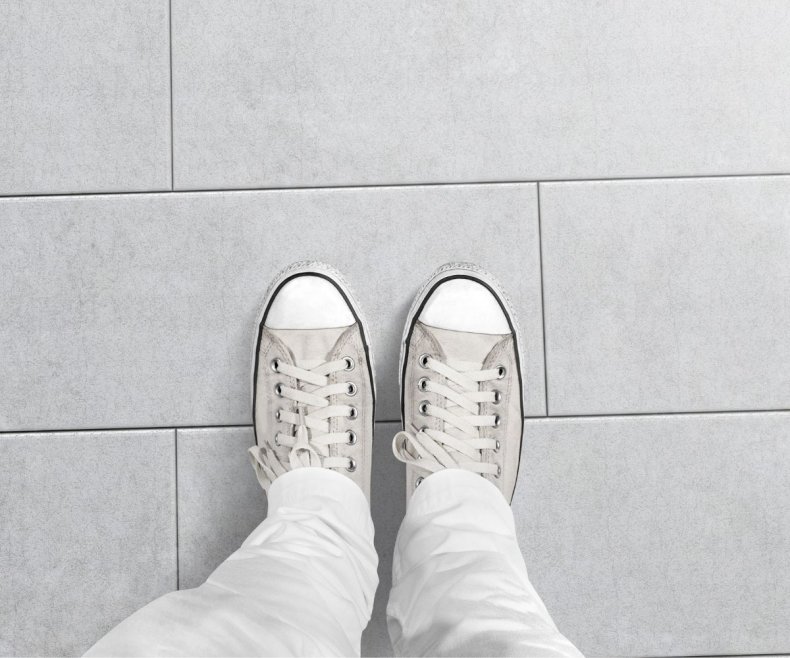 Can You Put Shoes In the Washing Machine?
For those who are desperate to avoid the natural wearing of their shoes, the washer may seem a good solution.
Most shoes will have guidance on them from the manufacturer about whether they can be washed in this way, so always read the label or information that comes with your shoes before doing this.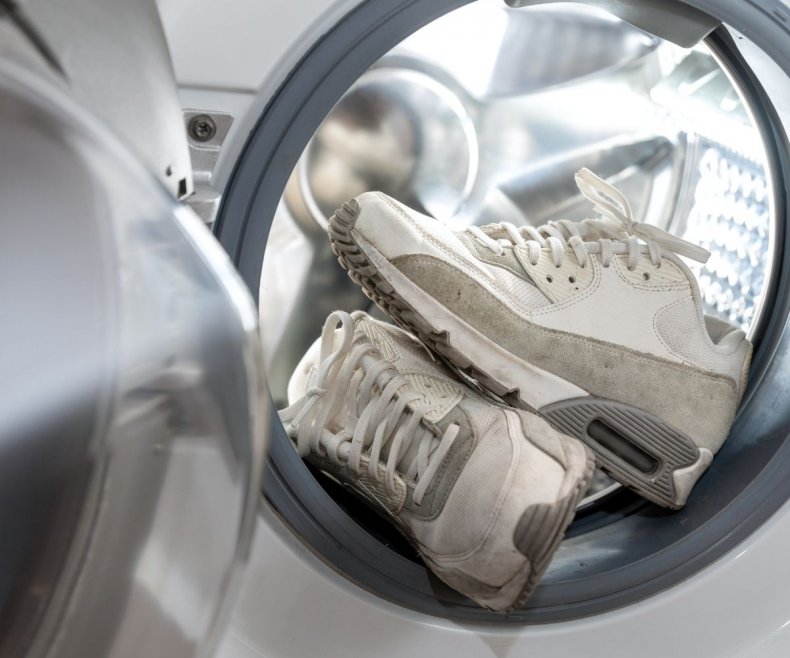 If you do decide to give it a try, it is best to avoid putting leather and suede shoes in the washer, as these fabrics can easily be damaged by those materials, according to washing detergent maker Persil.
However, the washing authority said shoes made from cotton, nylon, and polyester, and even some PU or PVC shoes are able to withstand a machine wash.
To wash your shoes in the machine, you should get rid of all the large dirt particles first, using a toothbrush for hard-to-get-to areas. Then, place the shoes and laces in a mesh bag and wash on a low temperature.
Sanders, however, warned against this, saying the washer can warp some shoes, meaning they will not have as much longevity.
She explained that the shape of the shoe can change, so even if it is effective in cleaning them, they may not be comfortable to wear in the future.
What To Use To Clean White Shoes
Model and writer Allison Weiss Brady, who regularly cleans her shoes ahead of photoshoots, said one thing to remember before trying any new product on a shoe is to patch test it.
In doing so, you can "make sure the shoes or sneakers react well to these treatments, so the color doesn't fade from the product."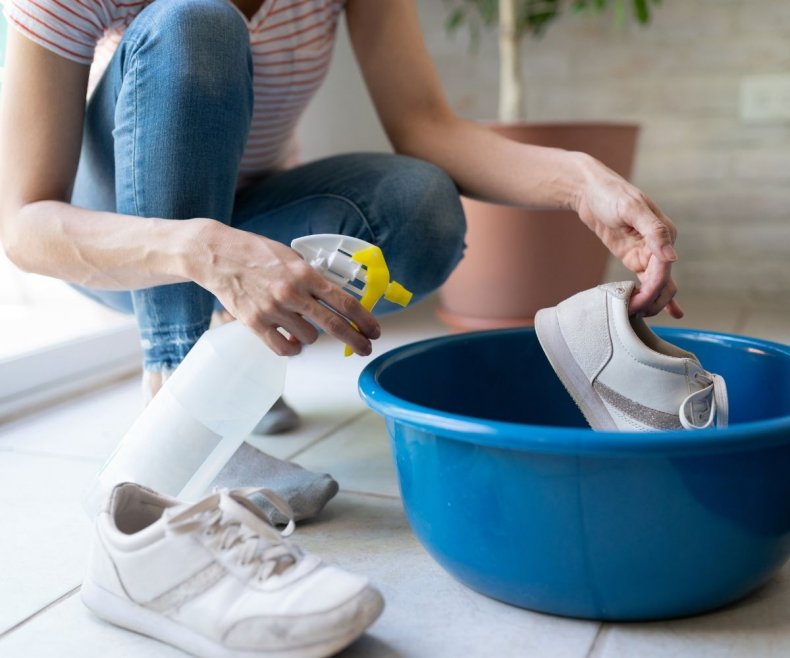 She suggested using SneakErasers for leather shoes, as they come pre-moistened and pretty much rub away scuff marks and stains.
For fabric shoes such as sneaker socks, she told Newsweek: "For my fabric material shoes including sneaker socks I use Magic Erasers by Mr. Clean. Add some water to the eraser and it works like a charm."
Magic Erasers are a fairly standard household product that can be purchased from places such as Walmart.
Sanders also suggested Magic Erasers, which can be paired with a neutral leather cream to really make them shine.
She continued: "If you want to clean canvas and athletic shoes at home, dry brush it with a toothbrush to get rid of as much dirt and debris as much as possible. Mix warm water with a bit of laundry detergent like Arm & Hammer Odor Blasters and submerge the whole shoe in a bucket."
"Use the brush to scrub the mixture into stains, rinse off all residue, and air dry completely."
Sanders's final solution was to use a professional service like Cobbler Concierge, which can clean sneakers and other shoes effortlessly. After they have been professionally cleaned, you can even have white, leather shoes airbrushed to bring them back to looking like new.
Newsweek may earn a commission from links on this page, but we only recommend products we back. We participate in various affiliate marketing programs, which means we may get paid commissions on editorially chosen products purchased through our links to retailer sites.