How Cold Is It in Pyeongchang for the 2018 Winter Olympics?

Temperatures have dipped so low in Pyeongchang, South Korea, that the Winter Games are experiencing all sorts of trouble. Delayed events, warped skis and hypothermia among spectators are just a few issues the frigid weather has caused.
This weekend, the weather will finally let up. Winds are expected to wane and temperatures will creep back up to the 40s in some parts of the region. Saturday is expected to be 28 degrees at the Olympic Village and Plaza and 40 degrees at the Gangneung Olympic Park, reported AccuWeather. Wind gusts won't hinder Olympians' performances, but sunny skies will cause a sun glare for athletes.
Beginning Sunday and into early next week, temperatures will stay relatively mild. A storm is expected to bypass South Korea Monday night into Tuesday—so more snow may not arrive until late next week.
Though temperatures are finally getting milder this weekend, the past several days have resulted in a myriad of issues for some athletes. Ahead of the games on February 7, alpine skiers were doing practices runs—but the snow was so icy cold it was sticking to the base of the skis and warping them.
"They are turning their skis to garbage real fast," Craig Randell, a start crew technician, told Reuters. The twisted skis might have been minor for lay skiers, but for athletes vying for gold after a lifetime of training, "every little millisecond, every little idiosyncrasy counts," Randell said.
Days later, wind gusts reached 50 miles per hour and caused the women's slalom to be delayed, NPR reported. Bad weather pushed U.S. skier Mikaela Shiffrin's giant slalom race to Thursday and the women's slalom to Friday.
The weather was so brutal that the Korean mobile phone network alerted people of potential fires and flying debris. Pyeongchang Games organizers encouraged spectators to stay inside and general admission to the Gangneung's Olympic Park was suspended, as were all activities in general on Wednesday afternoon local time (Tuesday overnight Eastern time). Alpine events were delayed three times. and the women's 15-kilometer biathlon was postponed as well.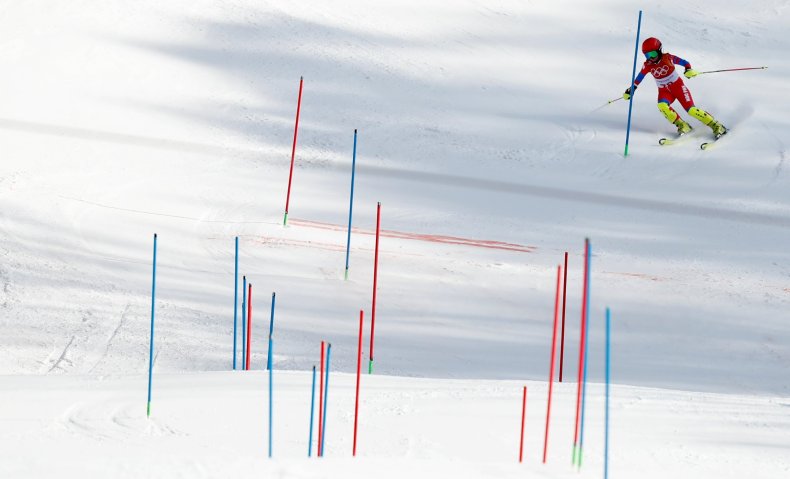 Women's snowboard slopestyle, however, was not canceled, and dozens of riders fell on their runs earlier this week, according to NPR. Canadian snowboarder Spencer O'Brien said she was disappointed with the organizers.
"When our safety [is] involved, the riders need to have a say," she told CBC Sports. "We do a really dangerous sport, and this was really not a showcase of what these women can do."