How Common Is White Nationalism In the Military? Congressman Urges Investigation
A congressman is calling for an investigation into the extent of white nationalism within the U.S. military after at least three current service members were linked to a white supremacist group.
Democrat Keith Ellison has urged Defense Secretary James Mattis to evaluate the screening process for new recruits to weed out extremists, Military Times said.
Ellison's request follows a recent investigation by ProPublica and Frontline PBS which suggested that at least three current service members and three veterans were members of the white supremacist Atomwaffen Division group, which has been linked to at least five murders in the past year.
In a letter to Mattis, Ellison—the first Muslim to be elected to Congress—asked for information regarding ongoing and past investigations into extremism in the military and requested clarification of the "steps currently being taken to screen recruits for extremist ties," noting he is concerned that white nationalist links may represent "a broader problem within the military."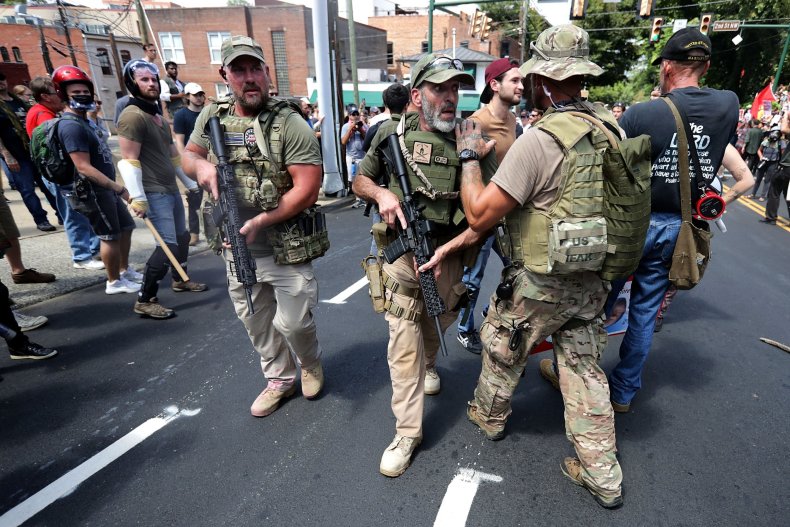 "Although Department of Defense guidance clearly prohibits discrimination and extremist behavior, it appears that some service members are still able to join and actively participate in extremist organizations," Ellison said, suggesting that "volunteers with seemingly credible ties to the white supremacist movement are being allowed to enter the military."
Ellison said that white nationalism in the U.S. military "is cause for significant concern, particularly given their combat and weapons training."
Ellison pointed to an October 2017 poll in which almost a quarter of surveyed troops had seen examples of white nationalism among their comrades. Surveyed around one month after the ugly scenes at the "Unite the Right" march in Charlottesville, Virginia, troops rated white nationalism as a larger national security threat than the conflicts in Syria, Iraq and Afghanistan.
When contacted by ProPublica and Frontline PBS and told of the investigation, Department of Defense spokesperson and Air Force Major Carla Gleason said, "What we're doing is empowering commanders at every level to counsel service members on their conduct, and take disciplinary action where appropriate."
While Gleason said the armed forces "recognize the right to free speech and thought," she explained that service members must adhere to policies prohibiting discrimination and extremist behaviour.
Following the Charlottesville rally, Joint Chiefs Chairman General Joseph Dunford said "there is no place for racism and bigotry in the U.S. military or in the United States as a whole," while Mattis said the military is a "widely diverse force" that does not tolerate extremism and hatred.