How Congress Responded to Swine Flu in 2009 vs. Coronavirus in 2020
Amid criticism over his handling of the coronavirus pandemic in the United States, President Donald Trump's predecessor has been the brunt of criticism by Trump for allegedly bungling the response to the H1N1 swine flu pandemic in 2009.
Trump has falsely claimed former President Barack Obama implemented a Food and Drug Administration rule change that resulted in "full scale disaster, with thousands dying, and nothing meaningful done to fix the testing problem, until now."
But aside from the partisan claims that come with being an elected official, both scenarios forced Congress to act. Last week, Congress passed—and Trump approved—an $8.3 billion supplemental bill to help combat the virus that's caused schools across the country to shutter, sports leagues and public events to be cancelled, members of Congress to self-quarantine themselves and the U.S. Capitol to shut its doors to visitors.
Passing legislation to address the economy amid a market that continues to be riled from daily coronavirus news is proving to be a more difficult task for the current Congress.
Here's a brief look at how lawmakers in Washington responded to swine flu more than a decade ago vs. coronavirus now.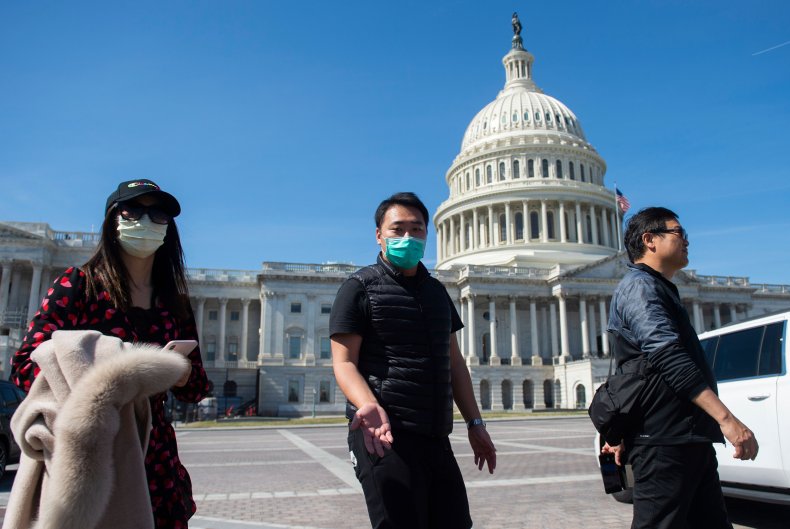 Swine flu, 2009
Congress passed—and Obama signed into law—a $7.65 billion bill for the Department of Health and Human Services, money that was used for:
Vaccines
Antiviral drugs
$350 million for "upgrading State and local capacity"
$1.65 billion of the money were designated by Obama as emergency funds
Coronavirus, 2020
A supplemental spending bill signed last week by Trump allocated $8.3 billion to fight the spread and impact of the virus, including:
$7.75 billion for federal, state and local agencies for treatment and vaccine research
$500 in waivers for Medicare recipients for telehealth services provided over the phone
Trump originally only requested $2.5 billion.
A second measure, being described as a stimulus package, is meant to boost the economy as fears the coronavirus could plunge the world into another ecumenic recession. As of Friday evening, it had not yet been passed by either chamber. House Democrats, who proposed the legislation, remained in talks with the Trump administration in hopes to strike a deal and have bipartisan support.
It includes:
Two weeks of paid family sick leave
Free coronavirus testing
Food aid, including for students who usually depend on lunches from schools, which are closed in many areas
Unemployment insurance
Increased federal funds for Medicaid
Protections for frontline workers
The total price of the bill and how much will be allocated for each provision is yet to be determined.