How Coronavirus Cases, Deaths Differ Between Men and Women by State
In at least 18 states, women account for a higher percentage of cases of a new coronavirus than men, but men make up a greater percentage of the fatalities, a Newsweek review of state demographic information showed.
States have begun to collect and publish information about who has contracted COVID-19, but the data is not presented in a uniform way. Newsweek's review found that 28 states made data available for cases and death by sex and 37 published age information for cases and deaths.
Of those that published cases by sex, 18 states reported that as of May 4, more women were infected by the coronavirus, but more men had died from it.
Only one state, Kansas, had more cases among men but more deaths among women. Four states–Ohio, South Dakota, Tennessee and Texas–have had more cases and deaths involving men. In Rhode Island, more women were reported as having the virus, but both sexes were reportedly equally as having died from it, whereas in California, there were nearly equal cases among men and women but a majority of deaths involving men.
It is not clear why more women appear to account for a larger percentage of coronavirus cases, but authorities have said it is possibly because they're getting tested more. During an April 9 White House briefing, Dr. Deborah Birx noted that 56 percent of people in the country who were tested were female, but a smaller percentage of women were testing positive at the time than men.
While women may be less reluctant to get tested than men, as Birx suggested, experts said they believed men may be at a greater risk for serious complications, which may account for why states are reporting higher deaths among men.
Vincent Racaniello, a professor of microbiology and immunology at Columbia University, told Newsweek that men have different comorbidities that could influence the toll the virus takes on them, leading to more deaths. It's also possible hormone differences between men and women could be contributing to the levels of cases and deaths.
However, without knowing the other characteristics of the men and women who are contracting and dying of the virus it's hard to know the definitive "why" behind the data. But, one day we should be able to draw those conclusions and it will be "interesting to see," according to Racaniello.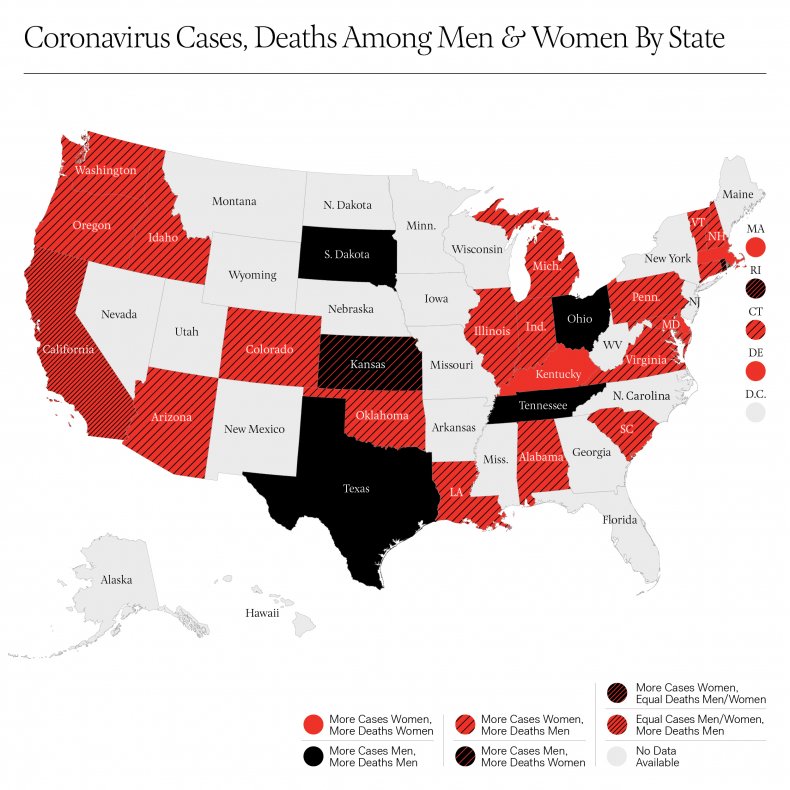 There was a higher fatality rate among men in China, where the outbreak originated, and Sabra Klein, a researcher at the Johns Hopkins Center for Women's Health, Sex, and Gender Differences told NPR last month that the trend was replicated in Spain, as well. Women accounted for more cases than men in Spain, but more men had died, according to a Monday report by the country's Ministry of Health.
As of Wednesday, more than 1.2 million people in America were confirmed to have a new coronavirus and 71,526 people died, according to a tracker maintained by Johns Hopkins University. An estimated 189,791 people in America have been deemed recovered.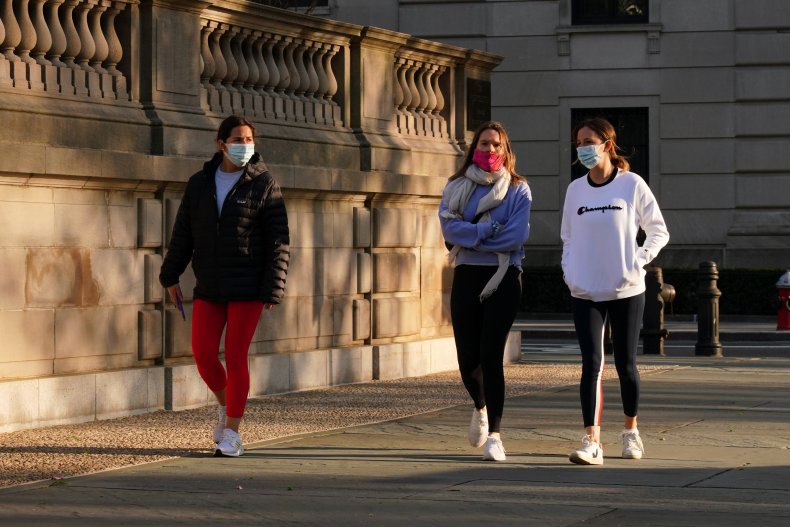 Newsweek's review of the data showed that 37 states clearly provided demographic data about ages for both cases and deaths. Of those 37 states, they all reported a majority of their cases involved people who were under 65 years old and the majority of their deaths involved people who were at least 65 years old.
Dr. Anne Monroe, an associate research professor of epidemiology at George Washington University, told Newsweek younger populations accounting for more cases is likely because they're part of the working population. Essential workers and those in the health care fields would mostly fall into the category of people under 65-years-old.
Twelve states reported their highest number of cases were identified among people from 50 to 59 years old. In Missouri, people between the ages of 65 and 69 had the highest number of cases and in Oklahoma, those in the age bracket of being over 60 years old had the most cases of any age bracket.
Of the 37 states that provided age breakdowns for both deaths and cases, 18 reported their highest number of deaths involved people over the age of 80. One state–Wisconsin–reported the most deaths with people over 90.
A focal point of messaging about the new coronavirus has been that elderly populations will be more susceptible to developing serious disease and Racaniello said he wasn't surprised data showed deaths were predominately in older people. Immune system problems increase as a person ages, so for the most part, younger people who have contracted the virus tend to have milder cases. It's hard to say why states saw a larger number of cases among 50- to 59-year-olds, according to Racaniello, but he speculated it's possible they were working longer, therefore increasing the chances they were exposed.
Monroe noted that without being able to compare the distribution of cases among age brackets to the population, it's hard to know if a demographic is being disproportionately affected or if there's just a higher population of that age group. It's also possible that people who are between the ages of 50 and 59 have more severe symptoms and therefore are being tested more than younger people, who may have a very mild case.
"We only know about the tip of the iceberg because of the patterns of testing so far," Monroe said. "So few people who may have been infected have gotten tested and understanding who is presenting for testing is important for all of this too."