How Coronavirus Healed Prince Harry and Meghan Markle's Rift With the Royals
Prince Harry and Meghan Markle have moved past the rifts discussed in new biography Finding Freedom since Prince Charles got coronavirus, a friend tells Newsweek.
The most anticipated royal book of the summer describes how the two words "this girl" wrenched apart Harry's relationship with his brother Prince William.
And it tells how Prince Charles' team were "crushed" after a public attack on the media and online trolls distracted attention from his father's tour of the Middle East.
Queen Elizabeth II is also described as "devastated" by the couple publishing their plans to step back from royal duties without clearing them with her.
However, friends of the Duke and Duchess of Sussex say the book was written six months ago and the family has been brought back together since.
Things are still not perfect, but "natural family moments" have helped to repair wounds, a friend told Newsweek.
In particular, Harry could only watch from 5,000 miles away in Los Angeles as his 71-year-old father came down with coronavirus in Scotland.
The friend told Newsweek: "They will ride this out. The book is a culmination of little bits and pieces over quite a period of time. It's written six months ago.
"A lot happens in that period. If you were to read all of the coverage over the last few days and assume it is a snapshot of how everyone is feeling and everything that is going on today I think that's the wrong conclusion. The family are definitely in contact with each other since the book has been written.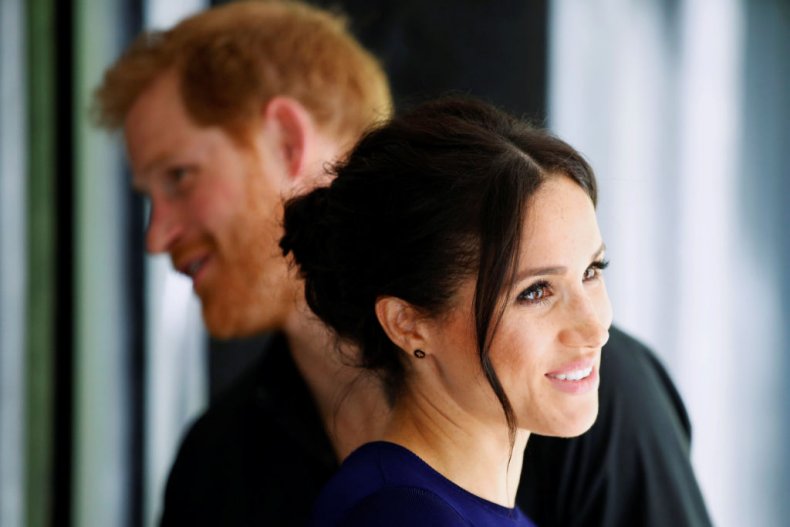 "Also you've had things such as Charles' illness. So there have been moments that will inevitably have created natural family moments. It's very difficult to look at the book as an accurate depiction of what is going on at the moment."
The friend described the whirlwind of coverage across the weekend's U.K. newspaper front pages as "chaos" but dismissed reports the couple have blown any prospect of returning to royal life.
They added: "As a family, and the queen especially, has made it clear that they always have a place at the table if they want it."
The book characterizes Prince William and senior courtiers as "snobs" and talks about how Harry feared racism within his own circle.
Authors Omid Scobie and Carolyn Durand described how one senior royal referred to meghan as "Harry's showgirl" while another told an aide: "She comes with a lot of baggage."
A close friend told them: "He's extremely protective of Meghan. He understands that a lot of people are against them, and he will do everything he can to keep her safe and away from getting hurt even if that means distancing himself from those people."