How Is Coronavirus Treated? Japan to Start HIV Antiviral Drug Trials As WHO Warns Antibiotics and Alternative Treatments Won't Work
Japan plans to use HIV drugs in an attempt to treat people with the deadly new coronavirus, according to officials.
Yoshihide Suga, chief cabinet secretary, told a briefing on Tuesday that the government is "currently conducting preparations so that clinical trials using HIV medication on the novel coronavirus can start as soon as possible," Reuters reported. Antiretroviral drugs used against HIV work by stopping the virus from replicating in the body.
Suga said he could not comment on the length of time he thought it would take for the drug to be approved.
Japan has the second most confirmed cases of the coronavirus, officially named COVID-19, after mainland China, at 66—with a further 454 on the Diamond Princess cruise ship. The vessel is currently docked and quarantined off the coast of Yokohama, south of Tokyo, after a passenger was diagnosed with COVID-19. It is also among the five countries and territories to have had a fatality outside of mainland China, alongside Taiwan, the Philippines, Hong Kong and France. So far, 1,873 people have died of COVID-19 in 73,335 confirmed cases, mostly in the central Chinese province of Hubei where the virus is thought to have emerged from a wholesale seafood market in late 2019. As shown by the infographic by Statista below, it has spread to over 25 countries and territories, including the U.S.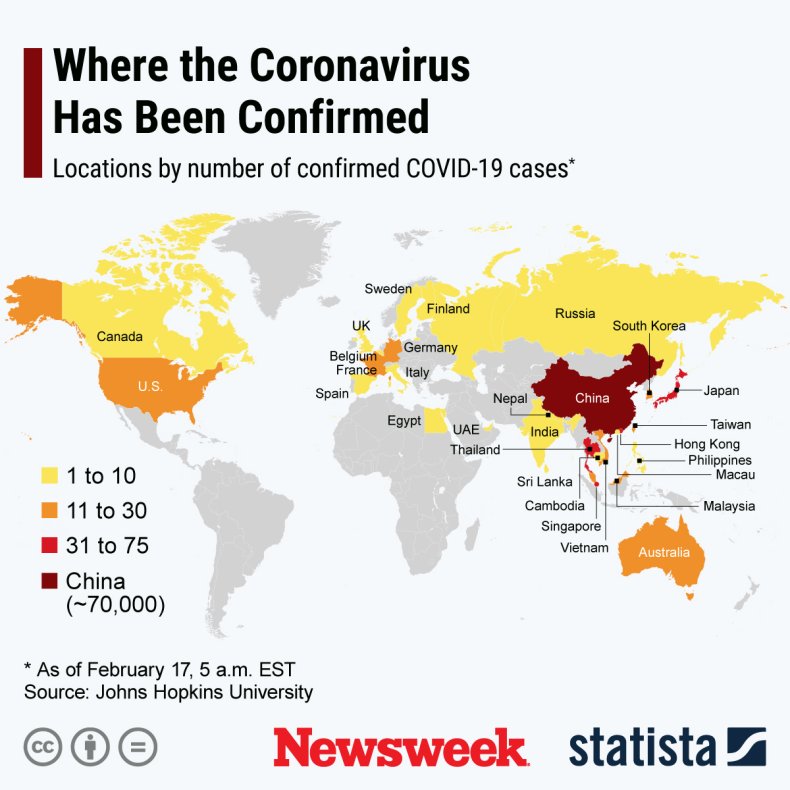 As the virus is so new there are no specific medicines designed to prevent or treat it. Instead, those who fall ill must manage their symptoms—which include a fever, a dry cough and shortness of breath—and be supported while they try to recover, which in some cases involves hospitalization.
Earlier this month, Thailand's health ministry said doctors had used a combination of flu medications and HIV antiviral drugs to help treat a patient, the AFP news agency reported. However, Dr. Kriengsak Attipornwanich told the press briefing where the announcement was made that the ministry was awaiting results which would prove the drugs were what helped the 71-year-old woman. According to a news report by the scientific journal Nature, China has more than 80 clinical trials on drugs to attack COVID-19 running or pending. Since mid-January, healthcare workers in China have also tried giving HIV drugs lopinavir and ritonavir, as well as medications for the flu, to COVID-19 patients, The Guardian reported.
Ravinder Kanda, senior lecturer in evolutionary genomics at Oxford Brookes University, U.K., told Newsweek the drugs being trialled work by blocking enzymes that viruses need to replicate. In studies involving animals in labs, they have been found to reduce levels of coronaviruses responsible for SARS and MERS, members of the same family of viruses as COVID-19.
HIV, the flu, and COVID-19 are similar in some ways because they are what are known as RNA viruses, Kanda explained. RNA refers to the genetic material the virus carries. The drugs work "by targeting viral RNA replication, so if the virus can't replicate, then it can't spread," she said.
However, professor Mark Harris of the School of Molecular and Cellular Biology, University of Leeds, U.K., told Newsweek that while there is some laboratory-based evidence that anti-HIV medications might work against coronaviruses, it is "highly unlikely" they would work as an effective treatment.
Although the bugs are all RNA viruses, Harris explained HIV, the flu and COVID-19 are "very different" types of viruses, which grow in different ways.
Peter Horby, professor of emerging infectious diseases and global health at Oxford University who pioneered on drugs for Ebola, told The Guardian: "Nobody honestly knows. Most drugs that go into trials prove to be not effective. It is the more common outcome. One should be very cautious."
Asked how long it will be before there is a drug against COVID-19, Harris said: "If one of the approved compounds in trials at present works well then the only limitation will be how quickly can we make enough of it. Otherwise to develop new compounds it will take months to years." The drug remdesivir which is currently being tested in patients appears to be promising, he said.
Harris added he is "less worried" about COVID-10 than he was a few weeks ago. "We have seen spread in China but very little elsewhere and the measures in place seem to be working. Clearly most patients have mild disease and recover quickly," he said.
Kanda agreed it was "good news" that containment measures seem to be working outside of China, and the numbers of newly reported cases seems to be levelling off.
As experts race to develop treatments for COVID-19, the World Health Organization (WHO) has urged members of the public not to turn to unproven remedies that could do more harm than good. For instance, the WHO warns against taking vitamin C, smoking, drinking traditional herbal teas, wearing multiple masks, or self-medicating with drugs like antibiotics which won't work as they only kill bacteria, not viruses.
Nevertheless, the fear surrounding the deadly virus has led people to turn to pseudoscientific alternative treatments. One woman in the eastern Chinese province of Zhejiang ate so much garlic she was hospitalized after her throat became inflamed to the point she could no longer speak, the South China Morning Post (SCMP) reported citing the Qianjiang Evening News. The woman identified only as Zhang consumed around 16 bulbs weighing approximately 3.3lbs over a period of two weeks. Another woman suffered severe burns to her hands and face after she sprayed her clothes with rubbing alcohol, causing her to set on fire, the Guangzhou Daily reported according to the SCMP.
Gao Xiaodong, a hospital infection specialist from Shanghai Zhongshan Hospital, told the SCMP: "Out of panic, people have tried various ways to protect themselves. But people should know that this novel coronavirus is more contagious than SARS [Severe acute respiratory syndrome] or MERS [Middle East respiratory syndrome], but less deadly than them."
"Online rumors that aim to grab the public's attention send wrong messages and also fuel people's panic," he added.
The WHO stresses that the best way to protect oneself from COVID-19 is to follow basic and hygiene measures that should always be observed. These include frequently washing hands with soap and water, or an alcohol-based rub if the hands aren't visibly dirty, to kill the virus.
Cough and sneeze into a tissue or the crook of your elbow, and immediately throw tissues into the trash and clean your hands to prevent the bug from spreading and contaminating objects.
The U.N. agency also advises against touching the eyes, nose and mouth, to prevent bugs from entering the body. Also avoid contact with sick animals or those in markets, spoiled animal products, as well as their waste products or fluids. Try not to eat raw or undercooked animal products, and be careful when handling raw meat, milk, or animal organs.
This article has been updated with comment from Professor Mark Harris, and Ravinder Kanda.