How to Create the Perfect Home Office: Ideas From Home Depot, IKEA, Office Depot and More
With many more Americans working from home amid the coronavirus outbreak, Google searches have surged in the past month for "remote working" or "home working," as the below graphic from Statista shows.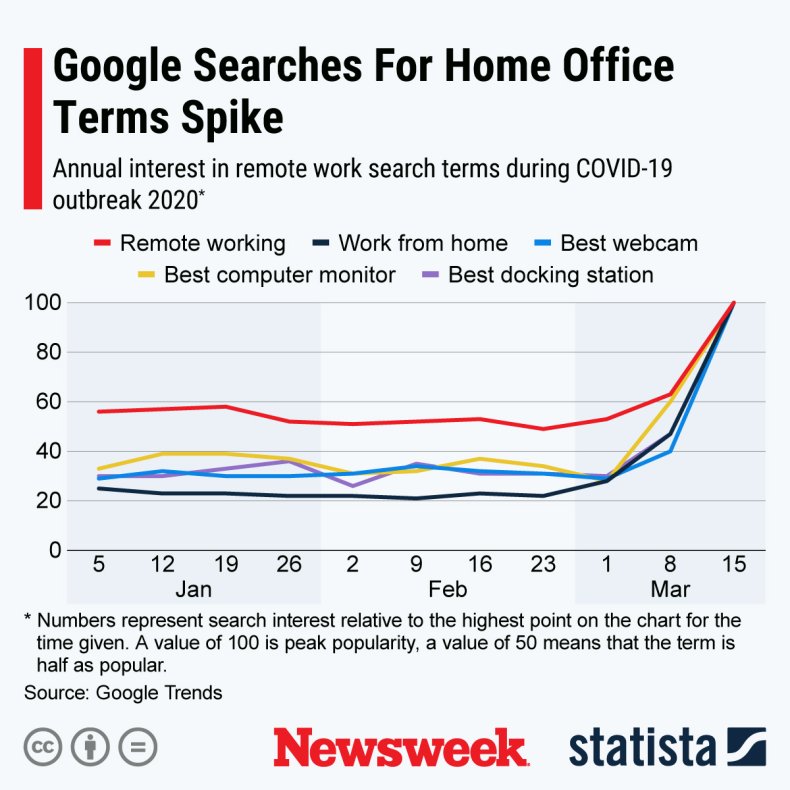 While working from home might be the norm for some people, many Americans only work from home when it's the holidays or when there is severe weather such as snowstorms or flooding. This could mean that the move from the office to the home might have negative impacts on some people, especially those without a good home office set-up.
But all is not lost—Newsweek has compiled a guide on how to set up the perfect home office. We've also included budget, payday and luxury buys to make your professional space exactly the way it needs to be.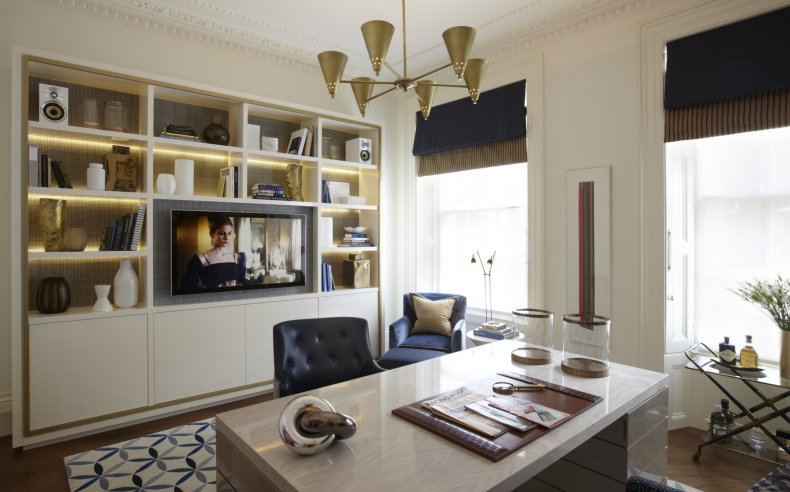 How to set up your new home office
Decide where in the home your office will be
One of the first things Americans should consider is where they're going to work in the home, Sabina Torres, a senior interior designer at Helen Green Design—a company that creates bespoke home offices for clients across the globe—tells Newsweek.
"The first thing to consider when designing a home office is its location—consider your working style and the nature of your work, as well the needs of the people you live with," she explains. "By establishing in advance how much desktop space and storage you require, if you prefer to be in a quiet space and how much time you spend on the phone, you can help find the right space in your home."
While some people may have the luxury of choosing a room in their property for an office, many Americans might need to work in either the living room, bedroom or even the kitchen. Establishing which room is right for your needs during home isolation is a good foundation for creating your perfect space.
What furniture do you need in your home office?
When it comes to furniture, Torres leans on the side of creating bespoke pieces: "We like to use built-in furniture to create home offices, particularly as it makes more of the available space.
"Bespoke desks are a great way to create something functional, but which fits the dimensions of your study perfectly and become part of the room's design with features such as specialist finishes, inlays and marquetry," she explains. "There's something incredibly personal about desks and people often become very attached to them."
For those who might not be in a position to purchase a bespoke desk—whether it's because of timeframe or budget—buying a desk from one of the big retailers can also work. For example, IKEA has a selection of desks for sitting or standing in a selection of styles and budgets. Environmental psychologist Lee Chambers, who is also the founder of Essentialise, believes that for those who have space and the need, an L-shaped desk is a good choice.
"L shaped desks are handy if you have a bi-function role, such as digital on one side, and manual on the other," he told Newsweek. "They naturally work in corners as do standing desks. It can be beneficial to mount shelves/units/holders above the desk if you require additional storage and accessibility."
If standing while working isn't for you, keep in mind that choosing the right office chair to maintain good posture is very important—and it's best not to just use one of the chairs from your dining table.
"The most common chair in the office today is the simple task chair, with rollers or wheels on the bottom, so firstly a four-legged chair does not allow you to move in and out from the table easily," Philip Johns, a specialist in ergonomic furniture, told Newsweek. "Regular position changing will require you to lean forward to lift the chair to move it, which is fine on the odd occasion, but if it's happening regularly during a working day it will put pressure on your lower back and legs every time that you move in and out from the table."
For a desk chair, consider purchasing an ergonomic chair or a kneeling chair.
Make sure the room has the right lighting
Many Americans who work in offices will already know the importance of lightning, especially natural light. So it makes sense that replicating this experience at home is just as important.
"Lighting is a very important factor and, ideally, you should position the desk close to the window to benefit from as much daylight as possible," says Torres. "Thinking carefully about your choice of window treatment will help you control the amount of light coming into your home office throughout the day."
Of course, it is not always possible to have your home office set-up near a window. If this is the case, consider buying side lamps rather than overhead lights—direct lighting can cause headaches. Adding in ambient lights can also diffuse any harsh lighting, helping with eye strain.
Declutter, declutter, declutter
One thing that all the experts agreed on was making sure that a workspace is clear of clutter.
"This designated space should be free, if possible, of things that trigger you to change states, such as housework, household bills, toys or food," advises Chambers. "Any clutter will distract you, even if you are deeply connected with your work, and this resonance will reduce your potential productivity. Using color where possible is another way to boost performance, blue working particularly well for productivity and green being valuable in boosting wellbeing.
"I always recommend using containers to store similar items," says Chambers. "I use a Harrods Hot Chocolate tin for my desk to store the odds and ends I'm always reaching for. I would also suggest making sure wires are tidy and color-coded."
Torres concurs but believes that having some decoration on your desk can also brighten it up: "Once settled, it is time to make your home office an inspiring one. Whilst too many items can cause your desk to look messy, a few decorative items such as a candle, stationery tray and small plants will help organize and inspire you."
Where to buy your home office essentials?
To cover every budget in the country, Newsweek has compiled a list of products that could help transform your home office into somewhere you love to work.
If you're on a tight budget
Desk: IKEA "Alex" in white
Price: $149.99
A clever design that keeps messy cables out of sight. The back is finished so you can place it in the middle of the room.
Chair: The Home Depot Boss Black Ergonomic Kneeling Stool
Price: $75
This wood finished frame with dense padding offers excellent support for those wanting to keep their posture right during the working day.
Storage: IKEA KVISSLE Wall magazine rack
Price: $17.99
Perfect for storing folders, magazines or papers. Can be put in a cabinet or hung on the wall if you're also pushed for space.
Lighting: Aura Ambient Bias Lighting Multicolor, available from Best Buy
Price: $24.99
Reduce eyestrain and increase the contrast of your monitor with this AURA Color ambient bias lighting. It has an in-line controller to turn it on and off and to change the lighting color.
Payday purchases
Desk: Better Homes & Gardens Lindon Place L-Shaped Desk with Cage, Vintage Oak Finish, available at Walmart
Price: $235.00
Add some style to your home office with this industrial styled L-shaped desk. Great if you do different types of work that need separate areas as well as included storage area for papers, files and books.
Chair: IKEA LÅNGFJÄLL Office chair, Gunnared dark gray, white
Price: $179.99

The gently curved lines accentuated by sewn details are kind to your body and pleasant to look at. Also, there's a tilt- and height-adjusting mechanism that's built to outlast years of ups and downs.
Lighting: Philips - Hue Play White & Color Ambiance Smart LED Bar Light Multicolor, available at Best Buy
Price: $129.99
Create a vibrant ambiance with the Hue Play light bar—choose from 16 million colors to experience different light effects. You can either lay it on the floor, let it stand on the cabinet or mount it on the back of a wall monitor or TV and paint your wall with light. Connect it to Hue Bridge for full smart experience.
Decoration: OYOY Living Design Pi Cushion
Price: $49
Add some color to your industrial themed room with a selection of these OYOY cushions.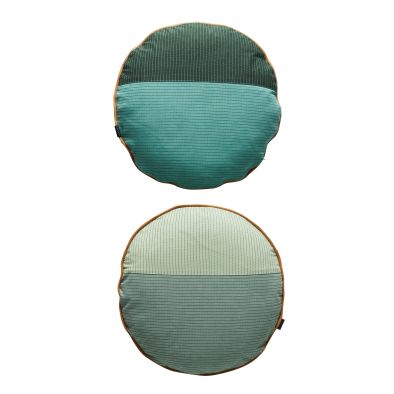 Luxury buys
Desk: Bespoke Blackened Oak and Steel Powered Studio Desk by Callus and Co, available on Etsy
Price: $1712.26 approx.
This is for those who really want to go all out for their home office space. This bespoke desk is sold by Callus and Co and is equipped with two built-in power conditioners, a keyboard tray large enough to fit most weighted midi controllers, a hidden cable management shelf and five cable grommets to run your cables seamlessly.
Chair: IKEA HATTEFJÄLL Office chair, Gunnared light brown-pink
Price: $229.00
The gently curved lines accentuated by sewn details are kind to your body and pleasant to look at. Also, there's a tilt- and height-adjusting mechanism that's built to outlast years of ups and downs.
For electrical needs, Office Depot has compiled bundles to help people who are new to working from home. There are different types of bundles such as:
Office Depot Professional Working Bundle
Price: $758.95
Newsweek has affiliate partnerships. If you make a purchase using our links, we may earn a share of the sale.