How Dare Republicans Tout Barrett's Motherhood While Letting Working Moms Drown? | Opinion
Among the immediate controversies posed by the nomination of Judge Amy Coney Barrett to the U.S. Supreme Court—from the COVID-19 superspreader event at the White House to the hypocrisy of the rushed confirmation hearings—the elevation of her status as a mother has taken center stage this week. As Washington Post senior critic-at-large Robin Givhan aptly stated: "Republicans anointed her a maternal Wonder Woman in judicial robes."
Justice Ruth Bader Ginsburg, the feminist icon who held the very seat Barrett is headed for, was also a cherished working mother (and grandmother). As a mom to teenagers, she litigated for mothers' (and fathers') rights. But to hear the Republican members of the Senate Judiciary Committee tell it, Barrett is a modern marvel unto herself. During his opening remarks, Senator John Cornyn gushed to her that young women surely "marvel at the balance that you've achieved between your personal and professional life." From Senator Joni Ernst: "This, folks, is what a mom can do." And Senator Chuck Grassley joined a parade of commentators underlining the size of her brood, heralding her as a "tireless mother of seven."
The bitter irony, of course, is how little regard for the reality of millions of working mothers in America this cohort of lawmakers has. We know their persistent abysmal record on key issues like equal pay, paid family and medical leave, education and child care, and food and housing security. But in this particular moment, as women absorb so much of the brunt of the COVID-19 pandemic's devastating societal toll, this hypocrisy is almost too much to bear.
It starts with the economy and the country's well-documented "she-cession." According to in-depth reporting by The 19th, "For the first time since they began a consistent upward climb in the labor force in the 1970s, women are now suffering the repercussions of a system that still treats them unequally." A National Women's Law Center assessment of the latest Bureau of Labor Statistics shows that this is exactly the trajectory the country is on. Four times more women (865,000 in total) than men (216,000) left the workforce in September. These figures are pronounced for women of color: 324,000 were Latinas and 58,000 were Black women. And The New York Times warned Wednesday: "The pandemic is forcing moms out of work at great financial, societal and marital costs." The article reports "a pronounced slowing of job growth and labor participation for married women" each month since June, according to the Center for American Progress.
With women still over-represented in low-wage jobs—which were celebrated just months ago as "essential," especially retail and service positions—it is mothers who've been put in the worst kind of bind.
Without the safeguards of predictable schedules and paid leave, shouldering the burdens of remote schooling and child care takes an enormous toll. Even at high-end tech companies where flex time and generous benefits are the norm, surveyed mothers reported having a harder time keeping up with working hours than did fathers. And a report released last week by LeanIn.com and McKinsey & Company documented the myriad disparities between women and men in their ability to balance work and home responsibilities. All of this indicates that the September numbers are only the start of a potential further downward spiral—and the Republican-led Senate has yet to step up with the relief working mothers desperately need.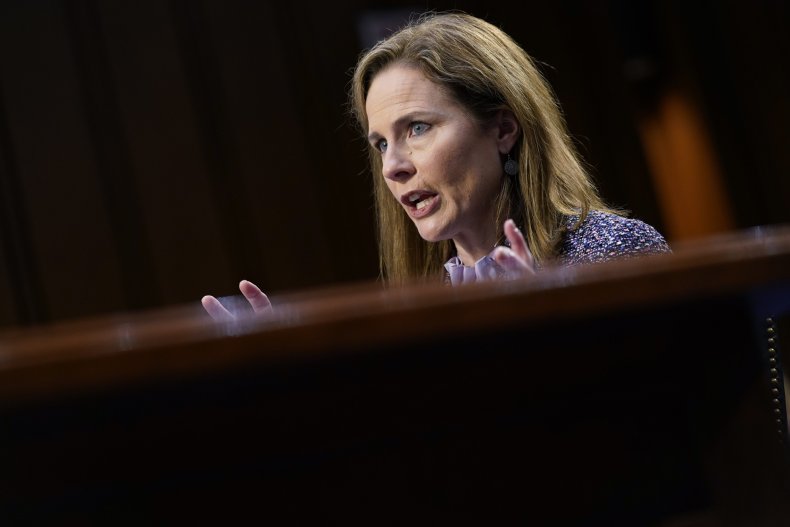 The second critical issue at stake for the well-being of mothers is access to health care—exponentially pertinent as Barrett's confirmation increases the odds that the Affordable Care Act will be undone when the court rules on it this term. Among the ways the ACA has uniquely impacted mothers: After its passage, an estimated 1.6 million secured health insurance between 2013 and 2014, bringing the number of insured mothers to its highest point since 1997, according to a 2016 report by the Urban Institute's Health Policy Center. Prior to the ACA, women could be charged more for health care than men, and pregnancy (even menstrual irregularities) could be considered a pre-existing condition. For nursing mothers, the ACA requires many employers to provide time and on-site private space for pumping breast milk.
The vast number of women leaving the workforce—and in many cases losing their health care—combined with the possible overturning of the ACA portends a looming crisis. And yet Grassley casually glossed over the threat by playing the motherhood card: "As a mother of seven, Judge Barrett clearly understands the importance of health care."
For a cohort that has spent a whole lot of airtime this week extolling the sanctity and success of working mothers, Senate Republicans would do better to invest their energy in passing a stimulus bill, steering the economy and focusing on the real needs of American families. Instead, they've chosen to make the mother of all power grabs for control of the Supreme Court. As a working mother, let me say: Not in my name.
Jennifer Weiss-Wolf is vice president and women and democracy fellow at the Brennan Center for Justice at NYU Law, as well as author of Periods Gone Public: Taking a Stand for Menstrual Equity.
The views expressed in this article are the author's own.​​​​​​​​​