How the DEA Tracked Viktor Bout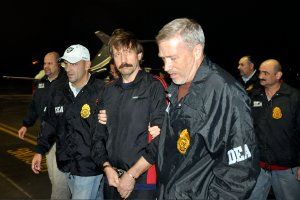 When celebrated Russian arms dealer Viktor Bout landed last Tuesday night at Stewart International Airport in upstate New York—before being whisked to Manhattan to appear the next day in front of a district-court judge—it marked the end of a saga known to the Drug Enforcement Administration as Operation Relentless. The man who ran it tells NEWSWEEK the affair began with a challenge from the White House.
After 9/11, law-enforcement agencies had expanded jurisdiction to arrest foreign nationals living outside the U.S. but accused of crimes against Americans. Michael Braun, the DEA's head of operations from 2004 until 2008, had overseen a string of high-profile global arrests, including that of Monzer Al Kassar, a member of the Palestinian Liberation Front and, in his day, the world's second-biggest arms dealer. Braun says that a colleague on the National Security Council, congratulating the DEA team on Kassar's 2007 arrest (he's serving a 30-year sentence), suggested it go after public enemy No. 1: Bout. According to Braun, the NSC official, whom Braun wouldn't name, said, "Every other three-letter agency in town had been tracking him." Could the DEA succeed where they had failed? "We said, 'OK, yeah, let's see what we can do here,'?" says Braun, who now runs a firm supporting State and Pentagon efforts to train law-enforcement personnel worldwide.
Posing as buyers for the Colombian insurgent group FARC, the DEA—which had played the same trick on Kassar—trapped Bout in a March 2008 sting operation in Bangkok; Thai police arrested him at the behest of the U.S., provoking a two-year battle with Russia, which wanted to keep Bout from being extradited to America. But last Monday, the Thais—who received periodic reminders from Washington of their privileged trade status—agreed to let the U.S. have Bout. (He pleaded not guilty, and his next hearing is scheduled for Jan. 10.)
Why were the Russians so anxious to keep Bout out of American hands? Known as "Africa's merchant of death," Bout is thought by U.S. officials to have built an empire worth perhaps $6 billion. According to a U.N. report, he supplied arms to Angola, the Democratic Republic of the Congo, Liberia, Rwanda, Sierra Leone, and Sudan (not to mention Afghanistan). "Bout had the ability to acquire the most sophisticated weapons systems that the former Soviet bloc could offer," Braun says. "He could not have acquired the weapons systems he did without complicity at the highest ranks of the government and military in Russia." Yevgeny Khorishko, a spokesman for the Russian Embassy, says, "Russian officials were never involved in any activities of Mr. Bout, if there were any activities—and there is no proof of that."