How Democrats' Bill Could Change U.S. Policing
Congressional Democrats unveiled sweeping police reform legislation on Monday aimed at creating more transparency in law enforcement agencies and preventing future unnecessary killings of minority citizens at the hands of white police officers in the wake of protests over George Floyd's death.
The proposal would ban the use of chokeholds and no-knock warrants, limit the amount of military-grade equipment given to local authorities by the federal government, require the use of body and dashboard cameras, establish more stringent training practices, create a nationwide police misconduct database, eliminate qualified immunity for officers and make lynching a federal crime.
The bill, Justice in Policing Act of 2020, is spearheaded by the Congressional Black Caucus (CBC) and House Judiciary Committee Chairman Jerrold Nadler (D-N.Y.).
"What we are witnessing is the birth of a new movement in our country with thousands coming together in every state marching to demand a change that ends police brutality, holds police officers accountable, and calls for transparency," said CBC Chairwoman Karen Bass (D-Calif.). "For over 100 years, Black communities in America have sadly been marching against police abuse and calling for the police to protect and serve them as they do others."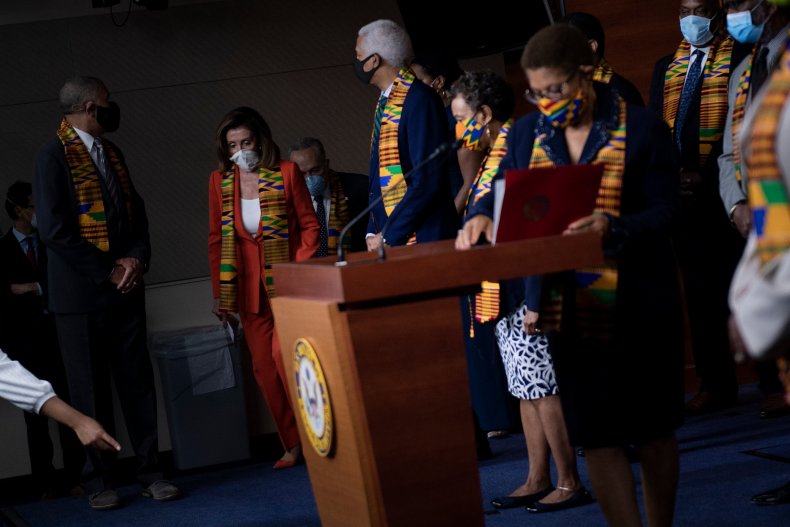 But between the ambitious timeline House Democrats have laid out to pass the proposal and the need to negotiate with Republicans and the White House, getting the reform package across the finish line to become law will not be an easy task—and Democrats know it.
Democrats are at least somewhat skeptical they will be successful in convincing their GOP colleagues and President Donald Trump to come on board in time to pass the legislation by late June or early July, starting with debate and amendments to the measure next week. Democrats currently have zero Republican co-sponsors.
Asked by a reporter on Monday to raise their hand if they feel confidant that the bill will become law, nearly all of the roughly two dozen Democrats responded in the affirmative. But one Democrat who did not raise his hand was most notably House Majority Leader Steny Hoyer.
"Is that including confidence in President Trump?" the Maryland Democrat quipped.
Senate Minority Leader Chuck Schumer (D-N.Y.) said Democrats are "going to fight like Hell to make this a reality" in the GOP-controlled Senate.
Still, Bass and others believed that the demonstrations demanding reform will act as motivators of change and push Republicans to join them and accomplish bipartisan legislation.
"One of the things that gives us confidence is the fact that there are thousands of people around this country marching, there is a movement that has caught fire, that is multiracial and that has also spread around the world," Bass said. "We need to think about how the United States appears around the world when we go out and promote human rights.
"The world is looking at us. That's gonna help us over the finish line," Bass added.
One challenge Democrats face in corralling GOP support is the "Defund the Police" movement that has risen from the Floyd protests. Republicans, including the president, have seized on the narrative that Democrats want to abolish police forces. The Democratic proposal does not defund police.
"This year has seen the lowest crime numbers in our Country's recorded history, and now the Radical Left Democrats want to Defund and Abandon our Police," Trump tweeted Monday. "Sorry, I want LAW & ORDER!"
As Democrats unveiled their legislation, top Republicans in Congress, including House Minority Leader Kevin McCarthy (R-Calif.), were posting similar claims on the social media platform.
"Democrats want to defund you, but Republicans will never turn our backs on you," McCarthy wrote in a tweet.
Senate Majority Leader Mitch McConnell (R-Ky.) called the "Defund the Police" notion "outlandish" in floor remarks.
Democrats are aware the message could become toxic in their endeavor to accomplish reform, with Bass telling reporters her "concern" is that "it can be used as a distraction." But they also see the emotional pleas behind the idea and agree with some of the concepts associated with the effort, such as examining how governments invest in communities of color and the need to change the way resources are allocated.
"Frankly, anything we did is going to be a slogan for the Republicans," Bass said. "Even if we were peacefully demonstrating, they'll say we're communists, we're socialists and all of that."
Trump has a meeting with law enforcement officials Monday afternoon, at which he's expected to discuss ideas for potential reform measures. The administration has so far declined to offer substantive proposals until the president is able to have a clearer picture from law enforcement about what is needed.
White House press secretary Kayleigh McEnany declined to provide details to reporters on Monday about what Trump supports or if there will be a detailed policing plan unveiled. But she said the president is "looking at various proposals" and has been "over the last few days."
"He definitely recognizes the horrid injustice done to George Floyd and is taking look at various proposals," McEnany added.
This story was updated to include information from a press conference with McEnany and remarks from McConnell.