How did Harry Houdini Die on Halloween? Looking At His Legacy 92 Years After His Death
Harry Houdini is one of the most renowned illusionists in American history. Though the Hungarian-born performer died 92 years ago, his legacy lives on in tales of his life, and his death, which occurred on Halloween in 1926.
Houdini died after his appendix burst. He performed on the night of October 24, 1926 in Detroit, Michigan, and was rushed to a hospital after the show when he showed signs of appendicitis, the History Channel reported. Houdini did not die immediately. Instead, it took a week for him to pass, eventually from Peritonitis, or the inflammation of organs caused by organ leaking, according to Web MD.
Since 1926, the mortality rate of Peritonitis, tended with surgery, has decreased from 80 percent to 30 to 40 percent, according to a 2001 report by René G. Holzheimer on surgical treatment.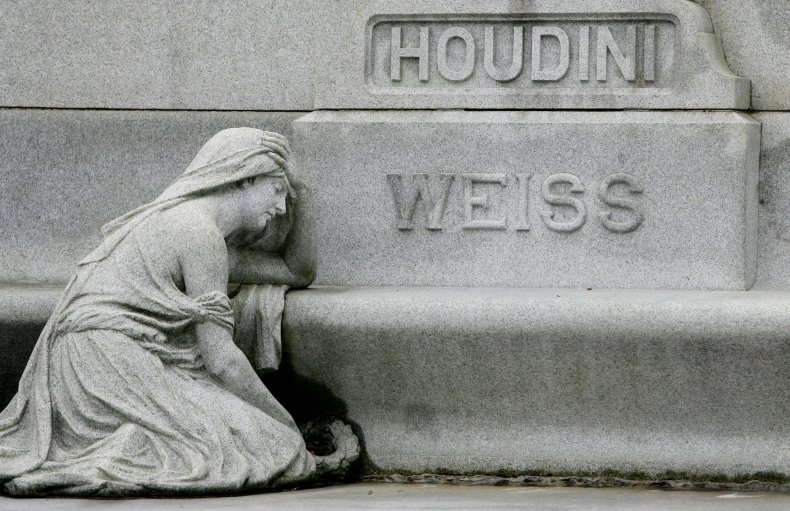 When Houdini died, the country was shocked. An obituary published in the New York Times spoke for America in the wording of Houdini's death-defying greatness. It noted he was a man who "so often had seemed to thousands to be cheating the very jaws of death."
Houdini's death may not have been so sudden, though the illness that plagued him hit quickly. It's believed his death may have been sparked by a series of events beginning on October 11, 1926, The History Channel claimed. During a show on October 11, 1926, Houdini was hit by a piece of equipment while being restrained in his Chinese Water Torture Cell. He finished the show with a broken ankle.
At a show in Montreal on October 22 1926, he agreed to be punched in the gut multiple times when a student asked if he could resist the pain. He was sitting on a couch because of his broken ankle when five blows were delivered to his abdomen. That night, Houdini began to speak of stomach cramps. The illusionist performed on October 24, despite being told by a doctor he could have appendicitis and was hospitalized immediately after the show.
While many call Houdini a magician, he preferred to call himself a performer. He attempted and succeeded in hundreds of dangerous routines that have set a nearly unachievable standard for magicians today. Some of his most famous acts include escaping from the belly of a deceased whale, swallowing 100 needles and pulling them back out his mouth, escaping from murderer's row, where he switched prisoners around in their cells and escaping from a weighted box in New York's East River, according to Parcast.