Why Do Hillary Clinton and Nancy Pelosi Remain Republicans' Biggest Targets Ahead of 2018 Midterms?
As Republicans face the possibility of losing control of the House come November, they've resorted to a well-trodden strategy: lambasting the two most prominent female members of the opposition.
A new study from the Wesleyan Media Project found that House Minority Leader Nancy Pelosi has so far featured in some 7,000 GOP ad spots casting her in a negative light. Her counterpart in the Senate, Chuck Schumer, has only appeared in 1 percent of all Republican ads, and never without an accompanying mention of Pelosi, according to the study. It was more common for a GOP candidate to name-drop Hillary Clinton than Schumer.
Political strategists have diverging views on whether it's sexism that makes Republican candidates vying for competitive seats point to these two women as what's wrong with Washington. But most agree that the specter of Pelosi and Clinton functions as a kind of coded message most GOP viewers can understand right away.
"I think if you got down to it and showed someone a list of Nancy, Hillary and Chuck's policies, they wouldn't be able to tell the difference," Meghan Milloy, the co-founder of Republican Women for Progress and, in 2016, Republican Women for Hillary, told Newsweek. "But it's the sight of these women they've been taught to hate, maybe not even knowing why. I don't think it's an accident."
President Donald Trump shares much of the responsibility for keeping the antagonism toward Clinton thriving, well over a year after the 2016 presidential election. In the first year of his presidency, Trump tweeted about Clinton or referenced her campaign 77 times, according to Newsweek's own January findings. As of July, The Washington Post determined that the president could usually only make it through roughly a third of an interview before mentioning his former presidential opponent.
"The 'Clinton cabal' speaks for itself with Republicans," Tara Setmayer, a former GOP communications director, told Newsweek. "Trump's continued attacks on Clinton have elevated her to a level of bogeyman status with his base."
The Republican case for railing against Pelosi grew only stronger this week, after news broke that House Speaker Paul Ryan wouldn't be running for reelection. With Democrats well positioned to flip the House, Pelosi represents an even more imminent threat in 2018.
But the anti-Pelosi acrimony dates back way further. Despite spearheading a number of landmark legislative victories and success raising tens of millions for House Democrats, she's shouldered criticism from both sides from aisle for years: from Republicans who see her as a bastion of the moneyed liberal elite, and from progressive Democrats itching to overturn the party's old guard.
"It's impossible to make a midterm about anything other than the president and his party," a spokesperson from Pelosi's office told Newsweek. "They're floundering."
The Congressional Leadership Fund, a Republican super PAC whose mission is to elect Republicans to the House, feels its criticism of the Democratic leader is well justified. During last month's Pennsylvania special election, the PAC ragged on Democrat Conor Lamb for attempting to distance himself from Pelosi, calling him a "Pelosi liberal" and pairing him with Pelosi in ads to move voters to Republican Rick Saccone's side.
"CLF plans to continue to highlight just how dangerous and out of touch Pelosi is throughout 2018," Michael Byerly, a CLF spokesperson, told Newsweek in a statement.
Pelosi's spokesperson said the House Minority Leader was not the least bit fazed by the attacks. "Nancy Pelosi dons a suit of armor every day and eats nails for breakfast," he said.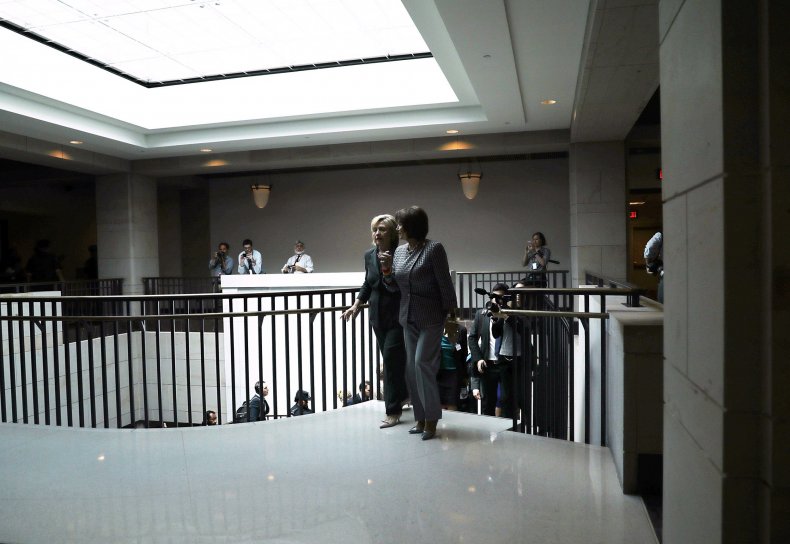 It's this very spirit, some say, that make it so easy for Republicans to turn women like Pelosi and Clinton into bull's-eyes.
"We saw this anger building during the 2016 election: 'Why is this lady coming and speaking so loudly and being so emphatic about her views?'" Milloy said. "I think it frustrates a lot of more 'traditional-values' voters."
The approach may turn out to be a successful one for Republicans in 2018, but Milloy wonders at what cost. She recalled the Republican National Committee's 2012 autopsy report, which argued that after Mitt Romney's defeat, a winning strategy for the party meant appealing to, and being more inclusive of, women in the party.
For Milloy, the GOP's Clinton-Pelosi attack ads are just one more sign that Republicans tossed the report in the trash.
"If they think they can just show ads with these Democratic women to fire up their typical white middle-class male voter, that's troubling," she said. "It's a problem."