As a college professor, not a week goes by that I don't hear from frustrated students who feel they cannot speak freely. It's not just my students, of course; a 2021 survey found that over 80 percent of American college students self-censor. But it's not only their fellow students who are making students feel ashamed to voice their views; the data shows that Gen Zers—those born after 1996—are less censorious than their millennial elders. Moreover, there's evidence to suggest that some of the pressure of ideological conformity is coming from much higher up—specifically, from university administrators.
Long before they meet their professors, students engage with college administrators. They are omnipresent in residence halls and social spaces where they act as informal advisers. But these administrators also set the terms of engagement and the rules for student discourse, including what can be said and done, what topics are sacrosanct, and what should never be questioned.
And they are very, very liberal.
In fact, college administrators are the most left-leaning group on campus, according to surveys. Liberal administrators outnumber conservative ones 12-to-one. Just a scant 6 percent of campus administrators identify as conservative to some degree, while 71 identify as liberal or very liberal. And 86 percent of administrators believe that their schools should be as concerned with students' "personal values" as with their intellectual development.
If you want to know why more than 80 percent of college students are self-censoring in the classroom, on campus, and online, start with their administrators.
I did just that, surveying 1,500 student-facing administrators in almost three dozen schools. What I found was that these administrators have incredibly narrow views. They are surprisingly monolithic, despite coming from a variety of learning institutions, ranging from large public research universities like the University of California, Los Angeles and the University of Florida, to small colleges like Rhodes and Lafayette Colleges, and private schools like Boston and Rice Universities.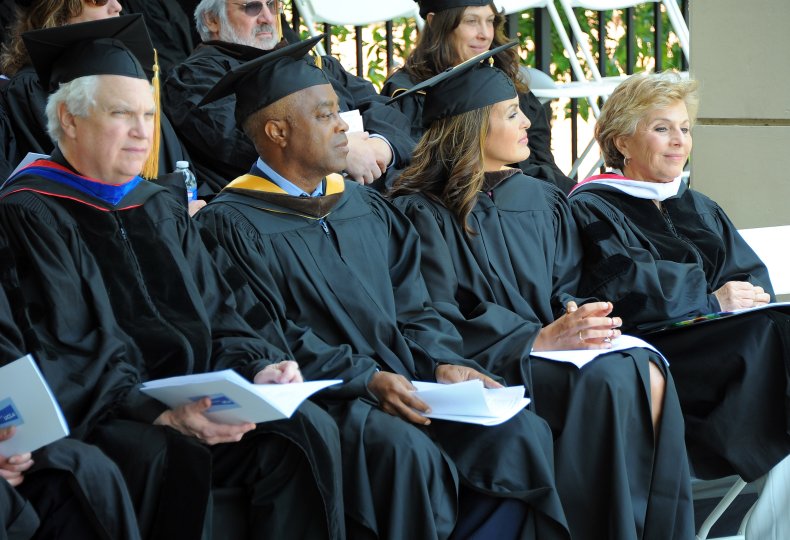 How did the administrators get so uniform in their views? What I found in researching college staff was that the majority of administrators'—54 percent—have degrees in education. And reports have shown that graduates of education programs are fixated on a narrow progressive view of demographics, identity, diversity and capitalism, as well as ideas about the oppression they believe permeates American society. These views are also supported by scores of centers, which put out academic statements and initiatives to promote them.
The truth should not be sugar-coated: America's education programs are dangerous for higher education because they adhere to a pedagogy that transforms their graduates into activists. Their training teaches future administrators to deconstruct the society in which they live and then promote their views at work, in dining halls, dormitories, and throughout campus.
It should thus come as no surprise that today's college administrators try to dictate the very language their students are allowed to use, which they see as "a powerful tool that can be used to perpetrate and perpetuate oppression."
In this, college administrators are actually typical of their age cohort. Almost two-thirds of administrators (63 percent) are Millennials (25 to 40 years old), the cohort least likely to feel encumbered by cancel culture, according to surveys. This makes them out of sync with America's workforce more generally, where Millennials make up just a third of American workers (35 percent).
More importantly, there is a huge disconnect between what students are studying today and the background of the administrators who advise them and set the tone of much dialogue on campus. Graduation data show that 21 percent of students today have pursued degrees and training in science, engineering and allied fields, another 21 percent are pursuing management, administration, and leadership degrees and 15 percent are working toward training in sports and health professions.
On the other hand, a minimal numbers of administrators have training in the fields preferred by students. Just 7 percent of administrators have degrees in leadership, 4 percent in sports and health, and 4 percent in science, math, and engineering. Meanwhile only 4 percent of students pursue an education degree, the degree the majority of their administrators possess.
And of course, far more students are conservative than administrators. In fact, just 35.5 percent of students align themselves with liberal or far-left ideology that their admins have, according to recent polls, while 22.2 percent call themselves conservative or far right.
So while it's dangerous, it is also no surprise that graduates of education programs who are fixated on social justice education and training promote these concepts throughout college and university campuses.
Ironically, a refrain heard from college administrators is that in order to be a legitimate educator, those teaching on campus must look like the students that are being taught. This ignores the fact that the very administrators who promote this flawed belief look almost nothing like the students that they claim to advise.
If you want to understand where the woke revolution is coming from, college administrators are a good place to start.
Samuel J. Abramsis professor of politics at Sarah Lawrence College and a nonresident senior fellow at the American Enterprise Institute.