Zooey Deschanel and Jonathan Scott: Why the Couple Should Thank James Corden
Zooey Deschanel has a unique story for how she met her current boyfriend, Property Brothers star Jonathan Scott.
New host of The Celebrity Dating Game on ABC, Deschanel has been discussing how she met her partner on an edition of Apple TV's Carpool Karaoke: The Series, and how she watched Scott on television long before they met.
Such a unique origin story deserves a full explanation, so let's get into how Deschanel and Scott became the power couple Sco-chanel.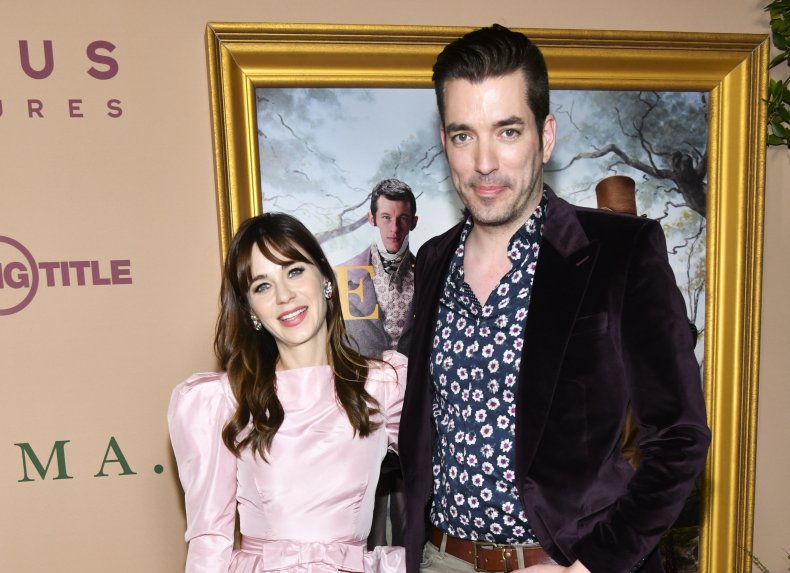 Have they been married before?
New Girl star Deschanel has been married twice before. In 2009 she wed Death Cab For Cutie and The Postal Service frontman Ben Gibbard, but the pair announced their separation in 2011 before finalizing their divorce in 2012.
In June 2015 she tied the knot with movie producer Jacob Pechenik. The couple share two children, Elsie Otter who was born in July 2015 and Charlie Wolf, born in May 2017. However the couple eventually announced their separation in September 2019 before confirming their divorce the next June.
Scott was also married way before he met Deschanel. He was married to Kelsy Ully, crew scheduler for an airline. Unfortunately the pair separated in 2010 and later divorced. He then dated Canadian radio producer Jacinta Kuznetsov for a few years around 2015 but they never married.
When Zooey Deschanel and Jonathan Scott met on Carpool Karaoke
The couple have James Corden to thank for their first meeting because they met on the show he produced, Carpool Karaoke: The Series.
Deschanel was aware of Scott before they met though. She recently revealed to Andy Cohen on his radio show, SiriusXM's Radio Andy, that she used to watch her now-boyfriend on TV.
On being a fan of Property Brothers, she said: "It always felt relaxing to me, but I never even thought like, 'oh, I would meet Jonathan' and that never even crossed my mind. So when we ended up doing Carpool Karaoke together and, I was like, 'oh my gosh, he's just the nicest person.' Nicest, funniest, sweetest."
The pair finally met in 2019 when they filmed their episode of Carpool Karaoke: The Series but they were also joined by Zooey's sister Emily Deschanel, and Jonathan's twin brother and fellow Property Brothers star Drew Scott.
During the episode the four of them sang "Hooked on a Feeling," "All My Life," "Baby It's Cold Outside," "...Baby One More Time" and "When Will I Be Loved."
The episode also features the Deschanel sisters performing a stage musical version of the television series Property Brothers, much to the bewilderment of Jonathan and Drew sat in the audience.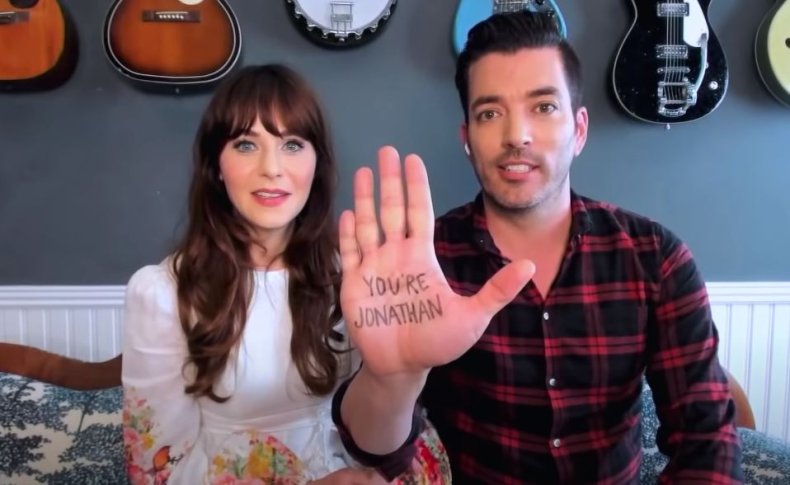 Upon meeting his co-stars for the day for the first time, Scott admitted to Hollywood Life that it was a little daunting as he didn't realize that the Deschanel sisters were both professional singers. He said: "They have angelic voices. I mean, we like to sing, I think our voices aren't bad, but then there's us and then there was them, but together we had so much fun and it was such a nice diverse mix of music as well"
On August 5, 2019, Deschanel posted a shorted Boomerang video of the four stars filming their episode. She suggested in the caption that two out of the four were more excited to be there than the other two.
When their edition of Carpool Karaoke: The Series finally aired on the Apple TV app in February 2020, Deschanel shared the video to her Instagram account. On the episode, she wrote: "this was a VERY special day (understatement!) and watching this fills me with so much joy."
Their relationship since Carpool Karaoke
The couple have been open about their relationship since they got together, posting several cute selfies and videos of themselves on social media.
Scott was the first out of the pair to post an image of them online together. In the picture he's carrying her at the Universal Studios Horror Nights, alongside his brother and his partner.
A month later Deschanel shared her first post of them together as they attended Drew Scott's fancy dress-themed wedding dressed like Batman and Catwoman.
On their one-year anniversary, Scott posted a sweet video and tribute to his partner. He wrote: "How time flies when you're having the best time of your life. Who would've known that exactly one year ago my life would change forever. When I count my blessings, I count you twice."
Since then they stayed together throughout the pandemic, posting plenty of updates on social media, assuring fans that they're together and happy.
Deschanel opened up to Cohen on his radio show on June 16, 2021 about what it's like to date a Property Brother. She said: "He can fix anything. It's amazing. He just gets out his tool kit and he fixes stuff. I'll be like, 'oh, the fridge is broken' or, 'the picture needs to be hung up.' He can do everything."
The couple today
Now that Deschanel has found her boyfriend, she's turning her attention to finding partners for fellow famous folks.
As the host of The Celebrity Dating Game alongside Michael Bolton, she's helping contestants like Carmen Electra, Iggy Azalea and Taye Diggs find a match.