How Digital Advertising Will Change in 2021
Like many industries during the ongoing coronavirus pandemic, digital advertising and media have suffered greatly over the course of 2020. Furloughs and layoffs skyrocketed among global marketers during the past year, with an estimated 35,000 agency jobs cut and more expected to be lost in 2021. National TV advertising is where much of the advertising was cut during the early parts of the pandemic, with research showing a roughly 7.9 percent decline in advertising during 2020. Still, with vaccine news driving consumer confidence over the last few months of 2020, many are expecting a sizable recovery heading into 2021. Data and research show how leading marketers are expecting a strong rebound in the U.S. this year, and how the continued rapid acceleration into the digital world will change marketing and advertising for the coming ears.
While the digital transformation may be a savior for marketing and advertising efforts online and on social media in 2021, the decline of more traditional forms of advertising may only quicken. According to Magna Global, in 2019 and 2020, digital forms of advertising continued to see growth in sales—even during the totality of the current COVID-19 pandemic. The decline in advertising came primarily from linear sources like TV, print and radio. Overall, 2020 saw a decline of nearly 18 percent in advertising sales—a heightening of the already downward trend over the last decade. TV advertising sales saw a 12 percent decline, while print and radio advertising saw appalling 25 percent declines over the last year. The rebound of these traditional forms of media are also unlikely to be strong, particularly when compared with advertising on social media and digital spaces. Ultimately, key marketing decision makers may look to move further into digital advertising as opposed to linear forms in 2021, especially as more people abandon TV, print and radio for digital services like streaming and social media.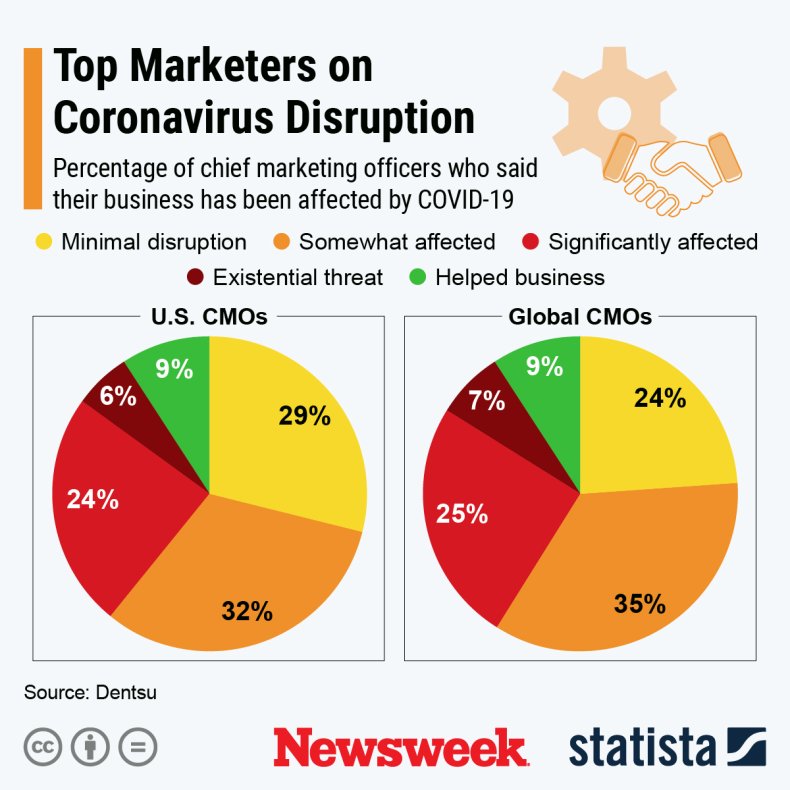 The coronavirus has had an impact on a wide swath of marketers and advertising agencies. In survey data collected by advertising agency Dentsu, 62 percent of U.S. chief marketing officers have experienced some kind of disruption to business since restrictions were put in place in March of last year. That's a little under the 67 percent of global CMOs that have said the same, with just 9 percent of both U.S. and global CMOs saying the pandemic has improved business. Despite digital media and companies focused on digital infrastructure performing well due to increased activity during COVID-19, this data shows how advertisers and marketers in the digital space have still suffered setbacks from these monumental lifestyle changes.
E-commerce advertising and sales, however, have seen massive growth, and the anticipated rebound for advertising ages is linked closely to the continued success of e-commerce followed by the inevitable reopening of brick-and-mortar businesses. The total loss of revenue in the advertising space during 2020 was still only 1 percent, with a predicted recovery of 4 percent in 2021. With many agencies and marketers adapting quickly into social media and streaming services in 2020, the greatest challenge, according to Dentsu, will be for companies to understand which consumer shifts are permanent and which will go back to pre-2020 levels of normality. For those that follow permanent consumer behavior shifts in the digital and linear advertising realms, experts expect a swift economic rebound over the next year.
Optimism will be the driving force not just for the advertising and marketing industry but for many industries across the U.S. and world in 2021. The continued spread of a successful vaccine will only encourage economic growth among advertisers in both traditional and digital media, and predictive forecasts are heavily tied to the speed with which vaccination progresses. But there's no question that much of the acceleration into digital advertising sales will be permanent despite a hopeful rebound this year. Linear forms of media, most notably in print and radio, may need even more support to survive a perceivably longer recovery period and an enduring loss in advertising revenue. Digital spaces like streaming services and social media are where many advertisers will continue to move to, especially in the hopes of a fruitful future.