How Do I Get Peacock, NBCUniversal's New Streaming Service?
Are you ready to add yet another streaming platform to your binge-watching routine?
NBCUniversal's very own service, Peacock, launches on July 15 and it comes with plenty of reasons to sign up for yet another streamer. Chief among them? The cost. While HBO Max, Netflix, Hulu and more all offer loads of TV shows and movies, Peacock can boast something truly unique: It lets you stream some of its content for free.
That's right—you can enjoy portions of Peacock's library at no charge. According to CNet, that includes a slew of movies and classic NBC series like Parks and Recreation and 30 Rock. There are two Premium plans that cost money and make even more content available, and we'll detail those in a moment, but first we want to help answer the most basic question: How do you get Peacock?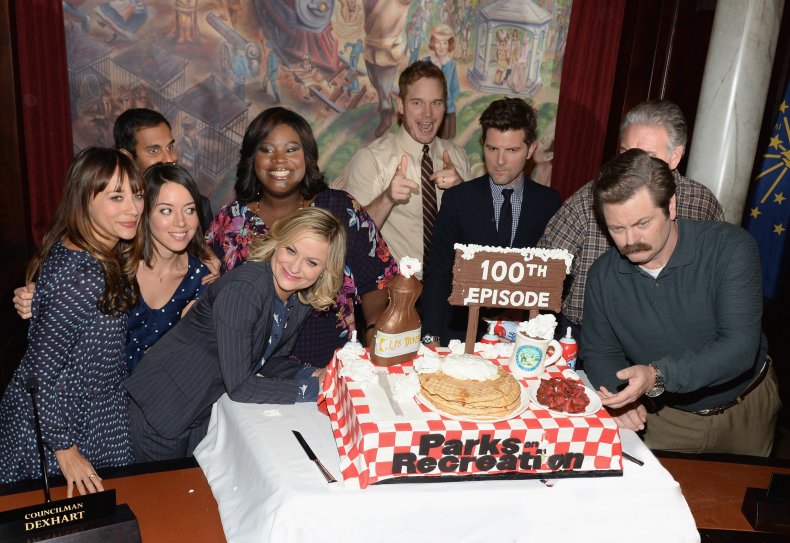 Well, owners of Xfinity 1 and Xfinity Flex devices can already use Peacock. Everyone else, though, has to wait until the service launches wide on Wednesday.
Like Hulu, Netflix and other streamers, Peacock can be watched directly through your Internet browser by visiting the service's website. But there will also be app downloads available on a number of devices.
Apple and Android users will be able to download the Peacock app Wednesday through their device's Apple Store or Play Store, for on-the-go streaming. Apple TV will also offer an app download. Other devices, like Xbox, Chromecast, LG Smart TVs, Samsung Smart TVs and VIZIO, will be compatible with the app as well. There's no word on a partnership between Peacock and Playstation for PS4 users at this time, according to The Streamable.
Unfortunately for Roku and Amazon users, they also won't be able to use Peacock on those devices. NBCUniversal has yet to ink a deal that would bring its service to those platforms, per CNet.
Now, the pricing. As mentioned above, Peacock offers a plan that's completely free, but it only lets users access about half of the platform's entire catalog, which also includes movies and original programming. To savor more of the shows and movies on Peacock, you'll have to sign up for one of the paid plans.
There are two Premium tiers of Peacock. The first retails for $4.99 per month (or $49.99 a year) and unlocks more content than the free version, but it still features ads. If you want the most content and no ads, then you should opt for the second tier, which retails for $9.99 per month (or $79.99 a year).
There's currently a special for Peacock preorders, though, which offers access to the first level of Premium for only $29.99 a year, or access to the top-shelf plan for $79.99 a year. If you're interested in either deal, you'll have to move quickly—the sale ends on Tuesday. At the moment, you can find these cheaper upgrades on the Peacock website.
If you're still not sure about either Premium plan, you can also take part in a seven-day free trial, to compare the two options.
Regardless of which plan you opt for, though, you'll still get thousands of hours of content to watch—as if there wasn't enough already.