How Do Native Americans Celebrate Thanksgiving? U.S. Holiday A Day of Mourning for Indigenous Peoples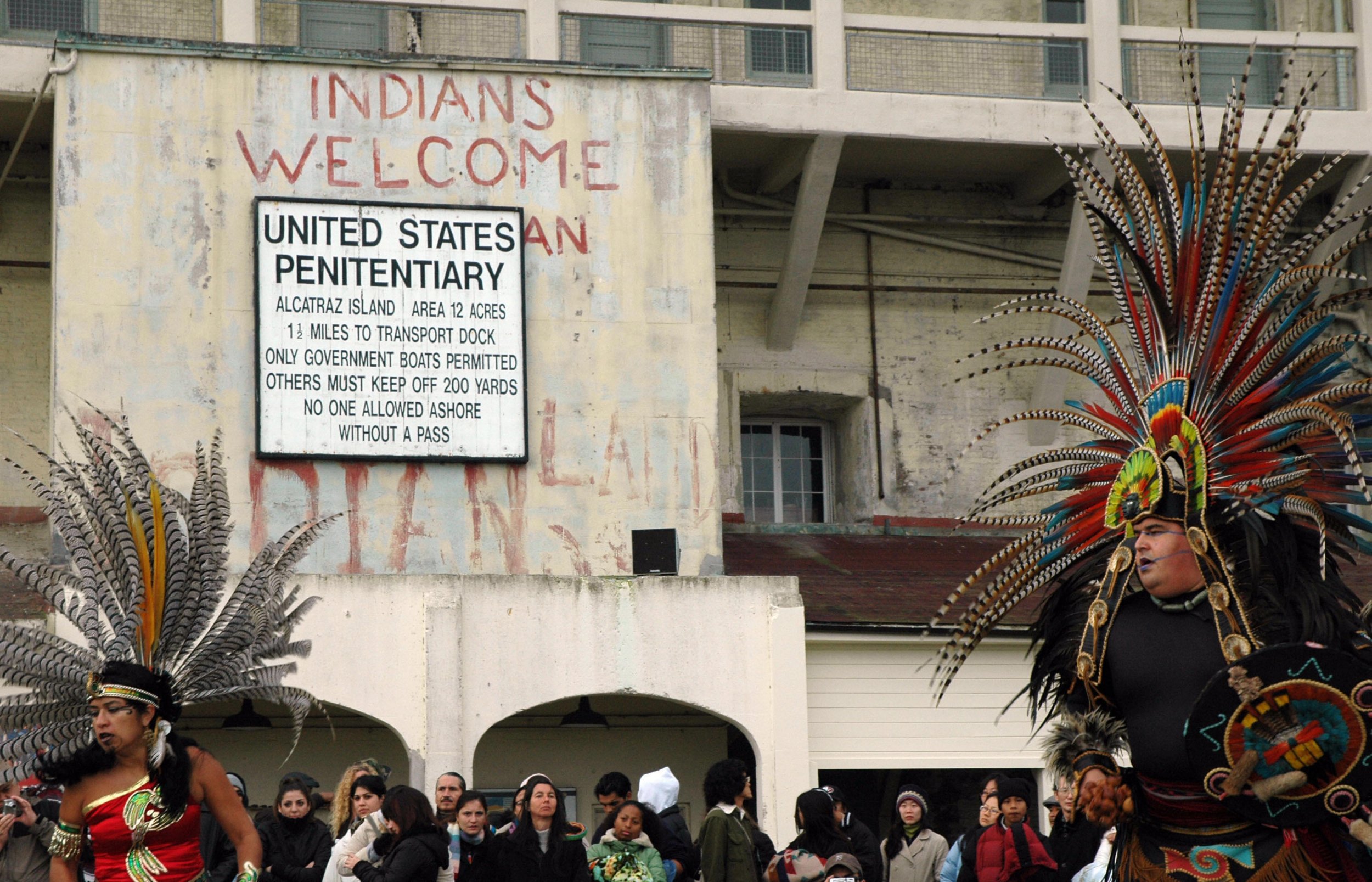 While for most Americans, Thanksgiving Day is for feasting, football and giving thanks, for Native Americans, it is a reminder of dead ancestors, racial slurs still being worn on football jerseys and families around the nation feasting on food from colonized agricultural land.
Native Americans say the day is not a holiday but rather a celebration built on a lie, one they would rather spend indulging in some self-care instead of turkey and yams. Some even refer to the day as Day of Mourning or Unthanksgiving Day.
"It's about reflecting, remembering and celebrating that we are still here and our culture still survives," Michael Horse, a Native American actor known for his performance on Twin Peaks, said.
Horse spends Thanksgiving with fellow Native Americans at the sunrise ceremony on Alcatraz Island in California. Before dawn, Horse and his family take a ferry to the island in San Francisco Bay, where traditional dancers perform and crowds gather to watch the sunrise and remember the 1969 occupation of the island. From November 1969 to June 1971, 89 Native American activists and leaders occupied the island and its former penitentiary. demanding that it be turned into an Indian cultural center and school.
"It's a wonderful way for native people to anti-celebrate the day," Horse said.
Historical estimates vary on the number of Native Americans who were wiped out after the arrival of early Europeans in the 1500s. A 2015 paper by Roxanne Dunbar-Ortiz, author of "An Indigenous Peoples' History of the United States," estimated that the population of indigenous people was decimated by 90 percent in the Americas from 100 million to 10 million upon colonization. As of 2011, the United States Census Bureau counted 5.1 million Native Americans living in the U.S.
Native Americans still experience large socio-economic disparities, including lower life expectancy, inadequate education, poverty and discrimination. The Center for Disease Control and Prevention found that native populations die from police brutality at a "higher rate than any other racial or ethnic group," according to CNN.
That means for many Native American activists, Thanksgiving Day is a time of reflection, not family traditions.
"It is a time of self-care, to rewind a bit and build my strength up in that way," Isabella Zizi, an organizer with "Idle No More SFBay," a group of Native American activists who work to uplift environmental issues.
Last fall, Native American activists, including Sasha Houston Brown, spent Thanksgiving on an encampment near the Standing Rock Sioux Reservation in North Dakota to protest the Dakota Access oil pipeline. Brown said this Thursday, she will be at home with her family eating traditional native foods and reflecting on her Dakota heritage.
James Vukelich and his family will be feasting on traditional Ojibwe foods on Thanksgiving, including turkey (mizise), potatoes (opiniig), beans (miskodiisimin), wild rice (manoomin) and corn (mandaamin). As part of his culture, Vukelich said his family lights tobacco to honor his Ojibwe ancestors.
"I use a tobacco, which is our traditional way of prayer and giving thanks," he said.
After the meal, Ray Halbritter, a Oneida Nation representative, will not be watching football like the hundreds of Americans who turn to their televisions for the big turkey day game. Halbritter launched a massive campaign in 2013 to protest the Washington Redskins team name. Halbritter, along with several other Native American activists, are outraged that the team is not only continuing to use the name but will be hosting its first ever Thanksgiving Day home game this Thursday.
"There are things that as a leader and as a father I would like to change if I could," he said.
On some years, Hartman Deetz of the Wampanoag tribe has decided to skip a meal on Thanksgiving all together. Deetz calls Thanksgiving the Day of Mourning in reference to the protests organized by Native people in New England. He said the day is just like any other day in America of denying Native American existence, except its more gluttonous.
"It is a day that has never stayed with me because of the history," Deetz said.