How Do Twitter Trends Work? Trump Accuses Platform Of Manipulating Popular Topics After #TrumpMeltdown Trends
President Donald Trump accused Twitter of manipulating trending topics after #TrumpMeltdown trended on the social media platform early Thursday.
"It's never a real Twitter Trending. It's Twitter Executive's Choice. Only negative on Republican voices, especially mine!" the president complained in a tweet.
But according to Twitter's website, trending topics and hashtags are determined by an algorithm and not by Twitter executives.
"Trends are determined by an algorithm and, by default, are tailored for you based on who you follow, your interests, and your location," the website's FAQ section on Twitter trends explains.
"This algorithm identifies topics that are popular now, rather than topics that have been popular for a while or on a daily basis, to help you discover the hottest emerging topics of discussion on Twitter."
Users can choose to see trends that aren't tailored for them by selecting specific locations that will show them popular topics among people in a specific geographic place.
However, Twitter does acknowledge that it will on occasion prevent certain content from trending if they contain profanity or adult/graphic references, if they incite hate or if they otherwise violate Twitter's rules.
But it adds: "In some cases, we may also consider the newsworthiness of the content, or if it is in the public interest when evaluating potential violations. In these cases, the content might continue to trend on our platform."
Trump reignited his feud with Twitter after more than 30,000 people tweeted using the hashtag #TrumpMeltdown, prompting it to trend on the platform.
It came after the president responded to former president Barack Obama's Democratic National Convention (DNC) speech on Wednesday night in real-time with a series of all-caps tweets.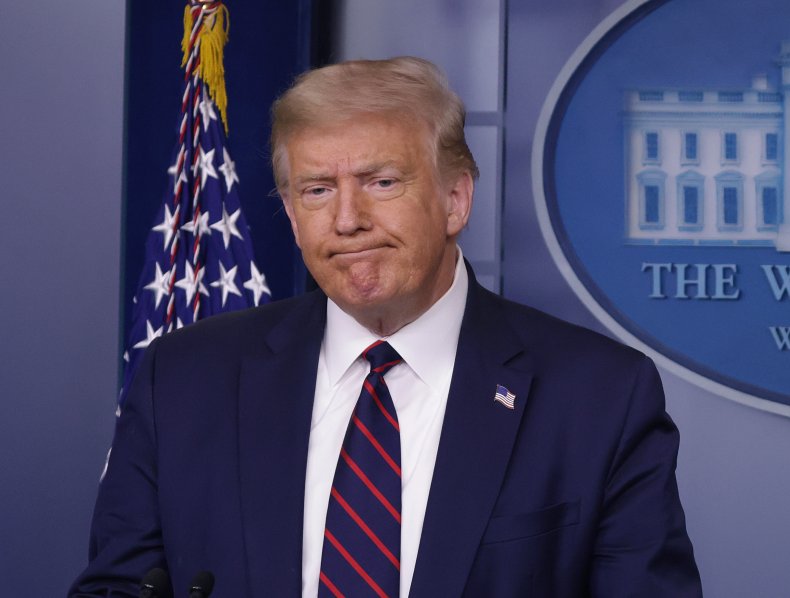 "WHY DID HE REFUSE TO ENDORSE SLOW JOE UNTIL IT WAS ALL OVER, AND EVEN THEN WAS VERY LATE? WHY DID HE TRY TO GET HIM NOT TO RUN?" Trump claimed in one tweet.
Trump falsely added in another tweet: "HE SPIED ON MY CAMPAIGN, AND GOT CAUGHT!"
Obama, until now restrained in his comments about Trump, had delivered stinging remarks saying his successor had not only not risen to the job of president, but was incapable of doing so.
Instead, Obama said Trump has focused on using the presidency to benefit his friends and family and turned the county's most powerful office into "one more reality show that he can use to get the attention he craves."
Twitter and the Trump campaign have been contacted for additional comment.