How Do You Stop Lebron? Kobe Bryant Has the Answer
LeBron James has been at his unstoppable best throughout the playoffs so far, guiding the Cleveland Cavaliers to their fourth consecutive Eastern Conference Finals.
On Monday, LeBron finished with 29 points, 11 assists and eight rebounds in 38 minutes as the Cavs beat the Raptors 128-93 on home court, completing a 4-0 sweep over the Raptors for the second consecutive season.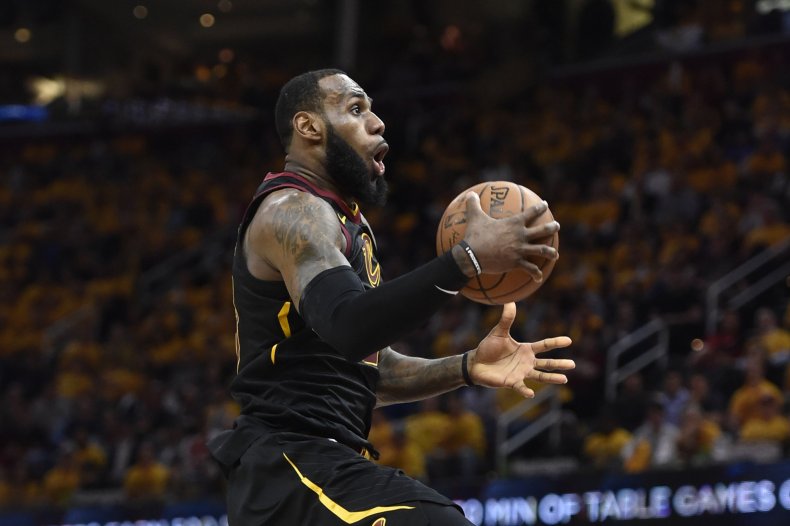 Over 11 playoffs games this season, James is averaging 34.2 points, 11.4 assists and 9.4 assists per game, and has already scored over 40 points four times.
While LeBron appears to be unstoppable right now, Kobe Bryant believes he knows how to limit the three-time NBA champion's impact.
"For one thing, you have to stop letting him go left," Bryant told the Chris and Caron show with Chris Mannix and Caron Butler.
"Every big shot that he makes is going left. He's remarkable about getting to that left hand, raise up and shoot. That's the first thing I would do—disrupt his ability to go left."
LeBron has sank some incredible shots this postseason, including a buzzer-beater in Game Three of the Cavs' first-round series against the Indiana Pacers and another in Game Three against the Raptors on Saturday night.
The game-winning shot against the Pacers bore a striking resemblance to Michael Jordan's buzzer-beater against the Cavs in Game Five of the 1989 first-round series. Both LeBron and Jordan drifted to their left, taking exactly two dribbles before releasing the winning shot and Bryant explained limiting James' options would go a long way towards curbing his influence.
"It's amazing, all those shots are either coming right shoulder from the post or off the dribble with his left hand," he added.
"That's the first thing I would do, make him do something different besides going to that left."
In the first round, LeBron single-handedly dragged the Cavs past the Pacers without having a single teammate contributing 20 or more points in a single game—the first time this has happened in the 42 playoffs series he has played in his career.
However, Cleveland's supporting cast sprung into life against the Raptors, with Kevin Love averaging 25 points and 11 rebounds in the last three games against Toronto, as opposed to the 8.8 points with 26 percent from the field he averaged in the previous five.
"As everyone was burying my teammates alive throughout that first-round series, I was just telling them, 'Listen, we can't win without each and every one doing their job and being as great as they can be,'" James was quoted as saying by ESPN. "I continue to preach that. It's impossible for me to lose confidence in our ballclub, no matter what the stakes are or what we're down."