A squirrel in Colorado has tested positive for the bubonic plague, health officials announced Sunday, sparking fear of another pandemic.
Health officials in Morrison, Colorado, in Jefferson County, said that the infectious disease could be spread to humans and household pets if "proper precautions are not taken," according to a statement. Morrison is located just west of Denver.
"Risk for getting plague is extremely low as long as precautions are taken," according to the statement, which also provided a list of safety measures that stressed the importance of staying away from wild animals.
The county first became aware of the infected rodent after a resident had informed officials that a fifteenth squirrel had died within a period of two to three weeks, David Volkle, an environmental specialist with Jefferson County's Environmental Health Services, told Newsweek.
"That's pretty out of the ordinary, and so we tested it for plague...because in the past [squirrels] have gotten that," he said.
Officials tested only the fifteenth squirrel because it was the last one that had died, Volkle said, adding that plague had most likely killed all of the others.
The bubonic plague is historically known as the Black Death — and one of the world's deadliest recorded pandemics. It killed an estimated 50 million people across much of Europe in the fourteenth century.
In humans, the bubonic plague is the most common form seen of the plague disease. It is known to cause painful, swollen lymph nodes in the groin or armpit in addition to fever, chills and coughing, according to the U.S. Centers for Disease Control and Prevention.
General plague is a potentially lethal infectious disease that is caused by bacteria living primarily in rodents and their fleas. Wild carnivores can become infected if they eat other infected animals, according to the CDC.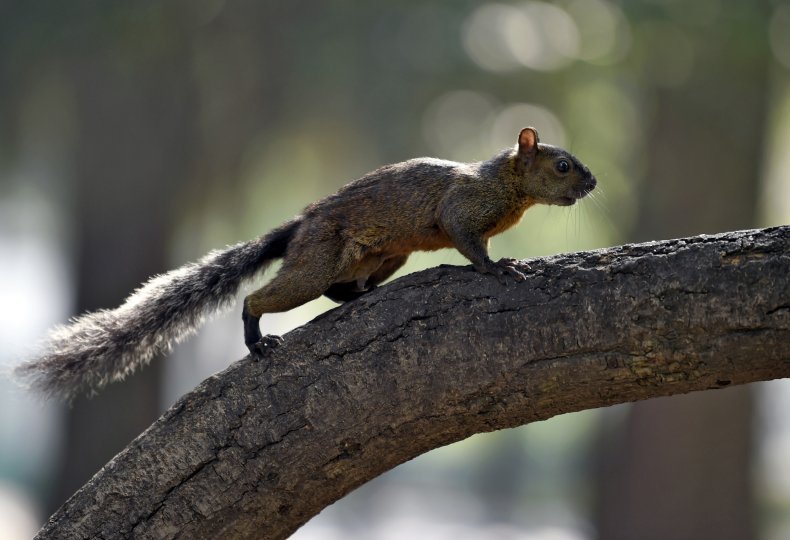 Humans can become infected with plague through flea bites, contact with contaminated fluid or tissue from a plague-infected animal, or through droplets spread in the air by an infected person.
"This particular [bubonic] plague is transmitted by the bite of a flea, and so the chances of it being widespread like COVID is pretty remote in this particular form," Volkle told Newsweek.
If plague is suspected after evaluation by a health worker, presumptive treatment with antibiotics will often begin, according to the CDC.
There is no vaccine available to treat the bacterial disease. The World Health Organization stated that an adult can die from plague in less than 24 hours if they are not treated with several types of antibiotics.
In a 2006 summary of an interregional meeting concerning plague, the WHO stated that plague is "far from being eradicated and is re-emerging in several countries and regions."
Plague can occur in people of all ages but approximately half of all cases have affected people ages 12 to 45, the CDC reported.
In recent decades, an average of seven human plague cases are reported each year in the U.S. Between 2010 and 2015, there were 3,248 plague cases reported worldwide with 584 reported deaths, according to the WHO.
On July 7, Chinese authorities confirmed that a city in the region of Inner Mongolia had a case of the bubonic plague.
"At present, there is a risk of a human plague epidemic spreading in this city. The public should improve its self-protection awareness and ability, and report abnormal health conditions promptly," the local health authority in Bayannur, Inner Mongolia, said, according to state-run newspaper China Daily.
Michael Head, a senior research fellow of global health at the University of Southhampton, told CNN that the case would "be of concern locally within Inner Mongolia."
"However, it is not going to become a global threat like we have seen with COVID-19," he added.
On July 6, Mongolian authorities had identified another suspected case of bubonic plane. The National Centre for Zoonotic Diseases reported Tuesday that the 15-year-old male had died from plague after eating marmot meat.
"The result of a polymerase chain reaction (PCR) test revealed on Monday night that bubonic plague caused the death of a 15-year-old boy," Dorj Narangerel, head of public relations for the health ministry, said during a press conference.
Update (07/14/20, 3:13 p.m.): This article has been updated to include comments from David Volkle, an environmental specialist with Jefferson County's Environmental Health Services.