How Does Induction Into the Baseball Hall of Fame Compare With Other Pro Sports?
For the first time in over 60 years, no new members were voted into the Baseball Hall of Fame on Tuesday. According to ESPN, no candidates listed on the 2021 Baseball Writers' Association of America (BBWAA) ballot received 75 percent of the votes necessary to be inducted into the Cooperstown, New York, museum. Also, due to the coronavirus pandemic, there was no meeting of the Veterans Committee. The players who came closest to getting elected were Curt Schilling at 71.1 percent, Barry Bonds with 61.8 percent, and Roger Clemens with 61.1 percent.
Baseball stars get 10 chances to be elected into the Hall of Fame, and Schilling, Bonds and Clemens have one more opportunity to get voted in. If they don't get 75 percent then, they get passed along to the Hall of Fame's veteran voting groups. In order to be voted into the Baseball Hall of Fame by the baseball writers, a player must be active in a period 15 years prior to the election; he needs to have participated in 10 Major League championship seasons; and he needs to have been retired for five years, according to the BBWAA Rules.
The last time no one was voted into the Baseball Hall of Fame was in 1960.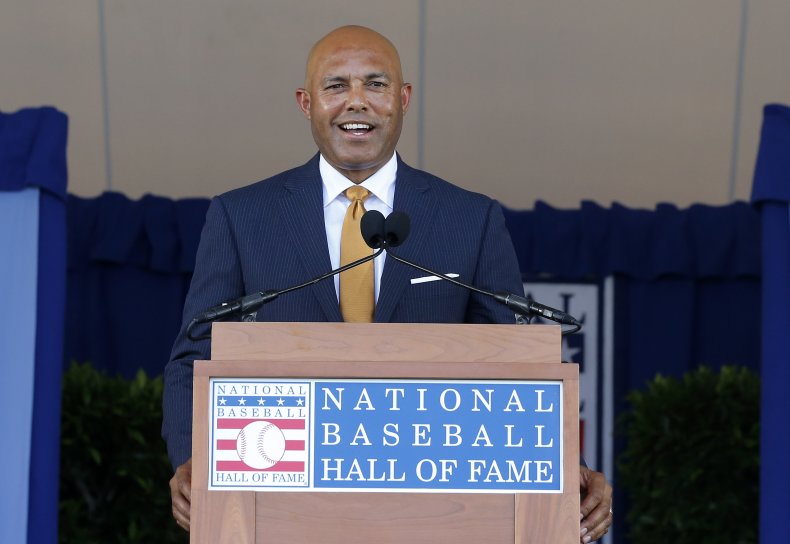 Compared with other professional sports halls of fame, baseball's election process is at least if not more arduous.
In the Naismith Memorial Basketball Hall of Fame, players are eligible four full seasons after retiring from playing, according to Hoop Hall. In their fifth year of retirement, they can submit a nomination form which is brought to the suitable nomination committee (one for the NBA, one for the WNBA). Those committees then nominate those they see fit, and pass their candidates onto the Enshrinement by the Honors Committee for final voting.
If an eligible player received "zero affirmative votes for three consecutive years" from their screening committee, they are off from the ballot for five years. However, unlike baseball, there is no limit to when you can be nominated and inducted to the Basketball Hall of Fame.
Similar to basketball, hockey players looking to be voted into the Hockey Hall of Fame have to wait three years after retiring to become eligible. Members of the Hockey Hall of Fame Selection Committee are the folks in charge of voting in players. Nominations are decided during the Annual Elections Meeting of the Selection Committee. Like baseball, anyone who receives 75 percent of the votes from the HHOFSC can be "declared elected."
Only four male and two female hockey players can be voted in each year.
To be elected into the Professional Football Hall of Fame, those eligible must receive 80 percent of the votes from the Selection Committee, which consists of 48 people. Candidates are selected after going through four preliminary lists, and end up on the "Final Preliminary List of 25 Modern-Era nominees." From there, they are further vetted into a list of 15 finalists, and then 10.
There is no set number or limit on how many people can be enshrined into the football Hall of Fame, but typically between four and eight people will be voted in each year. A coach or player must have not participated for five seasons before they can be considered as a candidate. It's worth noting that there is no mandatory retirement period required, unlike other sports halls of fame.