How Does an Iron Lung Work? Polio Survivor, 82, Among Last to Use Breathing Equipment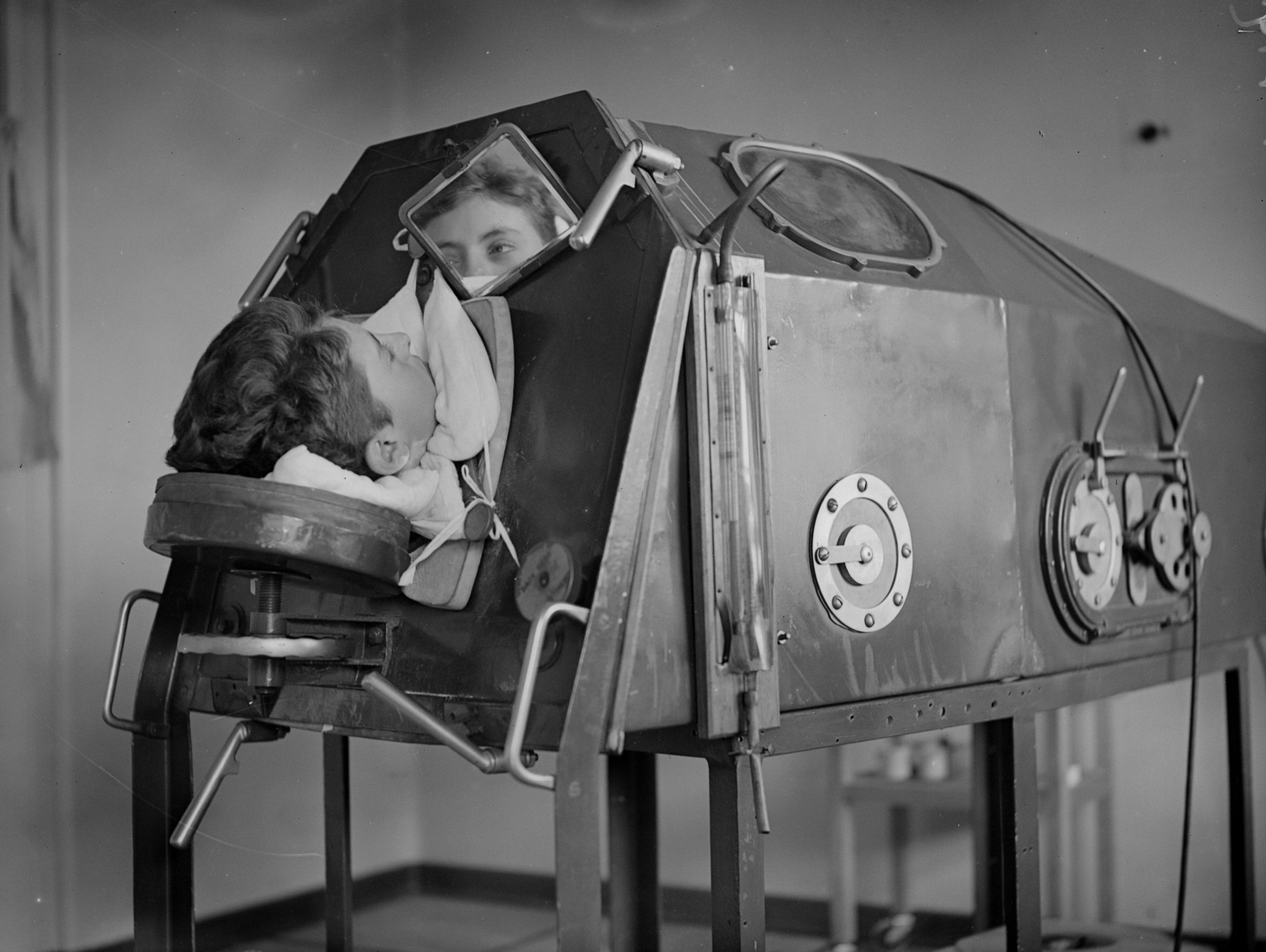 It started in 1956 with the most intense headache she had ever felt. Days later, Mona Randolph was unable to breathe without the help of an iron lung.
Aged 20 at the time, she was told old for the vaccine prioritized for children, the Kansas City Star reported. At first, she noticed her senses were overwhelmed with everyday sights and sounds. Then she gradually grew weaker. More than six decades later, Randolph is believed to be one of only three people in the U.S. still using an iron lung to deal with the ravages of the polio virus on her body.
An iron lung, known in medical terms as a negative pressure ventilator, is a piece of equipment that helps a person breathe. The machinery features pressurized cylinders which create a vacuum to push oxygen into a person's lungs.
Following the polio outbreaks of the early twentieth century, the image of a polio patient with their head poking out from an iron lung became visually synonymous with the virus. Most patients required the equipment for one or two weeks. But others, such as Randolph, whose lungs were permanently damaged, required an iron lung long-term.
Polio is a highly infectious virus that can paralyze the lungs. It mainly affects young children under the age of five according to the World Health Organization. First, it multiplies in the intestine, before attacking the nervous system. Around one in 200 patients will experience irreversible paralysis, with a further five to 10 percent dying as they become unable to breathe.
Polio symptoms include fever, tiredness, headache, vomiting, a stiff neck, and pain in the limbs. As there is no cure for polio, it can only be prevented with a vaccine.
In the early 1950s, before Randolph caught the virus and when the vaccine was not yet available, 15,000 people were paralyzed by polio each year in the U.S. alone, according to the Centers for Disease Control and Prevention.
After vaccines were rolled out in the mid Fifites and Sixties, polio cases had dropped to less than 10 by the 1970s. It is now eliminated in the U.S. The last time polio was identified in the country was in 1993, when it was introduced by a traveler.
Read more: Coconut oil is "pure poison," says Harvard professor
Thanks to global efforts to eradicate disease centered around vaccination programs, worldwide rates of polio have plummeted by 99 percent since 1988, falling from 350,000 to 22 in 2017.
Now aged 82, Randolph still sleeps in her six-foot-long iron lung six nights a week—a process that takes more than an hour to prepare for. After being taken off her iron lung, she started using the apparatus again in the 1980s, when the post-polio syndrome the virus left her with worsened. Without it, breathing feels like lifting weights, she said.
Randolph has one word to describe what it's like being inside the machine: "Relief."