How Does 'Lightyear' Connect to 'Toy Story'?
Lightyear is Pixar's latest film and it has its roots in the animation studio's iconic Toy Story universe.
The animated film, which is released in theaters on Friday, June 17, follows astronaut Buzz Lightyear as he goes on a mission to get him and his crew home after they are marooned on a planet 4.2 million light-years away from Earth.
Here's how this new film connects to Pixar's iconic Toy Story films.
How Does Lightyear Connect to Toy Story?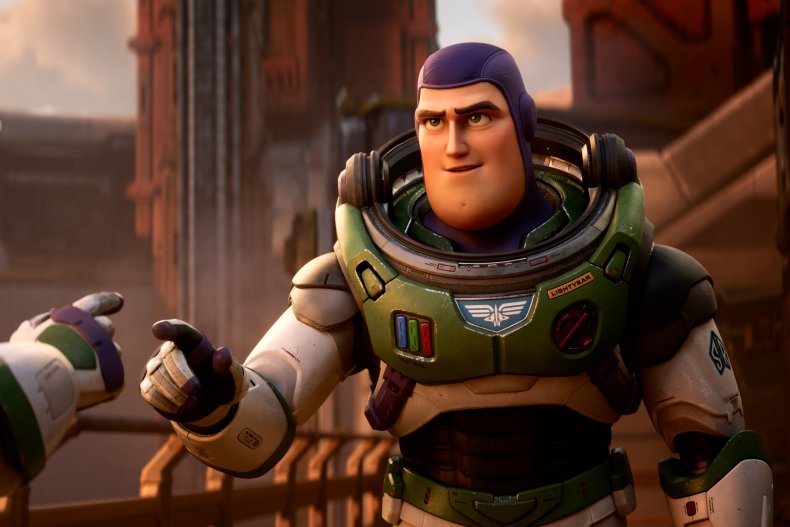 The connection between Lightyear and Toy Story is explained at the beginning of the new film with a title card.
The title card explains that in 1995 Andy, the child featured in Toy Story, got a Buzz Lightyear toy after watching his favorite movie. Lightyear is that movie.
Many nods are made to the original Toy Story films throughout Lightyear like how Buzz (Chris Evans), similar to his toy counterpart, regularly records captain's logs, and he even wears the same Space Ranger suit the toy famously wears when he goes on a dangerous mission.
Not only that, but Toy Story villain Zurg (James Brolin) also plays an important part in the story of Lightyear, as the antagonist and his army of robots attack the humans who were marooned alongside Buzz.
When Buzz discovers this he goes after the villain alongside new characters Izzy (Keke Palmer), Mo Morrison (Taika Waititi), and Darby Steel (Dale Soules).
Lightyear director Angus MacLane spoke to Newsweek about returning to the franchise, explaining he had a personal interest in doing so as he said: "I don't know why I have not been able to shake Buzz Lightyear as a character, but I think a lot of is that Buzz represents the amalgam of all of the Sci-Fi things that I enjoyed as a kid.
"And so when, in Toy Story, he's talking about his adventure I want to go on that adventure, I want to find out about him, and so that's one reason why I was always kind of, like, into it.
"And then, after I'd done Finding Dory with Andrew Stanton, I was looking for a project to do next and I realized what I wanted to work on, what I wanted to do for so long. I wanted to work on something fun, and light and breezy and had lots of action and adventure.
"Then I thought, 'Oh, wait, I could do that with Buzz,' and that would be a great way to kind of like couch that kind of movie that was going to be different for Pixar.
"Pixar hasn't done a straightforward thriller before, but that really was the goal. So that's where it all came together."
Lightyear is out in theaters on Friday, June 17.