How Does Trump's COVID Response Compare With Biden's Proposals?
A recent report outlines the differences between President Donald Trump's response to the COVID-19 pandemic and Democratic presidential candidate Joe Biden's proposals.
The report, published Friday by the Kaiser Family Foundation (KFF), is titled "Comparing Trump and Biden on COVID-19." As the U.S. continues to rank No. 1 among high-income countries for most coronavirus cases as measured per capita, Trump's track record while in office and Biden's policy proposals have come under increasing scrutiny.
A recent CNBC/Change Research poll taken among voters in six swing states showed that the majority of American voters—52 percent—believed that Biden would handle the coronavirus better than Trump, whom 48 percent of voters said would do a better job.
Key differences among the two presidential candidates in terms of their coronavirus response strategies include the roles of federal and state government, foreign policy and education.
The report found that the Trump administration has placed the majority of the burden upon state governments when it comes to implementing public health measures. The federal government should instead serve as "back-up" and a "supplier of last resort," according to White House documents.
"While this in part reflects federalism and the decentralized nature of U.S. public health, the lack of a national plan and strong federal guidelines have significantly contributed to a patchwork of policies, supplies, and outbreak trajectories across the country, and worsening community spread," the KFF report states.
Biden, on the other hand, seems to be interested in taking a more federally focused plan of response: "The federal government must act swiftly and aggressively," his COVID-19 platform states.
Under a Biden presidency, federal agencies would assume primary responsibility for many aspects of the country's coronavirus response, including testing and contact tracing programs, managing the distribution of supplies and setting strong national standards, the KFF report found.
Among these national standards could be instituting strict mask-wearing policies, as Biden has said he would work with governors and other local officials to mandate face coverings. In terms of education, Biden has emphasized the need for individual localities to get the virus' spread under control before reopening schools for in-person learning.
Trump has repeatedly minimized the threat of coronavirus, with the report naming seven instances in which the president dismissed or downplayed the severity of the situation. During an August 5 news conference, Trump is quoted as saying: "It's going away. Like things go away. No question in my mind that it will go away, hopefully sooner rather than later."
This week, tapes released from a March 19 interview conducted between Trump and journalist Bob Woodward revealed that Trump intentionally downplayed the virus' threat.
"I wanted to always play [coronavirus] down. I still like playing it down, because I don't want to create a panic," he told Woodward.
The report also lists several instances in which Trump has "given conflicting messages and conveyed misinformation about coronavirus," sometimes at odds with public health officials and scientific evidence.
The examples include Trump touting hydroxychloroquine as a COVID-19 treatment drug, suggesting that ultraviolet light could be applied to or inside the body, injecting disinfectant as a means of protection and questioning the use of face coverings.
Trump announced on May 29 the U.S. government's intent to withdraw from its membership to the World Health Organization (WHO), a sign of his administration's general foreign policy approach of America First, according to the KFF report.
Biden, on the other hand, has said he would restore funding to the WHO and reverse Trump's decision to withdraw.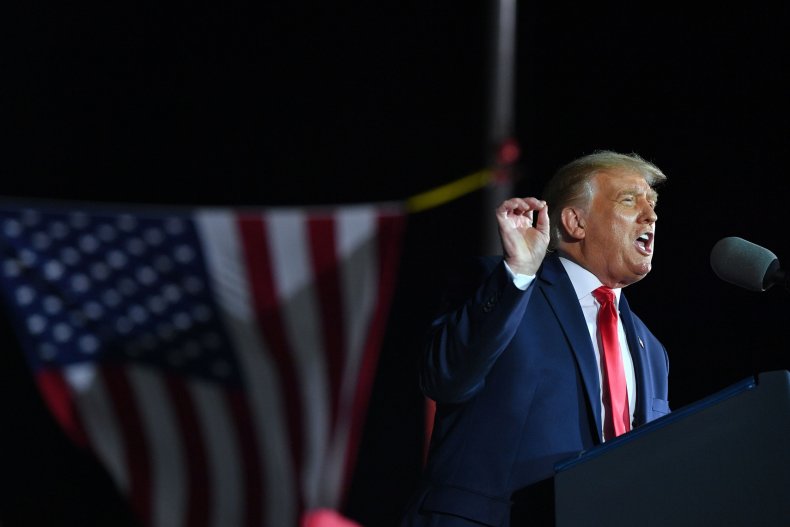 Since Biden hasn't acted in any official leadership capacity throughout the pandemic, the report relies on his public campaign platform and what he's revealed in public to make its comparison.
While serving as president, Trump established a White House Coronavirus Task Force on January 27, before the WHO had declared the virus to be a Public Health Emergency of International Concern, according to the KFF report.
He declared three federal emergencies, each of which enabled him to authorize funds and mobilize additional resources. Trump signed four emergency spending bills passed by Congress, providing trillions in federal aid to American individuals, businesses and states, the report states.
The Trump administration also launched Operation Warp Speed, which aims to deliver 300 million doses of a safe, effective COVID-19 vaccine by January 2021—a record feat for conquering a novel pathogen, if it's successful. OWS has also pumped billions of federal dollars into several vaccine trials, working to expedite their research, development and distribution, according to a press release.
Newsweek contacted the Trump and Biden campaigns for comments on the KFF report, but did not hear back in time for publication.
How Does Trump's COVID Response Compare With Biden's Proposals? | News