How Does U.S. Military Compare to North and South Korea? Washington and Seoul Suspend Exercises
South Korea and the United States are expected to announce the suspension of "large-scale" military drills this week, with the provision that they would restart if North Korea failed to keep its promise to denuclearize, news agency Yonhap said on Sunday.
The suspension follows President Donald Trump's surprise pledge to end "war games" after his summit with North Korean leader Kim Jong Un in Singapore last week.
The Korean Peninsula is one of the most heavily militarized regions in the world, and below Newsweek takes a look at the strength of the forces deployed there.
One means of assessing the strength of the respective militaries is to compare the number of people in the armed forces of each country, and the number of the armaments they possess.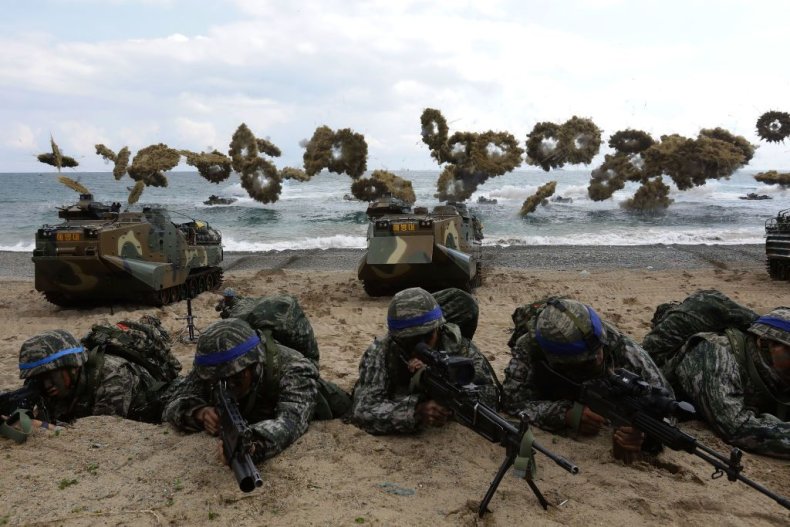 North Korea's armed forces outnumber its South Korean neighbor's, possessing a two to one advantage when it comes to soldiers and artillery pieces.
According to the 2015 report The Military Balance, published by the U.K.-based think tank International Institute for Strategic Studies (IISS), North Korea has 1.19 million active duty troops to South Korea's 655,000, and 21,000 artillery pieces to South Korea's 11,000.
The reclusive state spends nearly a quarter of its GDP on its military, according to the U.S. State Department.
However, experts say that comparing military strength by number of armaments and soldiers alone doesn't account for the enormous qualitative difference between weapons, with South Korea supplied with state-of-the-art equipment and weapons by its ally the U.S.
"A Soviet T-62 tank of the North Korean Army from the late 1960s cannot be on an equal footing with a South Korean K2 Black Panther tank from 2013," Bonn International Center for Conversion expert Martin Bales told Deutsche Welle in 2017.
On paper, Pyongyang has 563 military aircraft at its disposal, however every one spent a short time grounded in 2014 due to problems with maintenance and serviceability, and the state is reliant on obsolescent army and naval weaponry, according to the IISS.
The imbalance helps explain North Korea's focus on developing nuclear weapons, which grant it a key advantage over South Korea and were the focus of last week's landmark summit between Kim and Trump.
North Korea keeps much of its its armory of missiles, mostly variants of the Soviet scud and some capable of bearing nuclear warheads, trained on South Korean cities, notably the capital Seoul which is only 35 miles from North Korea.
South Korea's key advantage is that it falls under the protection of its U.S. ally, with a 28,500-strong military force permanently based in the country. The U.S. millitary's strength dwarfs North Korea's.
The U.S. has 6,800 nuclear warheads, 4,000 of which are stockpiled and 1,800 deployed, and 2,800 retired, according to a report from the Federation of American Scientists. This compares to the 60 nuclear warheads North Korea claims to possess.
The U.S. has 1.3 million soldiers in active service, and one of the largest military budgets in the world, with soldiers carrying state-of-the art equipment and undergoing intensive training. In contrast, North Korea's soldiers are poorly nourished, with defectors complaining of constant hunger while on military service.
Despite recent signs of a thaw in North Korean-U.S. relations and a scale down of U.S.-South Korean military exercises, the soldiers of the three nations remain poised for combat at the first sign of aggression.