How Does the Vote of No-Confidence Work? Boris Johnson in Leadership Contest
Embattled British Prime Minister Boris Johnson will face a historic confidence vote on Monday evening following the Partygate scandal, a move that could see him ousted as the country's leader.
Over the course of the COVID-19 pandemic, several parties took place in and around Downing Street, at the heart of government. During this period, Britons were subject to stringent social restrictions to curb the spread of the coronavirus. Many of these parties were held during times when it was against the law to meet up with other people and socialize. Activities like people attending a funeral of a loved one or witnessing their child being born in hospital were also prohibited at some stages.
The widespread public anger about Johnson's government breaking the rules it implemented has seen the prime minister's popularity fall, even within his own party.
The confidence vote will be held in the House of Commons in Westminster, Central London, on Monday between 6 p.m. and 8 p.m BST.
To trigger such a vote, at least 15 percent of sitting Conservative members of parliament (MPs) have to write a letter saying that they have no confidence in Johnson—or 54 of the 359 sitting Tory MPs.
The letters are sent confidentially to Graham Brady, the chairman of the 1922 Committee, a parliamentary group representing all backbench Tory MPs (politicians who are in Parliament but are not part of Johnson's cabinet).
"The threshold of 15 percent of the parliamentary party seeking a vote of confidence in the leader of the Conservative Party has been exceeded," Brady said in a statement on Monday.
In order for a no-confidence vote to be passed, more than 180 lawmakers—over half of the sitting MPs—would have to vote "no confidence" in the prime minister.
If that threshold has passed, there would be a fresh election for the leadership of the ruling Conservative party, and therefore the prime minister of the U.K.
But if Johnson wins the vote, in theory, he is safe from a leadership challenge for another year.
Although two previous British prime ministers, all from the Conservative party, previously won confidence votes, they later ended up being pressured to resign.
Eleven years into her premiership in 1990, Margret Thatcher won by 204 to 152 votes on the first ballot, but party rules at the time determined that she did not win by a large enough margin and a cabinet revolt ensued.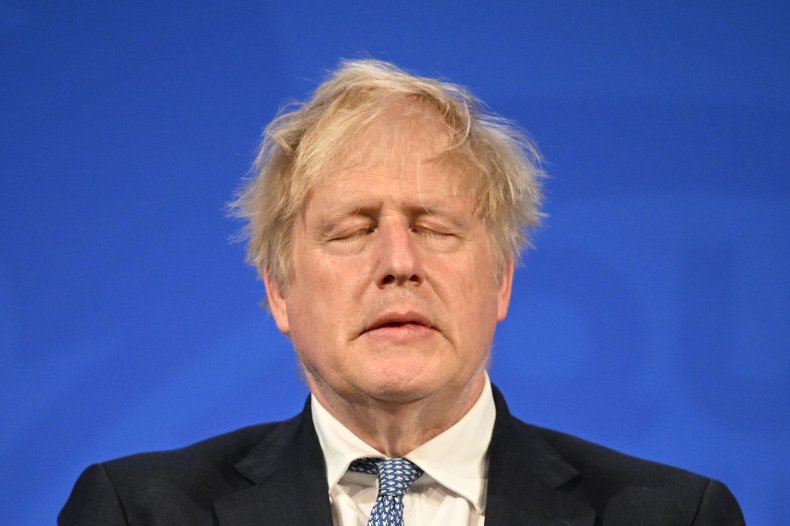 Most recently in December 2018, Theresa May won a confidence vote by 200 votes to 117. She resigned six months later after failing to pass a Brexit deal that won the support of Parliament.
Despite winning a huge majority in the 2019 election, Johnson has been seeing his popularity wane after the release of reports into parties held in his office during lockdown.
Last month, civil servant Sue Gray released a damning report into the alcohol-fuelled parties that were held in and around Downing Street over the pandemic, some of which Johnson attended. The report criticized the culture and the leadership in government between May 2020 and April 2021 when the parties were held.
Johnson, his wife Carrie, along with Chancellor Rishi Sunak, were all fined by police for breaking lockdown rules. Although the Prime Minister said he took "full responsibility" for the rule breaking, he has resisted many calls to resign and instead has fired many civil servants from Downing Street.