How Does Yahoo Make Its Money?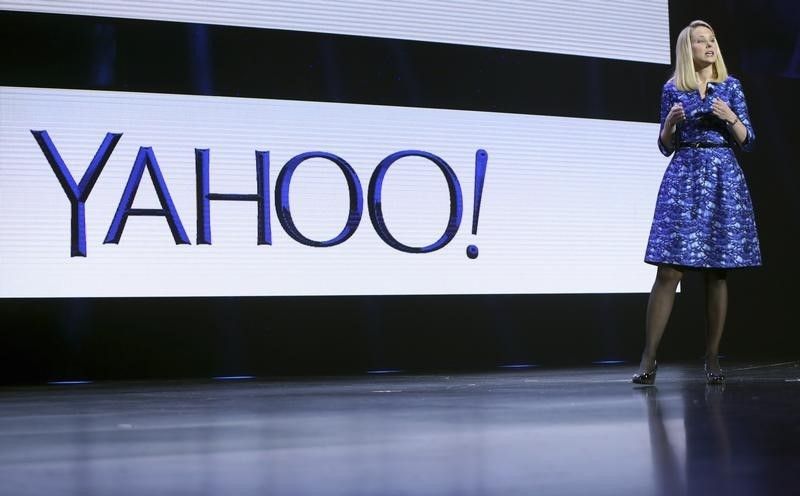 In the 2000 movie Frequency, the protagonist learns he can talk to his friend living in 1969 and offers him some seemingly sage stock advice: "Remember one word… Yahoo. " The film shows his friend becoming a wealthy man, but in retrospect, the protagonist should have offered a caveat: sell in 2000.
Yahoo hasn't been a Wall Street darling since before the tech bubble of the 1990s popped. So it's easy to forget that Yahoo is a great survivor; it's been through a couple tech downturns and still managed to remain one of the biggest employers in Silicon Valley. Even after laying off 15 percent of its workforce, down 42 percent from a much rosier time in 2012 , Yahoo still has more than 9,000 employees.
But what does Yahoo exactly do, and how does the company make its money? The late New York Times media columnist David Carr says he once asked that question to Carol Bartz, who ran the company a couple CEOs back and " after five minutes of listening to her I still had no idea. "
Here's the gist of it: Yahoo makes the bulk of its money from the ads it displays on its web services. But over the past few quarters, traffic has stagnated or fallen. In the latest earnings call, Yahoo said core ad revenues for 2015 grew by just two percent from 2014. The credibility of its advertising machine has also taken a hit, with alleged ad frauds plaguing the site.
All this means Yahoo's core properties are more or less junk in the eyes of Wall Street, which handed it a valuation below zero if you take into account cash and stock holdings. Yahoo's adjusted quarterly revenue tumbled 15 percent to $1 billion.
Investors don't appear to have much faith left in CEO Marissa Mayer. Hedge fund and Yahoo shareholder Starboard wrote a harsh-worded letter to Yahoo's board, asking for drastic changes in management. "It appears that investors have lost all confidence in management and the Board," the letter reads.
To Starboard and rest of Wall Street, Yahoo is little more than a stock holding company. Its most valued assets are not its email service, its homepage or mobile apps, but the shares it holds for the Chinese e-commerce giant Alibaba and the still-popular Yahoo Japan.
Mayer and the current Yahoo crop can't take credit for either. Yahoo founder Jerry Yang bought Alibaba shares in 2005 because he became friends with the company's founder, Jack Ma, in the 1990s, and Yahoo Japan was created as a joint venture between Yahoo and the Japanese Internet company SoftBank in 1996.
Yahoo does have potential. It's still a web giant that garners a billion visitors to its various properties. Even if you can't remember the last time you went to Yahoo.com, a site that even with declining traffic is the fifth biggest site in the world. Even if you never used Yahoo e-mail, which Yahoo says is the third biggest email service on the web, you may have found yourself reading a Yahoo News article (it's the second biggest news site behind Reddit ) or used the company for fantasy sports, stock data or simply to check the weather.
For awhile, Yahoo tried to take advantage of its traffic and transform itself into a media company. It began offering original video programming on business and news, signing former CBS anchor Katie Couric to a lucrative contract worth $6 million per year. It even brought back the cult-hit sitcom Community and bought the hot-with-teens blogging platform Tumblr.
But these projects aren't showing a lot of life. Community is dead and Tumblr lost $230 million in value since Mayer purchased it for $1.1 billion, promising "not to screw it up."
So how will Yahoo make money going forward? Spinning off its Alibaba shares is one possibility. Yahoo is also entertaining some offers from suitors who want to buy its Internet business, according to CFO Ken Goldman.
Beyond that, it's anyone's guess.