How Donald Trump Could Become Speaker of the House Without Running for Office
Former President Donald Trump could have a reason to return to Washington, D.C., before 2024 if Republicans win big in 2022 and choose him to lead them in the House of Representatives.
Republican Representative Matt Gaetz of Florida reignited chatter of Trump becoming speaker of the House if Republicans reclaim the chamber in 2022 on Tuesday, telling reporters he's spoken with Trump about the possibility. Historically, the speaker of the House has been a member of Congress, but the majority party can pick whoever they want.
So, theoretically, Republicans could choose to put Trump in the speaker's chair by a majority vote. However, Trump's been noncommittal on the idea and it's possible he wouldn't even want the position if it was offered to him.
Trump told Real America's Voice host David Brody that becoming speaker of the House was not something "I would have considered." He acknowledged there was talk about him taking over the position and later told host Wayne Allyn Root that it's "very interesting."
In October, Liz Harrington, a spokesperson for Trump, all but put the kibosh on the idea, telling NPR that it's "nothing Mr. Trump is thinking about," although she also pointed to the chatter about him becoming speaker.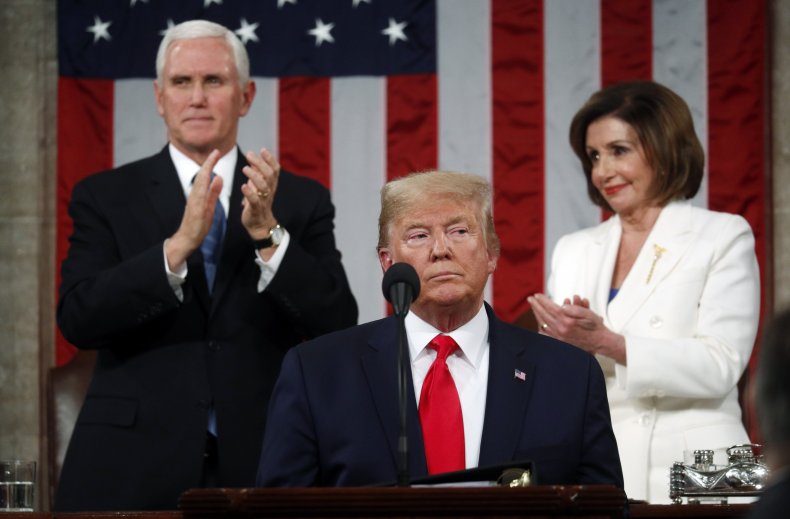 For Republicans to put Trump in the speaker's chair, they have to retake control of the House in 2022. Since World War II, the president's party has lost an average of 26 seats in the House and Republicans only need to flip five seats to become the majority party, giving the GOP a good chance of controlling the House after the 2022 election.
Gaetz told reporters on Tuesday that he's spoken to Trump about becoming speaker, but wouldn't elaborate on what was said because he keeps his conversations "between the two of us." However, Gaetz had unequivocally supported the idea.
"Can you just imagine Nancy Pelosi having to hand that gavel to Donald J. Trump?" Gaetz said over the summer. "She didn't like when that January 6 guy was sitting in her chair in her office. She is sure not going to like seeing Donald Trump sitting in her chair."
Becoming Speaker of the House would return Trump to the Washington, D.C., spotlight and could afford him the opportunity to preside over an impeachment of President Joe Biden, if Republicans sought to oust him from office. But, it would also put more work on the former president's plate.
The speaker of the House is responsible for conducting business on the House floor, appointing members to committees, sending bills to committees and signing the bills and resolutions that pass. In modern-day politics, the speaker often takes on the responsibility of unifying party members, negotiating compromises to pass legislation and helping to move the president's policy agenda forward.
While some of those responsibilities could likely be pushed onto whoever is House minority leader, Trump would likely have to shoulder some of those tasks. And, if he's seriously considering a 2024 run, it could cut into the time he could spend on the campaign trail.
Regardless of whether he intends to accept an offer to become speaker, Trump's committed to being a powerful force in the 2022 midterms in the hopes of helping Republicans retake control of Congress. Just as he plans to endorse people in the 2022 midterms, it's possible Trump could make his thoughts about who should take over as speaker of the House known, as well.
Over the summer, House Minority Leader Kevin McCarthy said he's had numerous conversations with Trump, who he said wants him to become speaker of the house. McCarthy has backed Trump as running for president again.