How Donald Trump Could Reward Governors Who Open Their Economies Early—or Punish Those Who Don't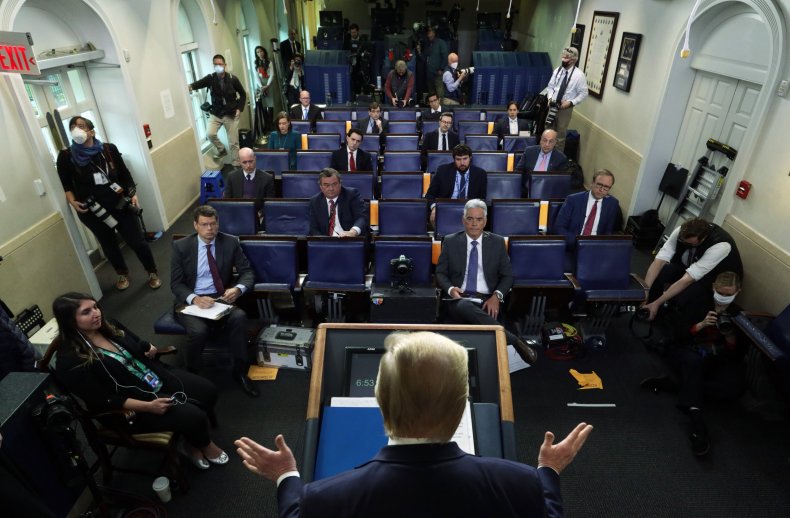 Although the Trump administration placed responsibility for lifting social distancing measures and restarting the U.S. economy on the shoulders of the nation's governors, he still has tools to persuade them to move at the pace he wants them to, experts said.
The big one? Money.
The president's control of federal funds is the "major knife" he could use to entice or intimidate governors into lifting quarantine measures early, said Paul Rosenzweig, a former deputy assistant secretary for policy at the U.S. Department of Homeland Security.
Additional federal assistance could fatten cash-strapped state budgets strained further by battling the coronavirus outbreak as a kind of reward for getting the economy rolling again, Rosenzweig, now a senior fellow at the R Street Institute, said.
But money, he added, is only one way to "skin the cat."
Trump could also offer—or withhold—federal assistance like personnel, equipment, or access to federal expertise to states that don't move fast enough for his liking.
"You can mix and match them any way you want," he said.
As for how Trump could withhold the same assistance from states that don't move quickly enough for his liking, Rosenzweig said the White House could craft rules for future coronavirus aid programs that require states to open back up to receive aid "on the theory that they need it more to achieve what they want to do."
However, the amount of money over which federal agencies have unfettered discretion is "relatively small," so using that tactic may not have much impact, University of Virginia Miller Center fellow Chris Lu, who served as White House cabinet secretary and as deputy labor secretary under the Obama administration, told Newsweek. That's because most federal funds distributed to states are allocated by a population-based formula.
"Even if there is that kind of money available, it's such small dollars that I don't think it meaningfully makes an impact," he said.
The amounts being appropriated in the COVID-19 relief bills that Congress has passed so far, such as the recently passed CARES Act, are also much larger than what states could get from existing grant programs overseen by the executive branch, Lu added.
But given Trump's history of trying to weaponize federal funds, Lu said he would not be surprised to see the administration explore using federal funds to incentivize states to reopen their economies.
"With this president, nothing is ever out of the question, but it would be legally indefensible."
One local official whose state could be on the receiving end of Trump's wrath, Highland Park, Illinois Mayor Nancy Rotering, told Newsweek that Trump's "mercurial nature" has led her and other officials in her situation to plan for such eventualities.
"At this point, we've almost gotten to the point where we expect that kind of behavior and we'll do what we need to do to protect our own residents regardless," she said. "The issue with hearing that supplies had been stymied in their delivery to states who weren't sufficiently appreciative is is an appalling reality that tells us how we need to move forward in the situation. To me, it's a matter of doing what's right, and unfortunately, we are not able to depend on the federal government."
Maryland Congressman Jamie Raskin drew parallels to Trump's behavior over the spring and summer of 2019, when he ordered $391 million in military aid to Ukraine withheld to pressure Ukrainian President Volodymyr Zelensky into announcing an investigation into former Vice President Joe Biden and his son Hunter Biden.
"The President's basic M.O. is to engage in bluster and threat, and then to try to use coercive leverage to get people to do his daily will, so we can expect that he will try to use the resources of the federal government to have his way with the various governors," said Raskin, a second-term Democrat and former constitutional law professor. "But that's a frivolous president trying to intimidate serious governors who are engaged in public policy work, so there would be a massive and immediate reaction to the president trying to treat governors of the United States the way that he treated President Zelenskiy in Ukraine."
Rosenzweig also offered an extreme tactic Trump could use: the Stafford Act, which governs federal disaster declarations to cancel existing disaster declarations.
Traditionally, the Stafford Act has not been politicized in that way, he said, adding that doing so could be a "double-edged sword" for Trump that could set a bad precedent in the future.
"That would be a bit of a political nightmare for him," he said. "I think it would it would portend a Democratic president refusing aid to a Republican governor."
He added that such an unprecedented use of presidential authority could be a political bridge too far, even for Trump.
While Rosenzweig said that Congress "has been relatively weak in its response" to Trump's prior abuses of federal funds, Raskin said that he and his fellow House Democrats are fully prepared to stop him.
"If he starts to massively manipulate federal funding to coerce a governor, to his political bidding, we will do everything in our power to stop him under the impoundment act. He has no authority to interfere with the flow of federal funds for personal and political reasons," he said.