How Donald Trump Has Wreaked Havoc in the High School Classroom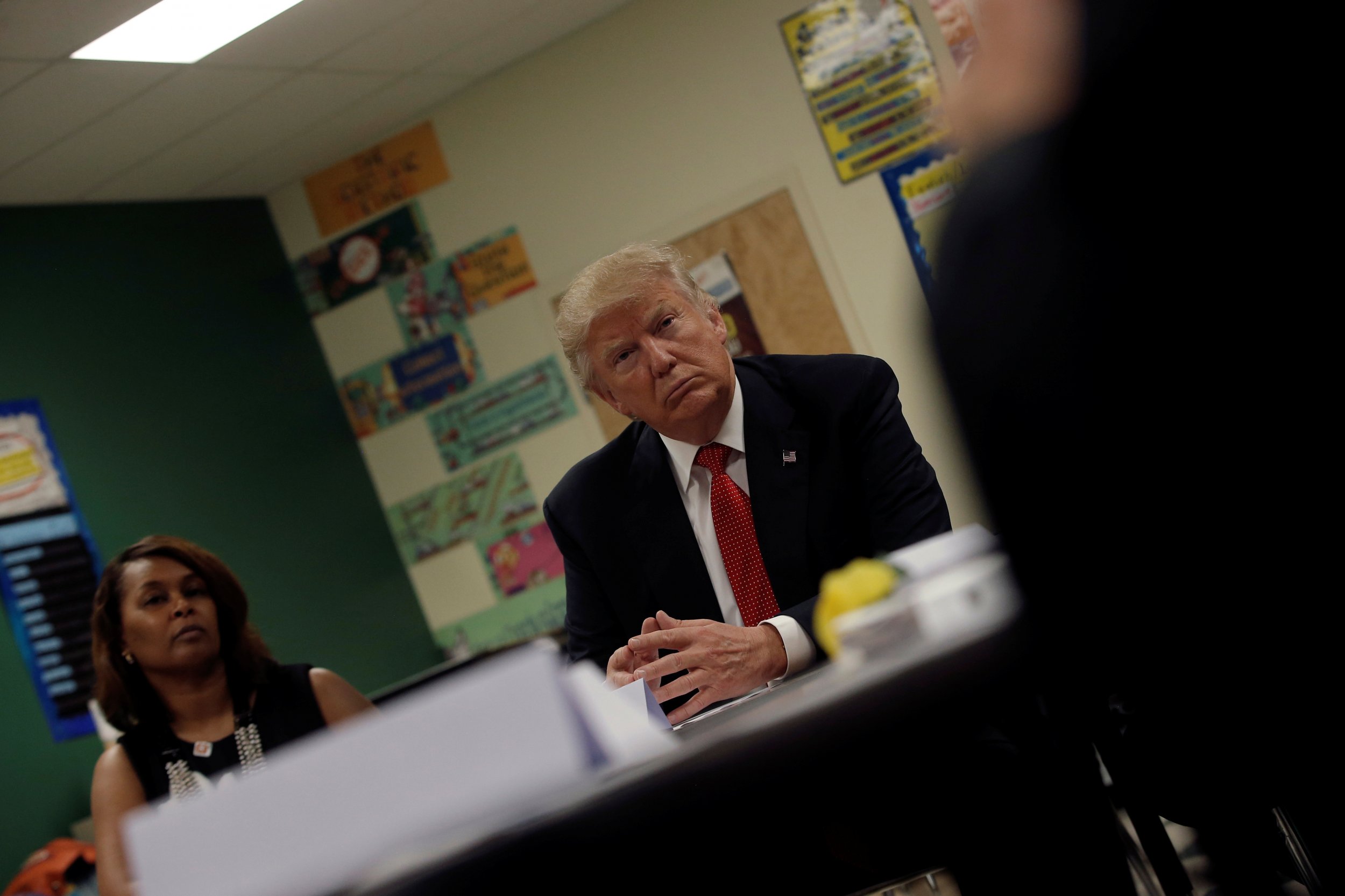 In early October, high school teacher Trent Ashcraft asked his students to watch the second presidential debate as homework.
It was the town hall debate—the one where Donald Trump was forced to address his NC-17 boasts about grabbing women, the one where the Republican nominee threatened to jail Hillary Clinton, the one where Ken Bone's shiny sweater distracted us for one fleeting second from the knowledge that global warming will probably kill us all. And Ashcraft was mortified. Halfway through the debate, he issued an apology to his students on Twitter.
Trump's behavior was what prompted the apology, the teacher says.
"I wanted them to learn about the electoral process, about the issues that candidates should be talking about," says Ashcraft, who teaches school government and American history at a private school in Louisville, Kentucky. "Instead, a large amount of that debate was focused around 'locker room talk,' as Mr. Trump called it, and around him hurling insults at Hillary Clinton. I felt like there wasn't anything educational. They were just watching two people—primarily Mr. Trump—acting childish."
One of Ashcraft's students took a screenshot of his tweet, and it went viral—not a daily occurrence for a teacher. But what has become routine for educators around the country is the unwieldy challenge of bringing Trump into the classroom. For teachers, it's been a confusing struggle to stay impartial—and stay sane—while helping their students grapple with a vitriolic nightmare.
The most basic challenge is trying to force students to get the facts right. Social studies teachers frequently drone on about critical analysis of primary versus secondary sources, but fake news litters the election media landscape like land mines. "One thing that's difficult in this election is separating facts from fiction," says Erik Anderson, a U.S. government teacher in Minnesota. "They get their news from a million different places, and half of them are wrong." Anderson often finds himself telling students, "'This thing that you've been hearing is just flat-out wrong.'"
Trump doesn't help with that. Every presidential candidate distorts truth. (Clinton, surely.) But the GOP nominee's propensity for lying increasingly resembles an outright contempt for reality, a pattern that's challenged the boundaries of newspaper norms (The New York Times has gone so far as to publish lengthy lists of Trump's falsehoods). For teachers too, it's tricky. Anderson has mentioned in class that Trump's claim that the murder rate is the highest it's been in 45 years is frankly false. "We've talked a little bit also about his idea that he was against the war in Iraq when there is evidence to the contrary from the beginning," Anderson says. In the interest of balance, he tries to fact-check Clinton as well.
But balance is an elusive thing in a contest where one candidate has run an almost pathologically cautious campaign, and the other has tweeted the words "Check out sex tape." "As teachers, we are expected to remain politically neutral in class, which is particularly difficult in an election as inflammatory as this one has been," says Angelica Davila, who teaches fifth grade in Los Angeles. Nicholas Noyes, who teaches literature at the Democracy Prep Charter High School in Harlem, shares the sentiment. "If we do our jobs effectively, scholars will come to their own responsible and intelligent conclusions. Still, it's hard to talk about someone like Donald Trump without just blurting out that he's a dangerous and woefully under-qualified candidate."
Another challenge: helping students navigate an election in which questions about character, sexual misconduct and murmurs of conspiracy overshadow policy positions. "As far as the educational value of this year's debates or this year's election, I'm struggling to find it," says Ashcraft. "This year, when we do talk about the election, issues rarely come up—other than issues involving character and the kind of rhetoric being used." The FBI's investigation of Clinton's email server has also complicated matters. "I've spend more time than I'd like these past few days explaining emails and the FBI to confused students. I've been asked about four times in the past two days whether or not Clinton was going to jail."
And when Trump's misogynistic comments about grabbing women "by the pussy" surfaced a month ago, it brought new headaches.
"It has been like, 'OK, I'm not saying the P-word with them,'" says Liz Ramos, who teaches world history and AP government at Alta Loma High School in California. "If a student had said something like that in the classroom, there would be a serious problem! That part makes it uncomfortable in the classroom. Telling the kids, 'That's not appropriate.' And then a kid's like, 'Well, this might be the president.' 'Well, if that's where the will of the people goes. Let's try to focus on the policies.' It's just complicated. It's just been unprecedented since I've been teaching."
Justin Christensen, who teaches AP government at a Catholic school in San Francisco, told his students that Trump's words violated his classroom rules. "I needed to condemn the rhetoric in the Access Hollywood tape and name it as a description of sexual assault, not locker room banter."
Ashcraft shares the sentiment. "In the classroom, we wouldn't tolerate hearing students talk in the way that, particularly, Mr. Trump has been talking. Whether it's the vulgarity. Whether it's the bullying or making fun of people. None of that would we tolerate as educators. For us to ask our students to watch somebody do that is really unfortunate." Some squeamish teachers have refused to engage with Trump's Access Hollywood leak altogether. An eighth-grade student in Pennsylvania tells Newsweek that his teacher bluntly tried to ignore the topic and return to the lesson plan when it came up in the classroom.
For veteran educators, the situation dredges up memories of another sordid episode in presidential politics: the Monica Lewinsky scandal. Jim Cullen, who chairs the history department at the Ethical Culture Fieldston School in the Bronx, New York, recalls having to address the subject even two years later, during the election of 2000.
"Clinton, of course, wasn't on the ballot that year," Cullen tells Newsweek, "but the Lewinsky story created situations where graphic language—oral sex, semen-stained dresses—was needed to make sense of what was going on and was a subject of much concern at the time."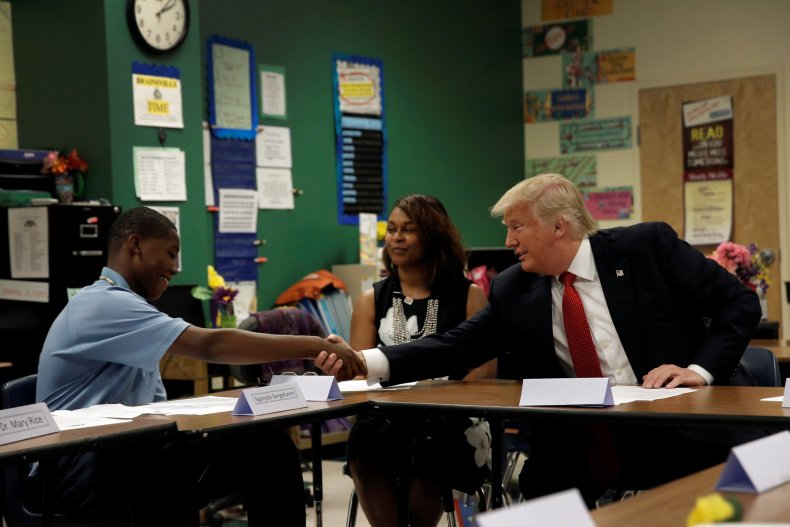 Trump's signature rhetoric has invaded the classroom in more insidious ways. Ashcraft's students like to lean in to a pretend microphone during class and say "That means I'm smart" for laughs. In Anderson's classroom, "the word rigged is being thrown around now like a punchline," he says. "If we do a little game in class and you lose, you go, 'Oh, it's rigged.' Rigged is the biggest word for 14-year-olds right now." The teacher doesn't find it amusing. He worries that Trump's charge that the election is rigged undermines democracy. "I think it's a really scary thing, and I'm trying to get my kids to grapple with that."
But Ramos looks on the bright side: The kids are absolutely riveted. She encourages her students to live-tweet during debates and has them study the candidates' own tweets, showing how Trump has exploited Twitter attention while Clinton has run a more traditional ground game. During a viewing party for one of the debates, the computer showing the debate crashed. Some students were so engaged they rushed to get out their laptops so they wouldn't miss anything. During the final debate, "they were like, 'Shots fired!' and they'd look back to me to see what my reaction was." More recently, Ramos's students came into the classroom on a Friday afternoon eager to talk about Clinton's emails—and Anthony Weiner. They'd learned from their phones that the FBI was reopening its investigation.
Numerous teachers surveyed by Newsweek say that their students don't seem enthusiastic about either candidate. "When I talk to my students, they dislike both Clinton and Trump," says Pierce Mumaw, a teacher at New Albany High School in Indiana, adding that they seemed to love Bernie Sanders. "If they could choose someone else, I think my students would do it in a heartbeat. They don't feel like those candidates really connect with them."
Ramos is hosting a mock election this week. But "I think a lot of the kids are like, 'Really? That's who we have?' For both sides of the aisle," she says. "I've even had past students come back and say, 'Really, Ms. Ramos? This is my first election, and this is what I got.' I feel so bad for them." Anderson, the Minnesota teacher, notes that he has a core group of vocal Trump supporters in his class. But at Democracy Prep in Harlem, New York, the choice is clear. "These kids can't fathom the idea of that man being our commander-in-chief," Nicholas Noyes says. "It's astonishing to them how a racist, sexist, pseudo-rich demagogue can be this close to actually becoming our president." Some are inspired by Clinton's candidacy, and some are not, "but she has become the default choice for them much like she has for millions of Americans."
Ashcraft frets that this election will turn his students away from politics for good. "I worry that this has been so nasty and unproductive that they're not gonna want to be civically engaged," he says. "I worry we might be losing a generation of voters. They really don't seem to like any part of this whatsoever." For Noyes's students, it's the opposite: The apocalyptic dimensions of the election seem to have heightened their engagement. It's likely that Trump's xenophobic rhetoric has had more alarming effects in a more racially diverse school like Democracy Prep.
But beyond the hysteria, there is history to be taught. Some teachers have used Trump's candidacy as an excuse to search through America's seedy political past for any comparable phenomenon. Andrew Conneen, a U.S. government teacher in the Chicago suburbs, for instance, has told his students that Trump may be more like past third-party candidates than major party nominees. "Historically, third-party candidates, when they get super popular like this, they tap a passion—particularly like populism. Even if Trump loses, it's revealed this very strong sentiment in a large part of the country."
Conneen also uses it to teach party realignment—for instance, the rise of Franklin D. Roosevelt's New Deal coalition, when African-Americans and working-class whites became a crucial Democratic voting bloc. "On November 9," Conneen says, "will we look at the results and say, 'Hey, we just lived through a critical realigning election?'"
As for Trump's uglier rhetoric? Maybe there is precedent for that too.
"I feel compelled to say that we have had campaigns with such vitriolic rhetoric," says Cullen. "Thomas Jefferson and Grover Cleveland were accused correctly of extramarital affairs and illegitimate children. We did have an election where the losers refused to accept the results. John Breckinridge, who ran as a Democrat, ended up as a general in the Confederate army during the Civil War. We've had electoral fraud too. I am among those who believe John F. Kennedy became president because Richard Daley dumped ballots in the Chicago River in 1960."
Cullen is not supporting Trump. He thinks a Trump presidency would be a disaster and likens the man to another "proto-fascist," Andrew Jackson. On Tuesday, he plans to vote for Clinton.
But he doesn't want his students to demonize Trump as a unique threat to the democratic process. "A lack of faith in democracy was not born in a glitzy office building in midtown when Trump launched his candidacy in 2015," he says.
And anyway, we survived Andrew Jackson. At least, those who didn't die as a result of his wars and Indian Removal Act