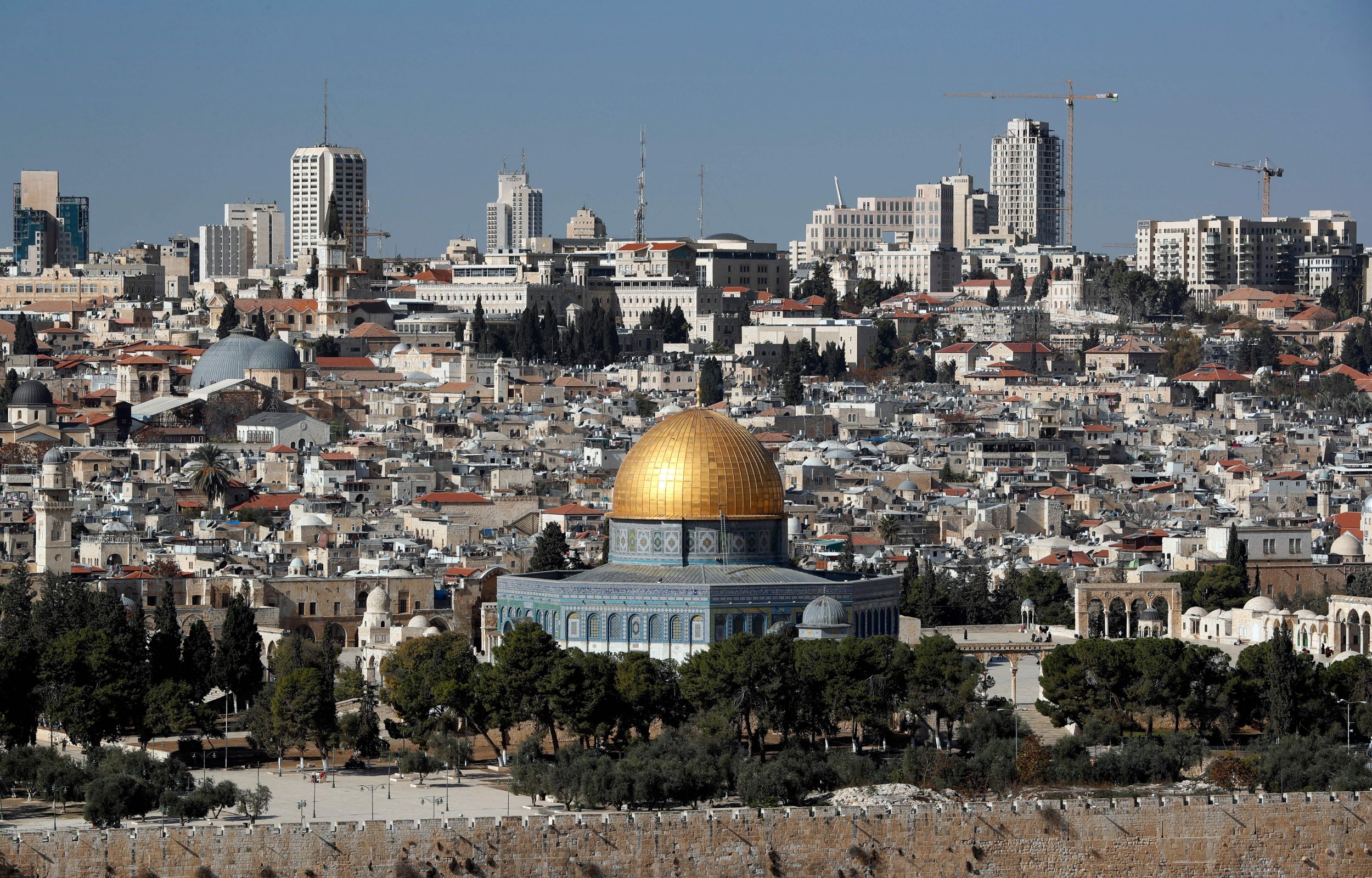 Ever since he sparked this year's first Middle East crisis by calling out Qatar as a funder of terrorism, Donald Trump has been trying to get warring parties to talk to each other.
His beleaguered Secretary of State, Rex Tillerson, got nowhere during repeated shuttle diplomacy missions to persuade a Saudi Arabia-led quartet to call off its diplomatic and transport blockade of the tiny Gulf state. How strange then that it took a second Middle East crisis, also caused by the U.S. president, to get the two sides to finally agree on something.
Saudi Arabia, the United Arab Emirates, Bahrain and Egypt have been at Qatar's throat ever since launching their boycott in June, accusing the Doha government of cosying up to Iran and demanding it close down its television station, Al-Jazeera.
But since last week the two enemies have come together on one issue, united in their condemnation of Trump's announcement that recognized Jerusalem as the capital of Israel.
Qatar and Saudi Arabia both strongly attacked the Trump decision, with Riyadh calling it "unjustified and irresponsible" and Doha saying it was a "death sentence for peace."
Saudi Arabia's sworn enemy, Iran, echoed the sentiment, criticizing Israel, albeit in much stronger terms. In fact, a chorus of disapproval has reverberated throughout the Arab world at the decision to move the U.S. embassy from Tel Aviv to Jerusalem.
But it's not just hitherto opposing regimes that are suddenly speaking as one. It's also the Arab people who are letting their voices be heard.
Instead of Emiratis taking to social media to attack Qataris in state-engineered attacks, there has been a spontaneous outpouring of anger in support of the Palestinians. In Bahrain people are furious that a delegation from their country was in Jerusalem on a four-day visit, accompanied only by Israelis and not even meeting Palestinians.
In Qatar, students holding Palestinian flags took to the streets to call for a boycott of American products.
As if in response, a social media campaign started in Saudi Arabia targeting American chains including McDonalds, Papa John's, Pizza Hut and Burger King, with the hashtag BoycottAmericanRestaurants trending.
Israeli chess players, who this month expected to be traveling to Saudi Arabia for a chess tournament thanks to a thawing in the two country's relations, have suddenly found the decision delayed.
Are the Saudi authorities perhaps worried about a backlash if they choose this moment to allow the first competitive Israeli team into their country?
Meanwhile, there were protests in Turkey, Pakistan and Lebanon, including the U.S. Embassy in Beirut.
Two Palestinian protesters were killed and a large number of citizens injured during clashes with Israeli security forces in the Palestinian territories of Gaza Strip and West Bank.
Sensing the danger, the UAE's Crown Prince Sheikh Mohammed has warned the Trump move could cause a rise in extremism as Islamic State militant group jihadis looking for somewhere to go after being driven out of Raqqa hasten to rally around the Palestinian flag.
The crisis led to an emergency summit in Turkey on Wednesday where the world's largest block of Muslim countries declared East Jerusalem the capital of a future Palestinian state and an integral part of the Palestinian territories occupied in 1967.
Representatives of 48 of the 57 members states of the Organization of the Islamic Conference (OIC) were there to show their support. The Emir of Qatar was in attendance but the leaders of Saudi Arabia and UAE were not, preferring also to send their foreign ministers to a summit in Paris on efforts to form a West African force to fight militants there.
Maybe the leaders of the two blockading countries still can't bear to be in the same room as the Qatar ruler, as demonstrated by their absence from the Gulf Co-operation Conference summit last week.
Or perhaps they just don't want to upset their friends in Washington.
But they would do well to heed the concerns of their peoples who are clearly more exercised by what's happening in Jerusalem than Doha.
Anthony Harwood is a former foreign editor of the Daily Mail.