How Donald Trump's Tweets Could Help New York Terror Suspect Avoid Death Penalty
Lawyers for the suspected terrorist accused of killing eight people by driving a truck down a New York bicycle path argued that he should not receive the death penalty because of prejudicial tweets from President Donald Trump.
Sayfullo Saipov, 30, was charged with eight counts of murder and terror offenses following the attack in New York on October 31, 2017.
Attorney General Jeff Sessions is expected to decide whether to seek a death penalty for Saipov in the next few weeks, the New York Daily News reported.
In a motion filed at Manhattan federal court, the suspect's lawyers argued that Sessions—who is already constantly under attack from Trump—could not make a fair decision because of a series of tweets the president sent in the wake of the killings.
"NYC terrorist was happy as he asked to hang ISIS flag in his hospital room. He killed 8 people, badly injured 12. SHOULD GET DEATH PENALTY!" Trump tweeted last November 2.
Trump later doubled down on his comments on the death penalty, while attacking the department which would ultimately decide Saipov's fate.
"Would love to send the NYC terrorist to Guantanamo but statistically that process takes much longer than going through the Federal system.
"There is also something appropriate about keeping him in the home of the horrible crime he committed. Should move fast. DEATH PENALTY!"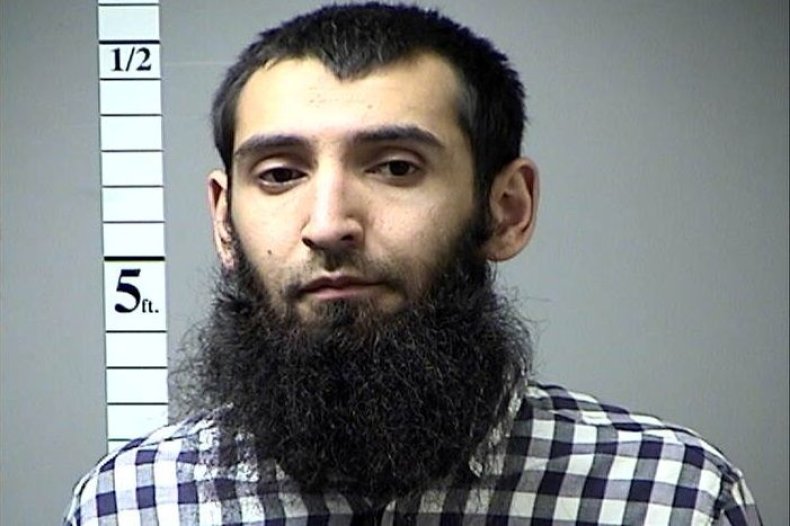 In the filed papers, Saipov's attorney, Jennifer Brown, said Trump's tweets meant Sessions was unable to fulfill his duty "to fairly and independently decide whether to seek the death penalty," reported the New York Daily News.
"President Trump's tweets mock Congress' command that a death sentence should be sought only if the Attorney General believes that 'the circumstances of the case' warrant capital punishment," she continued.
Saipov's legal team also argued that Trump's recent tweet criticizing Sessions for indictments of two Republican congressmen, Chris Collins and Duncan Hunter, could also affect the attorney general's decision, as it could mean he'd lose his job for going against the president's wishes.
"Two long running, Obama era, investigations of two very popular Republican Congressmen were brought to a well publicized charge, just ahead of the Mid-Terms, by the Jeff Sessions Justice Department. Two easy wins now in doubt because there is not enough time. Good job Jeff," Trump tweeted.
"A decision not to seek death would expose the decision-maker to a blaze of public scorn and ridicule as well as the possible loss of employment. That taint on the charging process cannot be tolerated," Brown wrote.
Trump was previously criticized for appearing to use his political influence to suggest how the suspect should be punished while judicial proceedings were still ongoing.
"Mr. President, we all know he should get the death penalty. But when *you* say it, it makes it harder for DOJ [Department of Justice] to make that happen," Andrew McCarthy, a former U.S. assistant attorney for the Southern District of New York, tweeted at the time.
Saipov has denied eight counts of murder and other crimes including attempted murder and providing material support to ISIS. He appeared at a pretrial hearing in June where he described how he was engaged in a "war" led by the militant group, and said that the court's ultimate judgment was "not important," reported Reuters.