How Effective Are Football Helmet Add-Ons?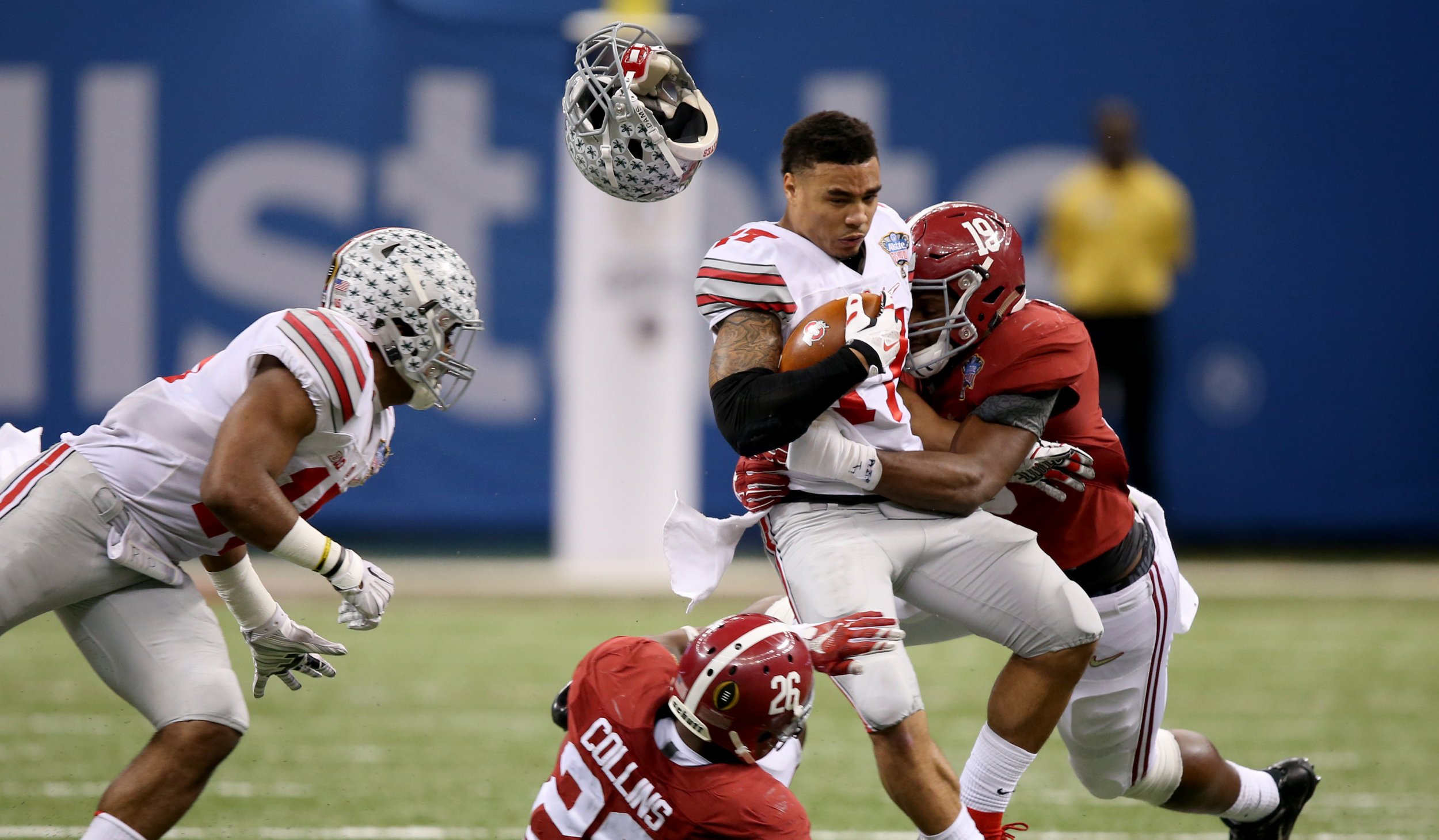 In recent years, awareness has grown about sports-related concussions. A lawsuit settled last year between the National Football League and thousands of former players about the long-term health consequences of concussions raised the issue's profile even further, and a handful of sporting goods companies have begun to market products that supposedly make helmets safer. But on February 25 researchers announced that such "add-on" products may not be as effective as manufacturers claim.
Researchers with Brains Inc., an independent helmet technology company, and the Seeing Stars Foundation, a nonprofit that supports research on sports-related concussions, claim that products by Guardian Caps, Unequal and Shockstrips reduce angular acceleration—which involves head rotation and is the force believed to cause concussions—by only about 2 percent. And a spray called Helmet Glide seemed to have no effect on reducing the force, they reported.
John Lloyd, one of the researchers, says helmet add-ons tend to focus on reducing linear acceleration, which some sports injury experts say is less linked to concussions than angular acceleration is. "There's this entire myth that concussion relates to linear acceleration. Biomechanists like myself have known for a long time that that's not the case," Lloyd says.
"We wanted to see if there was any merit to these helmet add-ons, and we found that really there was not. They do further reduce these linear accelerations," he says, "but that's not the problem."
One sports injury expert who was not involved in the study, Blaine Hoshizaki, a University of Ottawa professor, agrees that add-on products could do more to address angular acceleration. "Add-ons typically have not been particularly successful in terms of decreasing risk of head injury in sports," he says. "It's very easy to make a helmet manage linear acceleration better, but the mechanism for injury for football and for a lot of sports is not primarily linear acceleration.... What you really need to do is decrease the rotational [angular] acceleration."
Lee and Erin Hanson, who introduced Guardian Caps in 2011 and have since seen 35,000 units put into play, say they make clear that using their products doesn't make players invincible. Their product tags say, "Wearing this doesn't mean you can't get hurt. We make Guardian to reduce some of the impact, but that doesn't make you concussion proof. We don't know how big you are, what position you play, how your brain feels about what you're doing, or even who or what you're hitting, so let's face it—we can't keep you completely safe. Listen to your coaches and take yourself out if you know that last hit made you feel bad." A similar disclaimer pops up on the Guardian Caps website.
The Hansons say they have spent five years conducting studies and cite more than 27 medical professionals who have vetted their product, which has been used by 34 college football teams. Their studies showed that Guardian Caps reduce linear impact by 30 to 33 percent. (Lloyd and his partner, Dr. Francis Conidi, say the Guardian Caps and other products studied reduce linear impact by only about 11 percent.) While they are still determining the best way to test for angular impact, the Hansons say they expect their products reduce impact by much more than the 2 percent that Lloyd and Conidi claim.
"The bottom line is, it seems to be working," Lee Hanson says.
The Hansons and several other people in the sports injury industry call into question the method that Lloyd and Conidi used, called a "drop test," which involves dropping a helmet from different heights. James Aiken, CEO of MicroMED Diamond Seal Systems, the company behind Helmet Glide, said by email that such a method is "a very basic test and not the right test for our product."
"You can create a test system to basically show whatever you want," says Stefan Duma, a professor at Virginia Tech who has long studied sports-related concussions. "You have to be very careful that the test system is actually a meaningful representation of what a player would actually experience."
"I'm pushing the science forward, and that's always going to meet some resistance," Lloyd says in response, adding that the Journal of Neurosurgery recently accepted a manuscript he and Conidi wrote. A representative for the journal says it will be published later this year.
According to Aiken, whose Helmet Glide is a nanotechnology spray that coats helmets to make them slicker, the product has been available to two college football teams as a "demo" for about two years and during that time no teams have reported any helmet-to-helmet concussions. "We're creating a very slick surface," Aiken says, "so instead of energy going directly into the helmet, it disperses over the shell of the helmet." MicroMED Diamond Seal Systems plans to relaunch Helmet Glide in the coming months, Aiken adds.
A spokesman for Unequal, which is also mentioned in Lloyd and Conidi's findings, said by email that the brand "has earned the trust of neurosurgeons nationally and trainers at academic institutions" and cited multiple studies that show the product's effectiveness in lowering concussion rates.
A representative for Shockstrips did not respond to a request for comment.
Lloyd and Conidi will be presenting their findings at an American Academy of Neurology meeting in April.