How an Energy Pioneer Changed the Map of the World
Most Americans know the story of Orville and Wilbur Wright working in isolation in Kitty Hawk, North Carolina, in their pursuit of powered flight. Many know the story of Thomas Edison toiling at his research digs in Menlo Park, New Jersey, pursuing the miracle of electric light. But few Americans know the name of the man who helped usher in an era of American energy dominance when experts believed those days were behind us.
"If you want to get to the beginning of the shale revolution, pick up interstate 35E out of Dallas and head north forty miles and then take the turn off for the tiny town of Ponder," writes Daniel Yergin in his remarkable book The New Map: Energy, Climate, and the Clash of Nations. "Pass the feed store, the white water tower, the sign for Cowboy Church, and the donut store that's closed down. Another four miles and you're in Dish, Texas, population 400. You end up at a wire mesh fence around a small tangle of pipes with a built-in step ladder. You're there — the SH Griffin #4 natural gas well. The sign of the fence tells the date — DRILLED IN 1998."
As Yergin points out in his wide-ranging and important book, it was not exactly a good time to be drilling a well for oil or natural gas: The price of both had just crashed. But the drilling taking place in that little patch of earth in Texas would change the world of energy in ways no one could have predicted.
It turns out that a small group of believers were convinced they could extract natural gas from dense shale rock in ways petroleum engineers thought impossible. And driving this small group was a man named George Mitchell.
Mitchell graduated from Texas A&M with a degree in petroleum engineering. With some partners, he started a geology consulting business in—of all places—the top of a local Houston drugstore. They would go on to build a successful company during the 1970s, complete with the ups and downs related to the energy business.
But Mitchell was different from most of his Texas energy brethren: He favored gas exploration to oil. What drove Mitchell was a book he'd stumbled upon in the early '70s called The Limits to Growth, written by an environmental group that predicted that impending population growth would cause the world to run out of natural resources. This tweaked not only Mitchell's environmental conscience but also his engineer's curiosity. "Natural gas became for him not only a business but also a cause, for it was cleaner than burning coal," Yergin writes.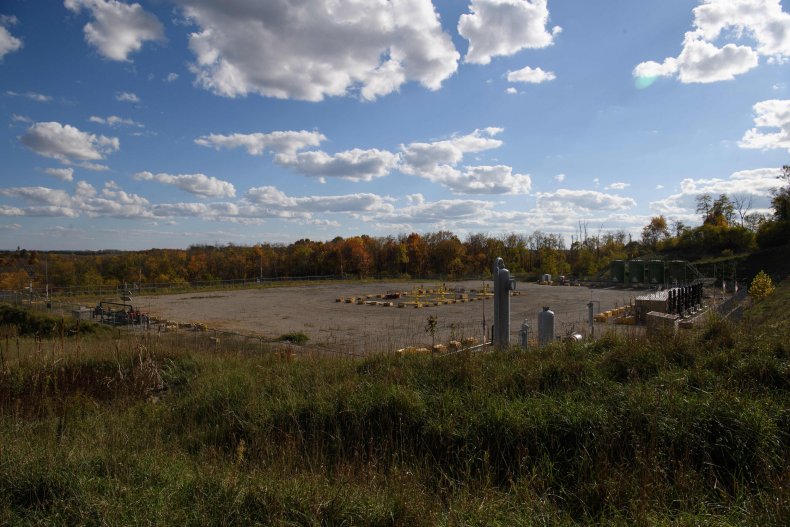 In 1981, Mitchell read a draft of an article by a geologist on his payroll, one that contradicted what was being taught at schools of geology and engineering. "It suggested that commercial gas could be extracted deep underground from very dense rock—denser than concrete," Yergin writes. It was a common understanding within the industry and with experts that oil and gas could remain in the shale but could not be extracted with any hope of financial success, because neither could flow through dense rock.
"There had to be a way a way to prove the received wisdom wrong," Yergin writes. The test area for Mitchell and his team would be the Barnett Shale, which Yergin describes as "five thousand square miles in extent, a mile or more underground, sprawling out beneath Dallas/Fort Worth Airport, and under the ranches and small towns of North Texas."
For years, Mitchell and his team worked to break what Yergin called "the shale code." What were they up to in the middle of nowhere? "Their goal was to open up tiny pathways in the dense shale so gas could flow through the rock and into the well," Yergin explains. "To do that, they applied hydraulic fracturing, later much better known as 'fracking,' which uses cocktails of water, sand, gel, and some chemicals injected under high pressure into rocks that would break open tiny pores and liberate the gas."
Few experts in their field thought Mitchell's team would be successful. Indeed, when analysts did their forecasts of future gas supplies, "the Barnett did not even make the list," Yergin writes. Moreover, Mitchell's company had spent a quarter of a billion dollars with little to show for it.
But his team kept plugging away, playing with the mixtures, timing and consistencies, and eventually came up with a process that finally cracked the elusive shale code. "The new technique needed a name," Yergin writes, "so they called it slick water fracking."
Over the next two years, Yergin notes, Mitchell Energy & Development doubled its output, and Devon Energy's CEO, Larry Nichols, noticed. Not long after, Devon bought Mitchell's company for $3.5 billion. "At the time," Nichols said, "absolutely no one believed that shale drilling worked other than Mitchell and us."
Soon, another technology would be added to the slick water fracking mix: horizontal drilling, which exposes more rock to drill bits, which leads to greater production yields.
As all of this innovation was brewing, experts were gathering in Texas to talk about America's energy future. Shale gas was ignored by the experts, and industry prognosticators predicted that America was running out of natural gas and that prices would reflect that sobering reality.
Indeed, the major energy producers had all but given up on their land operations in America and were investing in deepwater projects in the Gulf of Mexico. "As they saw it, the U.S. onshore was too picked over," Yergin writes.
So much for consensus and conventional wisdom. A natural gas revolution was soon underway, and the experts and the major multinational energy players were the last to know.
The new way of exploring for natural gas would soon lead to the discovery of vast reserves at the Marcellus Formation, which stretches from western New York to Pennsylvania, and from West Virginia to Ohio. "The Marcellus shale would turn out to be the second largest gas province in the world — and possibly the largest," Yergin writes.
Soon, oil men like Mark Papa and Harold Hamm were applying the same techniques and unleashed massive reserves in places like South Texas (the Eagle Ford Group) and North Dakota (the Bakken Formation). The Permian Basin in West Texas would come next, and it is now the world's second largest oil field, behind Saudi Arabia's massive Ghawar Field.
All of this innovation was driven by one stubborn engineer and his team, a motive called profit and a mechanism called price. It turns out that natural gas prices in America were the highest in the industrial world. That all changed thanks to Mitchell's team. Soon, major energy producers poured their resources into the region, and production soared. Indeed, it rose so fast that it came to be known, as Yergin writes, as the "shale gale." And soon prices plunged, and the energy mix in America was forever altered.
The most radical change was in electric power, where coal was the dominant source of power. "In the 1990's, before shale, gas never accounted for more than 17% of the generation," Yergin writes about the electric power mix. Indeed, as late as 2007, he points out, nearly half of all electricity in America was powered by coal.
Thanks to Mitchell's team of energy entrepreneurs, coal was down to 24 percent of the mix, and natural gas had spiked to 38 percent. A report by Energy in Depth, a project of the Independent Petroleum Association, noted that the shift from coal to natural gas plants led to a reduction of more than 2.8 million metric tons of carbon dioxide emissions since 2005, making it "the largest source of energy related carbon savings." The report went on to note that America now leads the world in the reduction of carbon emissions.
What would all of this innovation and exploration mean to the world? "Global transition from coal to natural gas for electricity production" the report concluded, "could prevent 1.2 billion tons of carbon emissions from entering the atmosphere."
But Mitchell's band of engineers did more than protect the planet. The increase in production from fracking helped drive down the prices of energy, saving Americans over $1.1 trillion from 2008 to 2018, according to a report by Kleinhenz and Associates, and saving the average American family over $900 a year.
The shale industry also drove nearly 10 percent of gross domestic product from 2010 to 2015, and in 2018 it accounted for $218 billion of economic output, according to the Federal Reserve Bank of Dallas. A U.S. Chamber of Commerce study noted that there would have been 4.3 million fewer American jobs but for the shale revolution, and over $548 billion would have been wiped from America's GDP since 2009. And that's not counting revenue derived from oil and gas royalty payments to landowners.
Most important, Mitchell and his band of brothers did something nobody could have imagined. "In the autumn of 2018," Yergin writes, "the United States overtook both Russia and Saudi Arabia to regain its rank as the world's largest oil producer, a position it had lost nearly four decades earlier."
That wasn't just a point of pride for Americans to rally around. The achievement had great geopolitical significance too. Thomas Donilon, who served as national security adviser to President Barack Obama, noted, according to Yergin, that the shale revolution "affords Washington a stronger hand in pursuing and implementing its national security goals."
President Donald Trump's secretary of state, Mike Pompeo, agreed, noting that the "shale revolution had provided America with the kind of flexibility in international affairs that it had not had in many decades," according to Yergin.
It's a heck of an innovation story, George Mitchell and his band of engineer brothers. One that made America not only cleaner and more independent but wealthier and safer. It's proof that solutions to the future energy mix may come not from policymakers tweaking tax codes and incentives but from stubborn men and women like Mitchell. And from innovators and entrepreneurs hell-bent on changing the world for the better.