How Etsy Created an Online Craft Market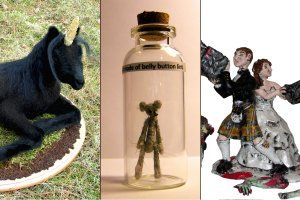 The first time 25-year-old Megan Winn saw Etsy.com, she kicked herself for not having invented it. The site's business—handmade crafts—is as old as commerce itself, but providing an online marketplace that makes crafts easy to buy? That seemed like a perfect fit. To follow Winn's experience since that "wow" moment is to tour the Etsy ecosystem, a thriving network of small businesses and individual craftspeople that, before the site's launch in 2005, existed only as a series of geographically disparate cottage industries. Initially, Winn was a customer, one of many visiting Etsy in search of a wool hat or toddler toys that couldn't be found in America's mass-produced retail market. Then, about a year ago, she opened her own Etsy store in hopes of selling a few of the binding journals or books she makes from recycled materials. "Within days I sold my first one, which was just euphoric," Winn recalls.
During the following year, orders flowed in as Etsy users gave her online shop a high rating. Wholesale buyers also found her on Etsy, and she now ships bulk orders to Virginia, California, and other states from her Indianapolis home. Fellow sellers she met on Etsy even helped her find craft shows where customers bought similar products at similar prices. One year after her Etsy shop opened, she quit her day job as a home-care aide, and she isn't far off from hiring her first employee. "It just amazes both of my parents that this is possible," says Winn. "They just keep being like, 'This is really working?' "
Winn's success at Etsy is not unique. More than 400,000 online shop owners use the e-commerce site to advertise, sell, and ship crafts to millions of buyers. In 2009, four years after Etsy's launch, customers bought $180.6 million worth of merchandise. Sales in 2010 have already exceeded that figure. Etsy takes 3.5 percent of each purchase and charges listing fees ($0.20/item) as well as fees for advertising, like featured links on the homepage. Today, it's a private, and a profitable company, one valued at about $300 million.
Etsy was originally the brainchild of New York University graduates Rob Kalin, Chris Maguire, and Haim Schoppik. The trio saw a dearth of Web sites serving the independent craftsman and -woman, the type of do-it-yourself retailer who might get lost in eBay's crowded inventory. Their startup filled that void by creating a personalized shop for every vendor, while also placing hundreds of craftspeople at one online destination. But even with an easy-to-use site, much of Etsy's growth has depended on the enthusiasm of buyers and sellers. "What really differentiates us from other e-commerce sites is the real personal connections and feeling that you get" between seller and buyer, Etsy spokesman Adam Brown says. "It's not like you're buying stuff. It's like you're connecting with this person."
The site's features work to encourage this camaraderie. One of the earliest additions was an online homepage for Etsy "teams," or groups of craftspeople who use the site when they want to arrange a local show or discuss new techniques. So crafters in a Brooklyn neighborhood could sell their products together, or a team of wire jewelry makers could share tips. This summer the company added a new iteration of the teams idea, called "groups," that makes it easier for teams to open up an Etsy shop and sell their wares together. The next step? Taking a lesson from Facebook, Etsy plans to launch more "social commerce" features to allow users to suggest their favorite shops or items to one another. That's a move that will likely appeal to younger buyers, says IBIS retail analyst Nikoleta Panteva: "Generation Y…is known for their need to be different and unique and special, and Etsy offers that."
Etsy's growth has also led to a subgroup of vendors who aim to help other craftspeople better promote their work. One such vendor is Heather Meehan, a writer-turned-Etsy seller who says the site "changed her life." Like Winn, Meehan started by buying an Etsy product (custom-made soap), then opened up her own shop designing logos for Etsy craftspeople who wanted to improve their branding. Since 2008 she has offered an "Etsy Success Kit" that's helped more than 4,800 fellow sellers. Sellers from Poland to China have also found her on Etsy and enlisted her help in writing English-language press releases. Meehan's The Buzz is only one of many shops that provide such marketing services to fellow Etsy sellers.
Of course, with Etsy's success has come competition, like Bonanza, Canada-based iCraft, and ArtFire offering similar selling platforms. But it may be hard to capture Etsy's fervent following, or even to catch up given the size of Etsy's current flock. And while the company's 400,000 shops will never replace today's mass-produced Walmart culture, they've definitely transformed their little corner of the retail market.