How Every Known Jan. 6 Participant Fared in U.S., State Midterm Elections
On Tuesday the Republican Party ran a number of candidates, at both state and national level, who participated in the January 6, 2021, Washington D.C. protest against the 2020 presidential election result, which precipitated the storming of Congress.
The rally was held after Donald Trump claimed the polls had been "rigged," a statement that has been rejected repeatedly in the courts and by independent polling experts.
Later that day a mob of Trump supporters broke into Congress, with lawmakers forced into hiding across the Capital Hill complex. During the attack one Trump supporter was shot dead, and dozens of police officers injured.
In July non-profit research institute Open Secrets published a list of prospective Republican candidates who "traveled to Washington, D.C. for demonstrations" on the day of the Capital Hill riot.
Analysis by Newsweek found 20 of these stood as GOP candidates on Tuesday, once those who failed to make it through primaries were removed.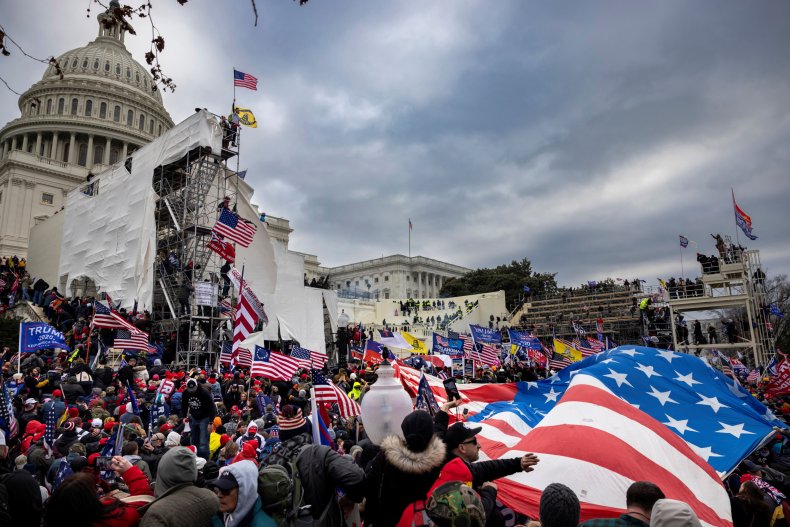 Nine of these candidates won their elections on Tuesday, with another nine defeated and two in races that have yet to be called.
One of the victors was Derrick Van Orden, a former Navy SEAL who flipped a House of Representatives seat in Wisconsin.
Van Orden attended the January 6 'Stop the Steal' rally in Washington, D.C., and was later photographed near the Capitol. There is no suggestion that he took part in any violence, or personally entered the Capitol Hill complex.
David Eastman, a member of the right-wing Oath Keepers militia who secured reelection to the Alaska State House, also took part in the January 6 protest.
Despite his victory Easterman is facing a legal challenge from the Northern Justice Project, which argues Oath Keepers membership violates the Alaska constitution's disloyalty clause.
A number of Oath Keeper members have been charged over their alleged involvement in the attack on Congress, though there is no suggestion Easterman did anything illegal.
January 6 rally participants who failed to secure election included Jo Rae Perkins, who unsuccessfully stood to represent Oregon in the Senate.
Speaking to local outlet KOIN Perkins admitted she walked up to Congress, but insisted she didn't enter the building.
Perkins, who has promoted the QAnon conspiracy theory, later attempted to blame antifa for the storming of Capital Hill.
J.R. Majewski, who unsuccessfully stood to represent Ohio in the House, is another Republican candidate who both attended the January 6 rally and has shared QAnon material.
The January 6 rally was also attended by Jeff Zink, who ran unsuccessfully for a House seat representing Arizona. The Republican was with his son, Ryan Zink, who is facing federal charges for obstruction and trespassing relating to the protest.
Zink, who previously described coronavirus as a "bioweapon meant to convert the United States to socialism," insists neither he nor his son entered the Capital Hill complex.
All 20 Republican candidates listed below have been contacted for comment.
Full List of January 6 Participants Who Secured Election
Derrick Van Orden—U.S. House, Wisconsin
Ken Paxton—Attorney General, Texas
Angela Paxton—State Senate, Texas
Chris Miller—State House, Illinois
Donnie Loftis—State House, North Carolina
Mike Azinger—State Senate, West Virginia
David Eastman—State House, Alaska
Matthew Maddock—State House, Michigan
Angela Rigas—State House, Michigan
Full List of January 6 Participants Who Lost
Jo Rae Perkins—U.S. Senate, Oregon
Sandy Smith—U.S. House, North Carolina
James Majewski—U.S. House, Ohio
Tina Forte—U.S. House, New York
Jeff Zink—U.S House, Arizona
Daniel L. Cox—Governor, Maryland
Doug Mastriano—Governor, Pennsylvania
Terri Lynn Weaver—State House, Tennessee
Justin Price—State House, Rhode Island [Expected to request recount]
Awaiting Result
Mark Finchem—Secretary of State, Arizona
Anthony Kern—State Senate, Arizona