How to Evolve Bramblin Into Brambleghast in Pokemon Scarlet and Violet
Pokemon Scarlet and Violet introduced a special, tumbleweed-like Pokemon named Bramblin as well as its evolved form, Brambleghast, two very unique-looking monsters. While they barely look like Pokemon, they are two potentially useful allies that you can recruit for your party.
But like many monsters in Pokemon Scarlet and Violet, it isn't immediately obvious how to level up one form to the next. Like Gimmighoul to Ghodengo, you must do something special in addition to leveling Bramblin up to reach its coveted Brambleghast form. Yes, there are also plenty of other similar situations found in Pokemon Scarlet and Violet.
Unfortunately, they're not always as obvious as they should be, which means you won't know 100 percent how to evolve your monsters when you need to. That's exactly why we're here to help. If you want to evolve your Bramblin into Brambleghast, we've got everything you need to know how to do so right here.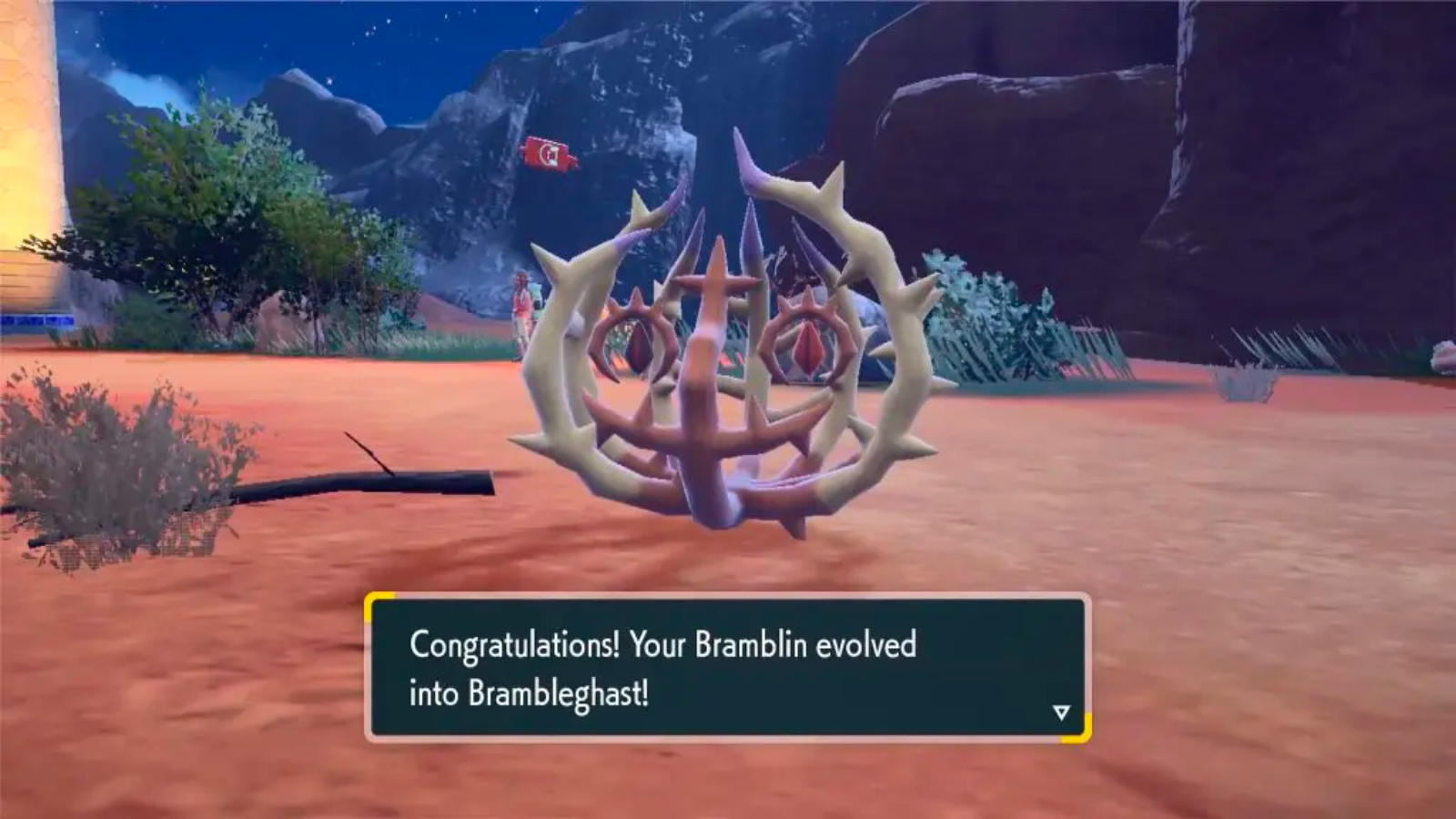 How to Evolve Bramblin into Brambleghast
First, you need a Bramblin. They aren't difficult to find, but obviously if you want to evolve one into a Brambleghast, you'll need to have it in your inventory to begin with. If you don't have one, you can always check around in the Asado Desert or around Area Three in East Province, where you'll find it blowing around in the wind.
With that sorted, get ready to spend a lot of time with Bramblin. To evolve it into Brambleghast, you're going to need to walk with it for 1,000 steps using the Let's Go feature, where it will walk beside you in the overworld. Press the R button on your Joy-Con controller and your Bramblin will come out of its Poke Ball to accompany you.
Make sure that you avoid areas where your little Bramblin won't get blown around in the breeze, because given its weak stats, you don't want it immediately defeated by wild Pokemon. That will make this process take even longer than it needs to, and that certainly isn't something you want to have to deal with when working to amass 1,000 steps.
When you finally reach 1,000 steps with Bramblin at your side, you'll want to go ahead and level up your partner Pokemon as usual. It will then evolve automatically into Brambleghast. That's it! You can continue traveling with Brambleghast in its newly evolved form if you wish, but it's no longer required, of course. It's not as difficult as finding Gimmighoul Coins, but it's still something of a feat.
Pokemon Scarlet and Violet are available now exclusively on Nintendo Switch.