It wasn't the film Bryan Fogel set out to make. The director and amateur cyclist had envisioned "a kind of Super Size Me into the world of doping." He would dope, compete in a race, evade drug tests and, if he succeeded, call into question the entire anti-doping apparatus meant to ensure the sanctity of national and international championships and the Olympics. That project was ambitious enough. But what he accidentally stumbled into was the very center of the Russian doping scandal as the elaborate, state-sponsored operation unraveled.
"We ended up exposing and uncovering the single biggest story in sports history that calls into question every single medal ever won," Fogel tells Newsweek. But it's also "a huge strobe light into a bigger picture beyond sports, beyond the Olympics, beyond the spectacular scandal." It illuminates "how world geopolitics are conducted and how far a country will go to win," he says. When it comes to Russia, he adds, "it appears that this scandal is just part of what has been a larger involvement into meddling into world affairs, and into our political system and those of other countries."
Fogel's previous credits—writer of the off-Broadway play and feature film Jewtopia, a romantic comedy, and co-writer of Jewtopia: The Chosen Guide for the Chosen People—were unlikely preparation for Icarus, which premieres on Netflix on Friday. But another doping scandal, that of Lance Armstrong, piqued his interest. After seven victories at the prestigious Tour de France competition, Armstrong finally admitted to doping in January 2013. He liked to say he had never failed a drug test throughout his career, despite years of using performance-enhancing drugs. Armstrong was discovered only when some of his teammates, who were also doping, gave him up.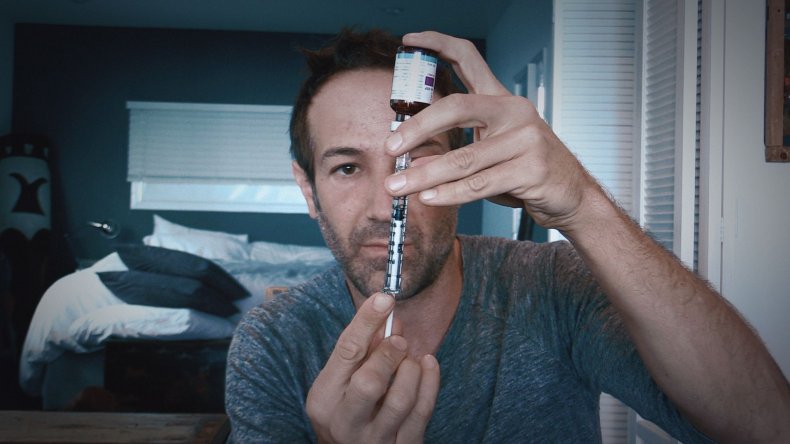 "I was looking not at what was wrong with Lance but what was wrong with system," says Fogel, who hatched a plan "to prove the system in place to test athletes was bullshit." He would experiment on himself, turning to advisers who could help him train for the Haute Route, a grueling seven-day amateur cycling race through the French Alps—and put him on a doping regimen, one that would pass drug tests. Don Catlin, founder of the UCLA Olympic Lab, directed Fogel to his old friend Grigory Rodchenkov, who at the time was the director of the Anti-Doping Centre in Moscow. "That set off this whole chain of events," Fogel says in the film.
Rodchenkov, a jovial, gray-haired Russian scientist with a dark mustache and thick-rimmed glasses, is shirtless when Icarus introduces him. He jokes about cleaning the "secret window" through which Fogel can see him on Skype. Fogel describes him as gregarious, goofy and subversive. "It's impossible to not like [Grigory],"he tells me. "You kind of fall in love with the guy."
The two began speaking in May 2014. Fogel interviewed Rodchenkov for over two years through video chats, phone calls and a few visits (Rodchenkov to Los Angeles, Fogel to Moscow). During that time, they also became friends.
In December 2014, a German television documentary revealed that Rodchenkov was at the center of a widespread doping scheme. That prompted the World Anti-Doping Agency (WADA) to launch an investigation into the claims; in November 2015 it released a 335-page report. "What was uncovered [by WADA] was so far beyond what I could have imagined," says Fogel, who began to realize his good friend might in fact be "the mastermind… the linchpin in a spectacular state-sponsored doping program. It was a shocking revelation."
Over the course of the next week, a spectacular chain of events occurred: Rodchenkov resigned from the lab he ran; the lab was shut down; then–sports minister Vitaly Mutko denied the report's findings on television; the International Association of Athletics Federations suspended Russia from track and field events; and President Vladimir Putin again denied the existence of a state-sponsored program, emphasizing that any individual athletes who doped should be held responsible.
In a highly charged conversation that week, a nervous Rodchenkov told Fogel he needed to escape. Fogel recalls his friend conveying that he had every reason to believe his "suicide" was being planned. The American filmmaker, who waited day and night by his phone that week, bought Rodchenkov a round-trip plane ticket to Los Angeles, even though the Russian scientist never intended to return to his country. Even with state security agents guarding his home, Rodchenkov somehow managed to make it to Los Angeles.
"Over the next six weeks, I come to realize that I'm essentially working with Russia's Snowden," Fogel says. Rodchenkov brought "a nuclear bomb of information" with him, including copies of hard drives containing thousands of documents, a trove of evidence detailing how Russia cheated during the Sochi Olympics and beyond. It was "startling to understand the amount of evidence that he had," Fogel says. Rodchenkov had been meant to destroy it all, but knowing he could be thrown under the bus at any moment, "he was making a backup plan."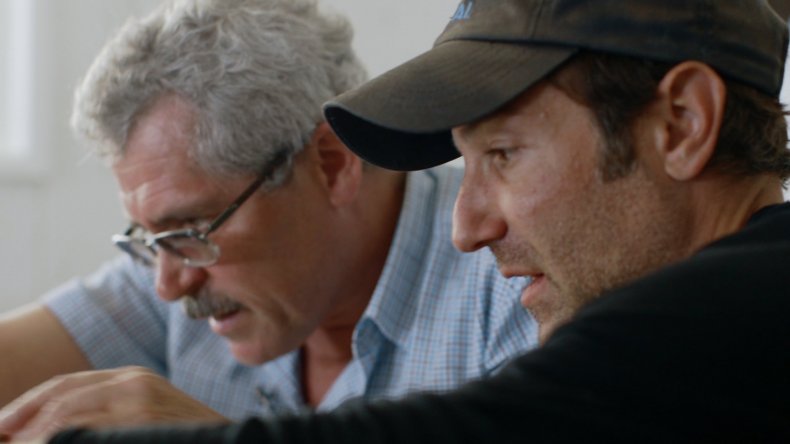 Icarus follows Rodchenkov's tumultuous first months in the U.S. During that time, his fears escalated when a friend, former executive director of the Russian Anti-Doping Agency Nikita Kamaev, died unexpectedly of what was reported to be a massive heart attack. Kamaev had recently told Rodchenkov he was planning to come forward with information about the scandal.
Rodchenkov decided to talk to The New York Times. His account detailed the intricate workings of a plan to swap dirty urine samples for clean ones during the Sochi Games. The operation, Rodchenkov explained, involved deputy sports minister Yuri Nagornykh, his boss, Mutko, and Putin. "He realized his job was no longer to be a scientist," says Fogel. And "he had felt guilt and remorse for Sochi," where Russia topped the overall medal count with 33 wins and took home 13 golds, more than any other country that year. Rodchenkov drew a direct line between Putin's approval ratings following that success and aggressive actions he took shortly thereafter outside the world of sports. Fogel says Rodchenkov "believed in his mind that his contribution to the program had indirectly affected Putin's decision to go into Ukraine, where people had died."
When the Times published the story in May 2016, WADA launched another independent investigation that verified Rodchenkov's claims and confirmed Russian state manipulation of the doping control process. It concluded in July that the Ministry of Sport had run the system, with active participation from the Federal Security Service (FSB), the Center of Sports Preparation of National Teams of Russia (CSP) and the Moscow and Sochi testing laboratories. The commission recommended that all Russian athletes be banned from the Rio Olympics, just weeks away. Still, Russia refused to admit to the operation, and the International Olympic Committee decided against issuing a blanket ban on its athletes.
"Now the scandal has been completely proven, and you understand 100 percent, without a doubt, that this has happened, and you're expecting things to change, you're expecting there to be a punishment, you're expecting for there to be a reaction," Fogel says. "Instead, what you see is the absolute denial of Russia that this existed. And then, essentially, the IOC, the Olympic committee, taking zero accountability for everything that they have presented to the world as the Olympic ideal. You're going, 'Oh my God, there is no punishment for the crime, you can get away with this.' And the guy who ultimately suffers the biggest defeat for coming forward with the truth is Grigory."
Throughout Icarus, even before he flees Moscow, Rodchenkov reads and quotes frequently from his favorite book, George Orwell's 1984. As the story unfolded in surprising ways, Fogel and his colleagues came to see Rodchenkov's life and experience as parallel to the 1949 dystopian novel that soared back onto bestseller lists in the wake of the 2016 presidential election. Everything Russia was doing at the time of the doping operation, then denying it afterward, Fogel says, was "doublethink," a term Orwell used to describe "the power of holding two contradictory beliefs in one's mind simultaneously, and accepting both of them." And much like Orwell's protagonist, Winston, Rodchenkov seems to be foiled and broken in his attempt to stand up against a powerful system and mindset: that sports should be clean and noble, but not at the cost of a government's belief that it should dominate.
The film has no happy ending. Fogel says goodbye to Rodchenkov in July 2016 as the Russian scientist is taken into protective custody by the American government, a measure meant to keep him safe from what were deemed credible threats to his life. "His life is in limbo right now. I don't know if [it] will ever not be in limbo," says Fogel, who can only get updates on his friend through legal counsel. Rodchenkov's family—his wife and two children—remains in Russia; there's a good chance he'll never see them again. "Certainly he will never be able to go back to Russia. It would mean his imprisonment or death."
Icarus is a telling glimpse inside the ethos of the Russian government—"the same mindset that's always been in place," says Fogel of a country which still has a state-controlled media, where there is no free speech. "This isn't [even] like ISIS, that goes and launches a suicide attack and then takes responsibility," Fogel says. Russia has "never taken accountability for its actions."
Though the film very purposefully sidesteps politics, Fogel says you can't help but see connections between the Russian doping scandal and Putin's denial of mounting evidence that his government meddled in the 2016 U.S. election. "When have we ever seen Russia admit to anything?" he says. In the case of the doping scandal, Fogel adds, the denial comes in spite of a "pile of evidence so big that this is literally the equivalent of walking through Auschwitz and Birkenau, and then looking someone in the eye and saying the Holocaust didn't happen."