How a Federal Law Protecting Gun Companies Could Fail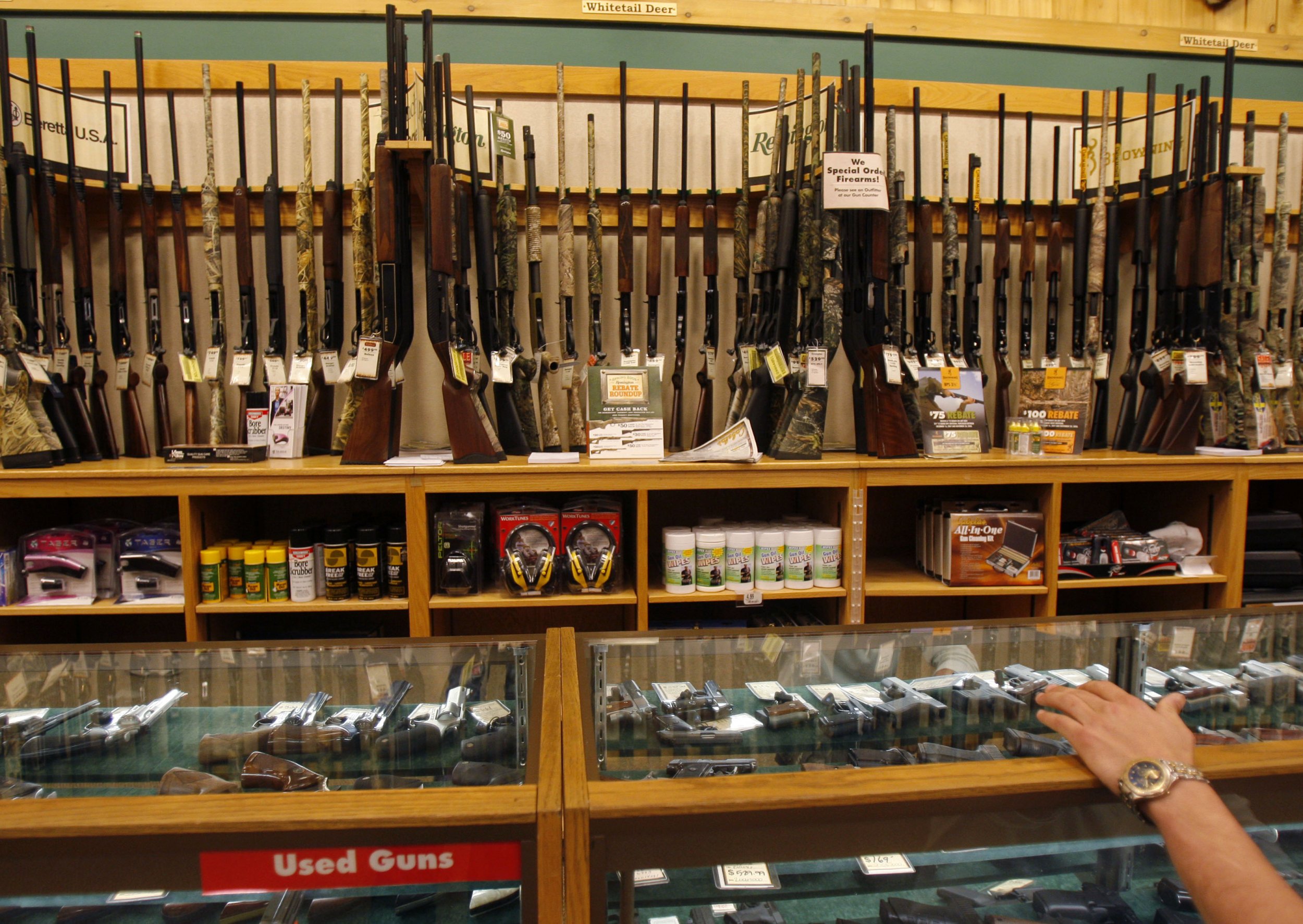 A gun-violence victim's family is hoping the mother of the man who fatally shot their relative will strengthen their case against two firearms dealers in an Oregon court.
Kirsten Englund, a 57-year-old California woman, was fatally shot in April 2013 at a scenic overlook in Oregon while on her way to visit relatives. After 30-year-old Jeffrey Boyce killed Englund, he drove to northern California and carjacked two different drivers before police arrested him. Two months later, while awaiting his arraignment, Boyce killed himself in jail.
On Thursday, the gunman's mother, Diane Boyce, agreed to help the family with its wrongful death lawsuit against two retailers that sold her guns, despite originally being named in the lawsuit.
In the complaint, Englund's two sons and sister accuse Diane Boyce of acting as a straw purchaser by buying an AK-47 rifle and two handguns for her son in 2011 and 2012. A "straw purchase" occurs when the actual buyer of a firearm uses another person to execute the paperwork necessary to complete the purchase through a federally licensed dealer. By intentionally buying guns for someone else, straw purchasers thwart the background checks system and thus may allow firearms to be funneled to criminals, domestic abusers and other individuals who pose a risk to public safety.
Jeffrey Boyce, who lawyers say was not legally allowed to own guns because he had a criminal record at the time of his mother's first purchase, used one of the three firearms to murder Englund, according to the lawsuit. He had never met Englund before he killed her, shooting her at close range, pouring gasoline over her body, lighting her on fire and then shooting her once more, the complaint says.
The suit says J&G Sales, an online firearms and ammunition retailer in Arizona, sold the two pistols, which were then shipped to World Pawn Exchange (WPE) in North Bend, Oregon, for Boyce to claim. A Minnesota dealer sold the AK-47 and also shipped to WPE. After his arrest, Boyce told law enforcement officials that he used one of the pistols to kill Englund, the complaint says.
As part of a settlement with the Englund family, Diane Boyce has agreed to provide documents and material in the lawsuit, the family's lawyers say. She also will pay $400,000 to the victim's family.
J&G and WPE each told Newsweek Friday that no one was available to comment on the case. Diane Boyce's attorneys didn't respond to Newsweek's request for comment.
The lawsuit alleges that the retailers had reason to know the guns were being purchased by a straw buyer—but still allowed the sales to proceed—and that J&G and WPE's negligence caused Englund's death. The suit describes an invoice that allegedly identifies Jeffrey Boyce as the buyer.
"It wasn't should've known, could've known. They did know," says Linda Singer, an attorney representing the Englund family.
She adds that gun dealers "are the safety check in the system that is supposed to make sure that the law is followed before the gun goes to the ultimate purchaser. And if they don't play that role, then the law can't work."
The family also argues that Jeffrey Boyce's history of criminal behavior and convictions, and of mental health issues, would have prevented him from passing a background check and ultimately from completing the purchase of at least the first gun. (His conviction was later expunged and would not have shown up in checks on the following two purchases.)
J&G has filed a motion to dismiss the case, largely on the basis of a 2005 federal shield law that grants gun companies broad immunity from legal action for weapons used in crimes. The law, known as the Protection of Lawful Commerce in Arms Act (PLCAA), was a campaign issue in the Democratic presidential primary. Hillary Clinton opposed PLCAA when she was in the Senate, while Bernie Sanders voted for it when he was in the House. The law most recently was at the root of a judge's dismissal of a high-profile lawsuit brought by 10 families affected by the 2012 Sandy Hook Elementary School massacre against three gun companies that entrusted the AR-15 rifle to civilians.
Because straw purchase sales are unlawful, Singer argues that PLCAA doesn't protect the two gun retailers from the family's lawsuit. She says she recognizes that most gun dealers operate as responsible businesses that take their public safety obligations seriously. But there's a small group of gun dealers who choose to profit off of the criminal market.
The Englund family filed its original complaint earlier this year. The settlement on Thursday amends the initial complaint to remove Diane Boyce as a party to the Englund family's claims, and provides new details, including that Jeffrey Boyce's name was allegedly on the final invoice involving the first gun sale by J&G.
Oregon's Circuit Court for Multnomah County must first accept the amended complaint, and then there will be a briefing and hearing on J&G's motion to dismiss the case.