How the Fight Over Confederate Monuments Is Influencing Southern Politics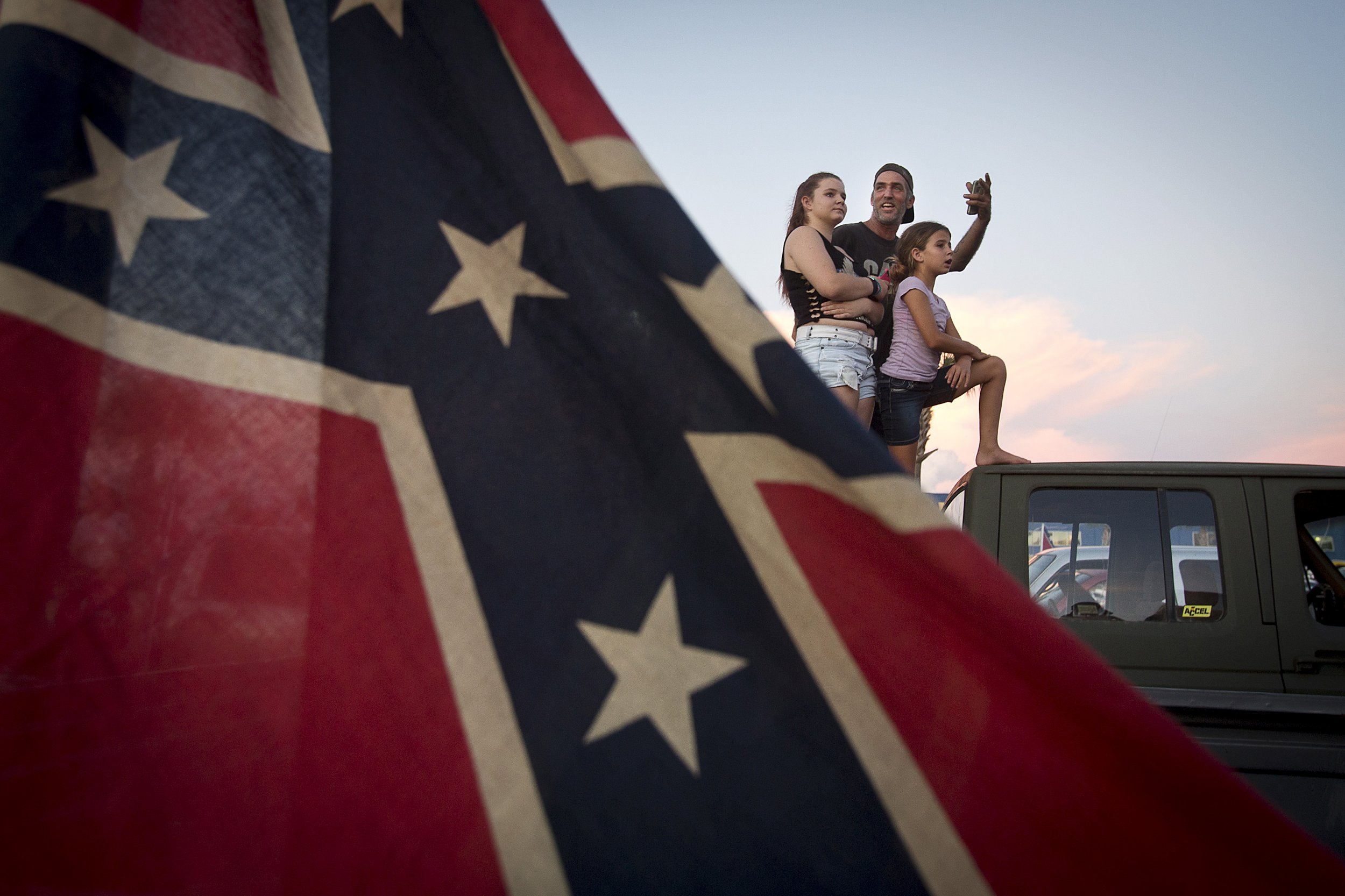 The Virginia city of Charlottesville was divided this spring over a decision to remove a statue of Confederate General Robert E. Lee. A string of protests followed, including one led by white nationalist Richard Spencer that featured torches.
The controversy coincided with the primary campaign for Virginia governor. Most of the candidates took moderate stances; the two who were leading at the time, Democratic Lieutenant Governor Ralph Northam and former Republican National Committee Chairman Ed Gillespie, called it a local issue. Meanwhile, another candidate stood out by taking a much stronger position.
"Nothing is worse than a Yankee telling a Southerner that his monuments don't matter," Republican Corey Stewart tweeted, sparking an online firestorm. Stewart, who served as Donald Trump's campaign chairman in Virginia, modeled his campaign after the president's. Like Trump's, Stewart's election results shocked establishment Republicans and political observers: He nearly defeated Gillespie in the GOP primary, finishing just 1 percentage point back.
Stewart, who was born in Minnesota, picked up momentum and gained attention by taking that stance. While he was the first statewide candidate to make defending Confederate monuments a central tenet of a campaign, he wasn't the only candidate to do so this spring.
In South Carolina, Sheri Few attempted to use the issue to stand out in a crowded GOP special election primary for a congressional seat. Few blasted two opponents for voting to remove the Confederate flag from the state capitol following the 2015 Charleston church shooting.
"Weak politicians are too quick to blame a horrible tragedy on a flag or a gun or even free speech," Few, who was holding a rifle, said in a campaign ad. "And that's how bad laws are made."
Charles S. Bullock, a professor of political science at the University of Georgia and an expert on Southern politics, said the Confederate monuments issue "was looking like it was something we were moving beyond, This is a turn toward the rear for a state like Virginia, which looked like it was becoming more in the mainstream."
More than 150 years after the end of the Civil War, memorials to men who fought against the United States in defense of slavery are still prevalent in the South. With Stewart overperforming expectations and Democratic New Orleans Mayor Mitch Landrieu attracting presidential speculation after removing monuments, the debate over these memorials could influence Southern politics moving forward.
Changing Demographics, Increased Activism
In the wake of a white supremacist killing nine black churchgoers in Charleston, South Carolina, Governor Nikki Haley signed a bill ordering that the Confederate flag be removed from statehouse grounds. Then-Governor Robert Bentley of Alabama also ordered the flag removed.
The shooting sparked increased scrutiny of the flag and Confederate monuments, said Jonathan Leib, a professor of political science at Old Dominion University who studies Confederate symbols.
"Pretty much after 2000 it sort of simmered. It would come up periodically, but it was not a major issue," Leib said. "Of course it flared up again in 2015, after the Charleston massacre, in terms of the removal of these symbols."
At least 60 public Confederate symbols have been removed since the Charleston shooting, according to the Southern Poverty Law Center.
Charlottesville and New Orleans have become the two main hot spots for the ongoing conflict. In New Orleans, Landrieu signed an ordinance removing three statues honoring the Confederacy and one celebrating defiance of Reconstruction by whites. The decision followed activism by predominantly African-American groups, including Take Em Down NOLA.
A speech Landrieu made about removing the statues went viral.
"Another friend asked me to consider these four monuments from the perspective of an African-American mother or father trying to explain to their fifth-grade daughter who Robert E. Lee is and why he stands atop of our beautiful city," Landrieu said. "Can you look into that young girl's eyes and convince her that Robert E. Lee is there to encourage her?"
In Charlottesville, the city council voted in February to remove a statue of Lee, as well as the names of Confederate leaders, from two parks. That decision led to a string of protests.
Historical context is key when considering the significance of the monuments, Leib said. Most were erected between 1890 and 1915, and although some of the motivation may have been to recognize the aging generation of Confederate soldiers, there were also more nefarious purposes.
"A lot of it really was about sort of celebrating the victory of white supremacy and the return of white supremacy after Reconstruction," he said.
Defending Monuments
Movements to take down these statues have been met with intense defense from primarily white Southerners. In Alabama, Governor Kay Ivey, who replaced Bentley after his resignation, signed the Alabama Memorial Preservation Act of 2017. The law prevents localities from removing or renaming monuments that are more than 40 years old without approval from the state.
"When you start removing things and start trying to pretend things didn't take place, erasing history or sweeping it under the rug, you're losing the opportunity to teach the children and generations that are going to follow what shaped this great nation," said Gerald Allen, the Alabama state senator who proposed the bill. "How can you tell the complete story of the civil rights movement if you leave one part of American history?"
The Alabama bill passed, despite objections from many Democrats and the National Association for the Advancement of Colored People (NAACP).
"It's obvious they wanted to preserve these monuments so they could preserve the Confederates who lost the war and preserve Southern heritage," said Bernard Simelton, the chairman of the Alabama NAACP. "And by 'heritage,' I'm talking about white supremacy."
Simelton said he'd noticed a increase in Confederate flags flying around the state following the election of President Barack Obama in 2008 and the Charleston shooting.
"Things have only gotten worse. You see more and more Confederate flags all over the state," Simelton said. "The person who's flying the Confederate flag isn't going to be inviting people of color over for dinner."
Political Consideration
The continued debate over these monuments could spill over into the political arena in a more significant way.
Although similar bills were considered in Louisiana this spring, a state Senate committee blocked them from moving forward. And Landrieu's approach has sparked conversations about a possible presidential bid.
"I think the Democratic electorate in general is looking for courage and vision out of its candidates, and Landrieu is showing both right now," said political analyst Jamal Simmons, a Democratic operative who believes Landrieu would be a strong candidate for president. "For a white Southern Democrat to speak up on issues of race in a way that doesn't blame anyone but tries to unite us around some common value structure is incredibly important."
On the other end of the spectrum, some believe Stewart's defense of the monuments may have played a role in his surprising performance in the Virginia GOP primary.
Euan Hague, a professor at Depaul University who studies Confederate commemoration, said right-wing GOP politicians are tapping into the reaction caused by the removal of these monuments.
"There is obviously a core of voters [for whom] this is still a resonant issue," Hague said. "It's surprising there is still a vehement devotion to Confederate monuments."
GOP operative Chris Jankowski said although he believed Stewart's campaign was mostly propelled by his anti-establishment rhetoric, the Confederate issue may have played a role in his late surge.
"I think it gave him some closing momentum," Jankowski said. "It's something that motivates, as a single issue, a small number of voters."
But Stewart did come up short, Leib said, and may not be a good example for the rest of the region. Stewart did not respond to a request for comment.
The Confederate issue "cuts both ways," said Glen Browder, a former Democratic congressman from Alabama who has written on Southern politics. He added he would be surprised to see other candidates take a strong stance on either side of the issue.
"You look at the Virginia deal and say that was what made it close, but you can look and see it was not a winning card for him to play," he said. "If you were holding a packed hand with four of five winning cards, you don't need to do something like that."
Few, who ran for Congress in South Carolina, campaigned heavily on defending the Confederacy and the flag. In another ad, she says her two highest-profile opponents "declared a war on our history" when they voted to take down the Confederate flag. She compared taking down the flag to actions taken by "communist dictators" who wanted to erase history.
She said she received death threats following the ads but felt that most of the South Carolinians she spoke with agreed with her. She finished fifth in the GOP primary.
"Well, I know that it did gain earned media for me, which was helpful in my campaign because I was outspent in a big way for my opponents," she said. "From the people I spoke with on the ground, I had support for my position."