How the Finsbury Park Attack Plays into ISIS's Hands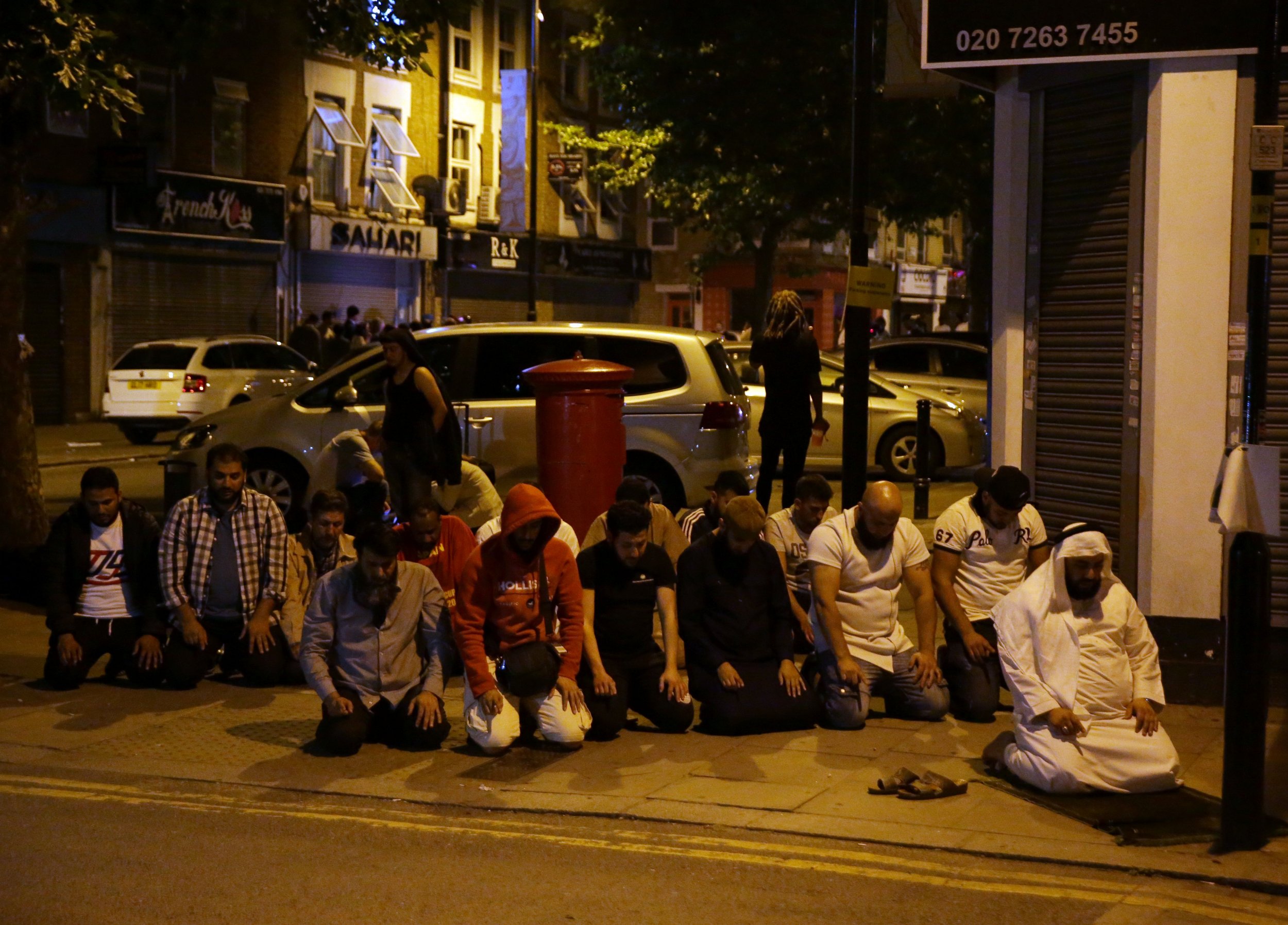 "Hate begets hate; violence begets violence": The words of Martin Luther King seem as relevant today as they were in 1958, as radical Islamists and far-right extremists carry out violent attacks on Britain's streets.
After a van plowed into Muslim worshippers in London at the end of their Ramadan prayers late Monday night, eyewitnesses and Muslim groups called the attack a manifestation of Islamophobia.
Worshippers managed to restrain the attacker, who, during the chaos, said, "I want to kill all Muslims," according to witnesses. Police are now investigating the attack as a "terrorist incident" and have arrested a man on suspicion of attempted murder.
British security services are increasingly concerned about the threat of far-right extremism in the country ever since Britain voted to leave the European Union in June 2016. Last year, police arrested the highest number of white people on extremism charges since 2003: Of 260 arrests, 91 people were white, 35 percent of the total.
This wave of far-right extremism, coupled with Monday's attack, could push Muslim radicals toward violence, say community figures and experts, particularly as anti-Muslim hate crimes have risen after three assaults claimed by the Islamic State militant group (ISIS) in as many months, leaving 35 people dead.
Within hours, the jihadi group's supporters started using the Finsbury Park attack to build further support for its call for attacks in Western countries, what they refer to as "crusader" nations. On one pro-ISIS channel on the encrypted messaging app Telegram, supporters shared footage of the attack.
An accompanying message stated that while police shot Muslim attackers dead in previous incidents, they only arrested the driver of the van, a white male, in this instance.
"Oh Muslims you need to wake up the war is starting now in your own streets outside your own Masajids," the message read, using the Arabic word for "mosques." "Your elders could be killed, your sisters could be attacked. They hate your [sic]."
After the London Bridge assault on June 3, in which an ISIS-inspired cell rammed a van into civilians before stabbing passersby, anti-Muslim hate crimes increased fivefold in the capital, from a daily 2017 average of four to as many as 20. Police figures showed a 40 percent increase in racist attacks.
The wave of anti-Muslim sentiment, which appears to have exploded in an attack on the community on Monday overnight, will likely bolster ISIS's framing of the world as Muslims against all other religions and all other states, and aid its attempt to drive a wedge between communities in Europe, Muslim leaders say. The group's worldview, as presented in its hefty propaganda output of magazines, videos and Telegram messages, is one of a battle of civilizations: ultraconservative Islamic rule against Western liberal democracy.
Organizers in the community say such attacks will put Muslims on edge and require a substantial improvement in security for them to carry out their day-to-day religious duties.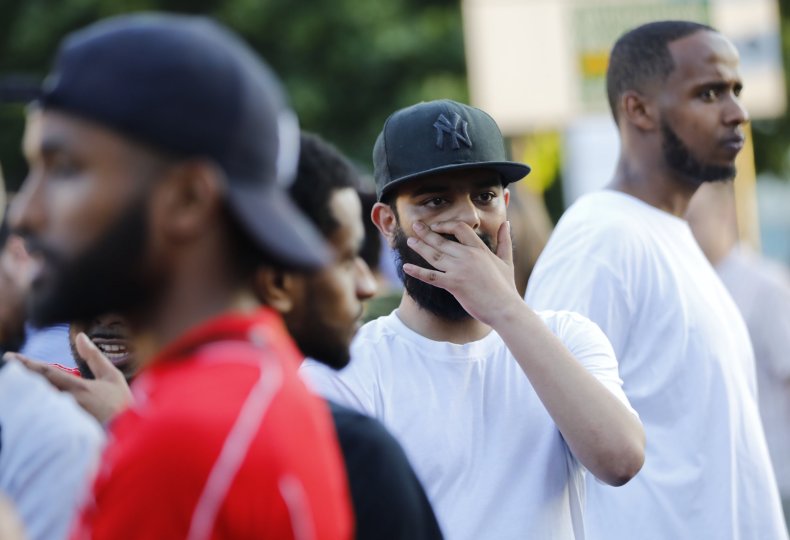 In a statement following the attack, the Muslim Council of Britain's Secretary-General Harun Khan said many Muslims in the community would feel "terrorized."
Anti-Islamophobia group Tell Mama called on Muslims wearing Islamic clothing during Ramadan to "maintain vigilance" during the holy month, when worshippers refrain from eating and drinking from dusk until dawn. Director Iman Atta called for increased security at the entrances and exits of mosques during Ramadan prayers. Fears within the Muslim community are evident.
Read more: Inside Barking, where ISIS laid the seeds of terror for London attack
In the same way the ISIS-claimed attack on London Bridge, the Westminster Bridge attack and the Manchester bombing at an Ariana Grande concert fueled anti-Muslim hate crimes, the Finsbury Park mosque attack and a heightened security presence in the Muslim community could further perpetuate the message of radical Islamists.
"You basically have two ends of the spectrum that will very much need each other to continue," Raffaello Pantucci, director of international security at London-based defense think tank the Royal United Services Institute, tells Newsweek.
"When you have one extremist at one end of the scale, committing horrible atrocities, causing all sorts of public anger and anguish, then you get a reaction to that, unfortunately, at the other end."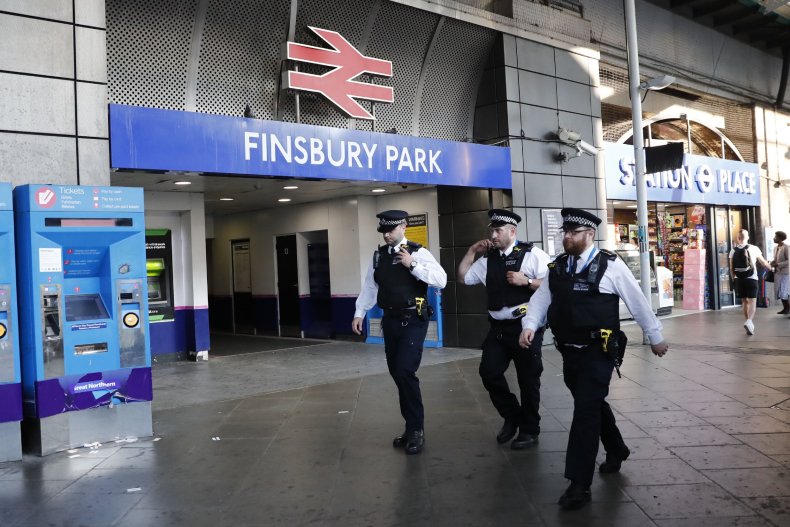 Pantucci says authorities have tried to be balanced in their reaction to the attack, quickly condemning it as an act of extremism, and the government called a meeting of the Cobra security committee, as it did following radical Islamist attacks.
But, he adds, Al-Qaeda and ISIS may use such incidents for their own propaganda. Islamist groups have used the U.S.-led coalition's bombing campaign in Iraq and Syria, and U.S. President Donald Trump's travel ban on six Muslim-majority countries, to convince Muslims that they are not welcome in the West. Violent attacks against members of the community only reinforce that narrative.
Mohammed Kozbar, chairman of Finsbury Park Mosque, whose Imam, Mohammed Mahmoud, protected the attacker from angry worshippers, says that even if ISIS does not use the attack in its propaganda, it will still revel in its aftermath.
"This is what they want. This is what they are aiming for," he says. "We should not make them too happy about it. This is why we work together as partners and make sure we tackle these issues of extremism, as well as Islamophobia and hate crime. Unless we tackle them, such attacks might increase. We need to work on both."
Finsbury Park Mosque, which had previously been linked with radical Egyptian cleric Abu Hamza al-Masri, known for his hate speech and ties to extremists in his time at the mosque from 1997 to 2003, has transformed its image following the arrival of new management in 2005.
Kozbar, who hasn't slept since the attack, tells Newsweek the mosque will do all it can to make sure the recent events in London do not embolden right-wing extremists and jihadists.
"These extremists want to divide our community and spread hatred, fear and division. We encourage our people to go on with their lives as normal," he says. "We don't want these extremists to win and to change our lives. We will not let them do that."