Here's How to Formally Eat Pizza, According to an Etiquette Expert
If you ever find yourself being served pizza in a formal setting, a British etiquette expert has some advice for you.
Lucy Challenger, who shares etiquette tips on TikTok, posted her guide to eating pizza on May 10. The video has amassed over 300,000 views and hundreds of comments debating Challenger's method.
"I think knowing all etiquette helps to be polite and respectful," Challenger told Newsweek. "Cultural etiquettes vary around the world and I believe one should respect all cultural etiquette."
The expert sat in front of a pizza for her demonstration. "In formal dining in Britain, it's unlikely that you'd be served pizza," she said. "But if you were, you would use a knife and fork to eat."
"Firstly, you would cut a triangle within the pizza," Challenger went on. "Start from the center, and then with a zigzag motion, cut through the pizza and repeat to create a neat-sized triangle."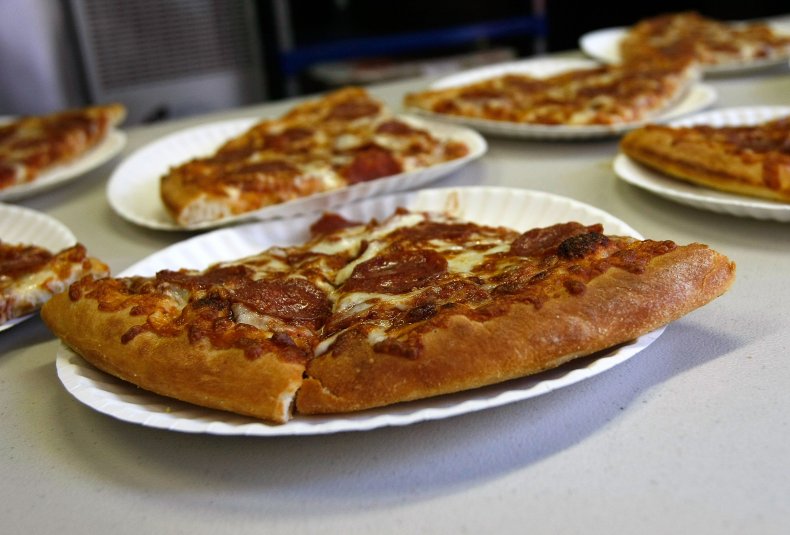 Instead of picking up the cut-out slice, Challenger said, "We would work from the smallest point of the triangle to eat. I would cut a small bite-sized portion from the center of the triangle, spear it with my fork and then place it into my mouth. I repeat this process, working up the triangle to the largest section of the crust."
Challenger concluded that anyone can pick up pizza if they wish, but in a "formal British setting," she recommended using a knife and fork.
The video ignited debate among viewers who proffered strong opinions about the correct way to eat pizza. According to a survey by OnePoll conducted earlier this year, one in 12 Americans eats pizza with a fork and knife.
"If [you] ever catch me [doing] this put me out of my misery," declared a viewer.
"Don't care if I'm eating in Buckingham Palace with the queen," another said. "I'm picking it up and folding it with my hands."
One pizza lover suggested a less etiquette-driven alternative. "Nah, slide the pizza slightly off the edge of the plate, pick the plate up and graze on the overhang while you watch Netflix. No mess anywhere," they wrote.
However, other commenters sided with Challenger, saying they followed her rules in their own locales.
"We never eat pizza using our hands in Brazilian restaurants, it's considered extremely rude," said a viewer. "We do it at home though, usually on a piece of napkin."
Another comment agreed, "I always use cutlery if I'm in a restaurant having pizza. I also use cutlery for Italian style pizzas, even at home. But I use hands for take away."
For her part, Challenger told Newsweek that she often used her hands while eating pizza at home.
"But at most restaurants, even informal ones, I would personally choose to eat with a knife and fork for ease," she said.
Admirers of British etiquette might be curious to read Newsweek's compilation of 21 royal etiquette rules, Queen Elizabeth's secret handbag signals and the protocols for visiting Buckingham Palace.