How France Avoided a Divisive 'Stop the Steal' Movement | Opinion
In late 2020, in the wake of the U.S. presidential election and the deluge of false claims it generated around alleged massive voter fraud, disinformation experts started to worry: Could this phenomenon be replicated in other democracies? Or was election misinformation a purely American phenomenon?
In December 2020, we at NewsGuard, a company that rates the reliability of news sites, had found more than 40 French, Italian and German-language websites republishing false claims about the 2020 U.S. election. Misinformation about voting was undoubtedly reaching Europe—threatening, in France, to feed distrust in the democratic process.
However, until the second round of the French presidential election, on April 24, 2022, election-related misinformation remained relegated to the fringes of social media. And even since Emmanuel Macron's reelection, despite efforts of hoaxsters to actively promote such narratives, this type of misinformation has not really gone viral.
Several factors explain why false narratives did not emerge as widely as initially feared. For a long time, the COVID-19 pandemic concentrated most of the attention of misinformation providers; then, the invasion of Ukraine by Russia was the subject of most new content on French-language misinformation websites.
Narratives questioning the integrity of the French election did emerge online. Some even read like copy-pasted versions of U.S-born myths: Marine Le Pen had allegedly mysteriously lost votes on election night; software company Dominion Voting Systems, which Donald Trump and his supporters falsely accused of having deleted or switched votes in 2020, was selected to count votes to fraudulently favor Macron and more.
Yet, by the time Macron was officially declared the winner, on April 27, 2022, the threat of a French "Stop the Steal" movement seemed more and more remote.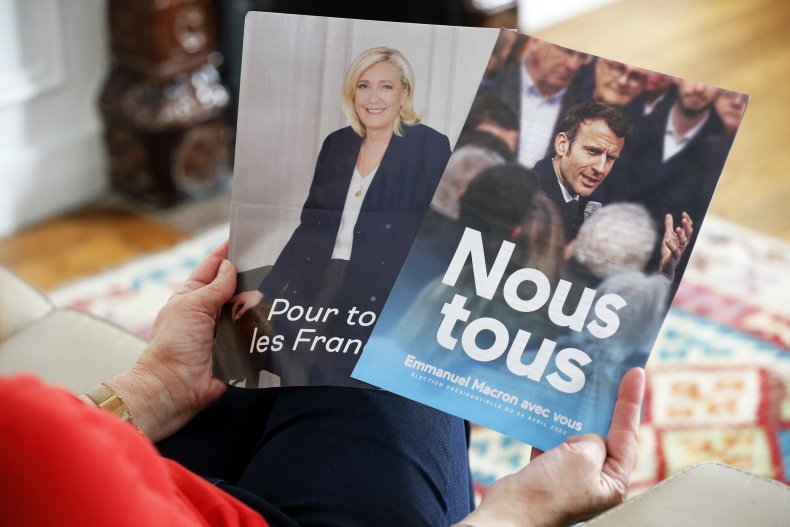 That's because there was a big difference between what happened in the U.S. and in France. For months preceding the U.S. presidential election, President Donald Trump had provided a national platform for claims of an upcoming fraud. As early as April 2020, he questioned the security of mail-in ballots. And on Nov. 4, 2020, while votes were still being counted, he said: "This is a fraud on the American public. This is an embarrassment to our country." More than 50 lawsuits followed, keeping these claims front and center in the national discourse. Then, on Jan. 6, 2021, rioters attacked the U.S. Capitol to prevent the certification of an election they considered fraudulent, but was deemed "the most secure in American history" by the U.S. Cybersecurity and Infrastructure Security Agency (CISA).
In stark contrast, all major candidates in the 2022 French presidential election recognized the outcome of the election as legitimate. On April 24, 2022, Marine Le Pen gave a concession speech, stating: "Strong winds of freedom could have swept across the country. But voters have decided otherwise, and I respect it." While denouncing the "unfair, brutal and violent methods" of Macron, she did not once question the legitimacy of his reelection.
Radical left-wing candidate Jean-Luc Mélenchon, who came in third in the first round, did accuse Macron of being "the most badly elected president of the Fifth Republic," but he also stated, "Voters have decided."
Other candidates, including far-right commentator-turned-politician Éric Zemmour, also recognized the validity of the results. "Unfortunately for France, unfortunately for the French, it is indeed Emmanuel Macron who was elected," he said at a press conference on April 24. In his concession speech two weeks earlier—after winning 7.1 percent of the votes in the first round—he said: "I could not convince enough of our fellow countrymen. History will tell us why we did not manage to do that, despite a majority of the French people sharing our concerns and hopes. Perhaps it's because there was no real campaign and debate; perhaps it's because of the coverage we received, of the international situation; and perhaps also, simply because of me." Fraud was not among the reasons invoked.
The only French presidential candidate who did, on multiple occasions, share posts alleging fraud on social media was far-right politician Florian Philippot, a former official of Marine Le Pen's party, who withdrew from the race in February 2022 after having failed to obtain the required number of signatures to officially run.
In the U.S., at least one Trump supporter tried to galvanize the French people into their own "Stop the Steal" movement. On April 25, Arizona state Senator Wendy Rogers tweeted: "Macron stole the election. Dig deeper our fellow French patriots!"
Yet, without a big enough megaphone on the French political scene to promote this claim, and with Macron's opponents focused on the next French democratic rendezvous—the legislative elections to be held in June—France seems, at least for now, protected against sweeping waves of electoral misinformation.
Chine Labbe is managing editor and vice president of partnerships, Europe and Canada, at NewsGuard, a U.S. company that provides credibility ratings and detailed "Nutrition Labels" for thousands of news and information websites, and alerts internet users on sources of misinformation. She is based in Geneva, Switzerland. Before joining NewsGuard, Labbe was the host and producer of Good Code, a podcast on ethics in digital technologies, that she created in 2018 with Cornell Tech's Digital Life Initiative (DLI), in New York. She previously worked for six years as a print reporter for Reuters in Paris, where she covered politics, courts, security and terrorism, and as a multimedia producer for The Economist in New York. She is a former Fulbright scholar and graduated from a dual degree program between the Columbia University Graduate School of Journalism and the Sciences Po Journalism School in Paris in 2010.
The views expressed in this article are the writer's own.