How France is Helping its Children Cope With the Paris Attacks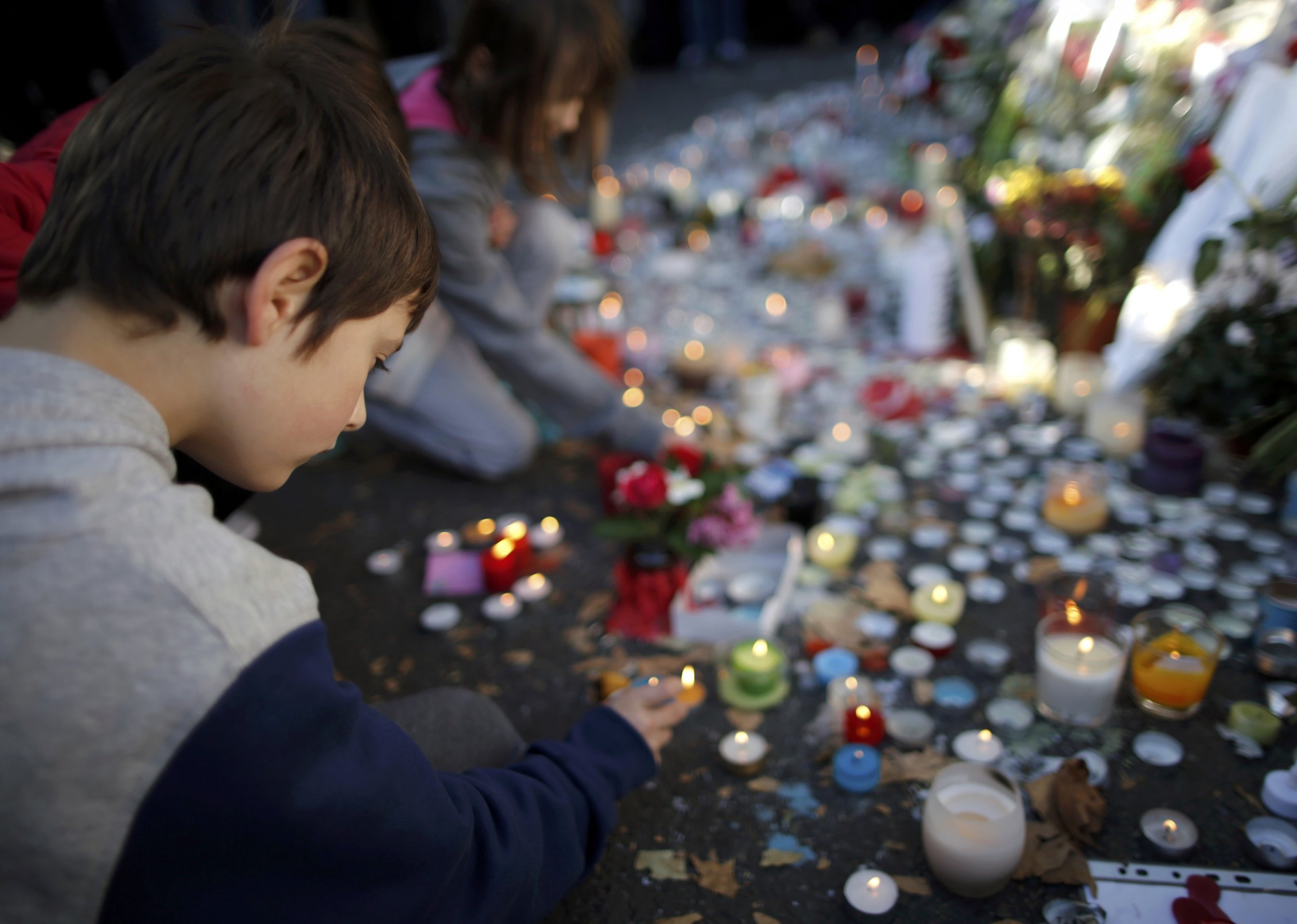 Wrapped up in a winter jacket with his father by his side, little Brandon Le is telling a French journalist what he knows about the Paris attacks that killed at least 130 people on November 13.
"Bad guys are not very nice," he says, standing at memorial outside the Bataclan theater, where 89 people died last Friday. "We have to be really careful because we have to change houses."
The video of father and son, which has been viewed nearly 40 million times this week, goes on to show Brandon's father, Angel Le, comforting his son by telling him that the flowers and candles placed on the ground to remember the dead are more powerful than the guns used by militants to kill them. Brandon says those words made him feel better, but elsewhere in the segment, filmed for Le Petit Journal, a news show on French TV channel Canal Plus, a little girl, Valentine, cries while being interviewed about the attacks.
"I imagined there was a war. And I don't like war," says Valentine. "I want all this to stop."
With rolling news and social media providing a constant stream of updates and images about violent and traumatic events around the world, how can parents and teachers help children understand? French newspaper Liberation launched Le P'tit Libé​ in September as a news resource on specific events for 7- to 12-year-olds. After the Paris attacks, writers quickly put together an unscheduled edition to address the violent events, says Sophie Gindensperger, social media editor at Liberation and one of three journalists who writes for Le P'tit Libé​.
Using simple, but not condescending, language, P'tit Libé​'s Paris attacks edition breaks down the attacks into four questions: What happened? Why? What did it change? What happens next? Gindensperger says the most important thing is to tell children the truth in a comforting way, so the "very violent men" who carried out the attacks are called "terrorists" and the death toll of 129—which rose to 130 on Friday—is included. A black mark on a map shows the areas of Iraq and Syria that the Islamic State (ISIS) militant group considers its "caliphate," and another map shows the location of ISIS-controlled territory in proximity to France. Le P'tit Libé also provides an explanation of suicide bombers: "terrorists who kill themselves when they kill other people."
Published in French on Monday, the Paris attacks edition of P'tit Libé has been translated into English and was published in the print edition of Liberation on Saturday.
"When we created the P'tit Libé, we really wanted to write about the news aimed at children, and not [just] 'children news,'" says Gindensperger. Previous editions of P'tit Libé have covered the refugee crisis in Europe and the upcoming Paris climate talks. The next version will focus on France's general elections.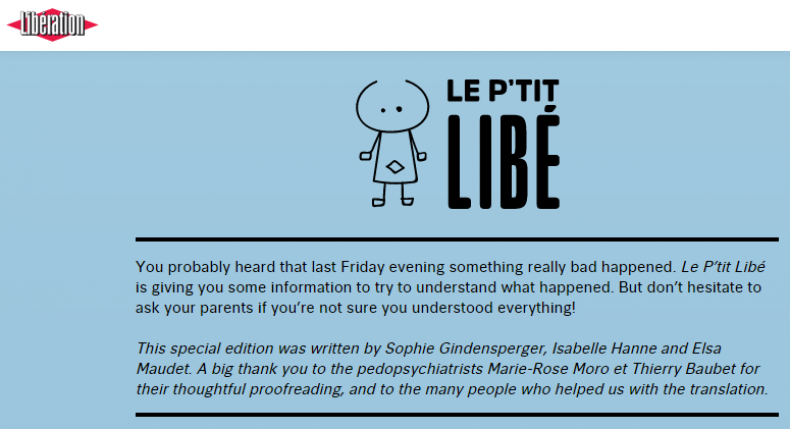 At the advice of Marie-Rose Moro, a child and adolescent psychiatrist who helped put the Paris edition of P'tit Libé together, the names of some of the attack sites, including the Bataclan and Stade de France, are included. It's helpful for children to be this specific, she says, because "if you say only part of [where the attacks happened], they imagine that it's worse."
"They imagine it's more difficult, more tragic, more dangerous, more violent," says Moro. "We need to find the right way to help [children and adolescents], and it's not so easy."
The P'tit Libé team, which includes three journalists, a developer and a graphic designer, decided against including photos of the victims or the night of the attacks, opting instead for images of candles and stuffed animals placed at a memorial and of French military carrying large guns near the Eiffel Tower. To ensure they were being honest to their young readers, "We felt obliged to tell, maybe, that there may be another [attack]," says Gindensperger.
Resources like P'tit Libé help parents who might find it difficult to find the right words to explain violent events, says Moro, who has this week helped young people affected by the November 13 attacks. One of them, a 17-year-old boy, lives near the Bataclan and witnessed people being killed. He asked Moro how he and the gunman could belong to the same community and wondered what he could have done to save the people he saw die.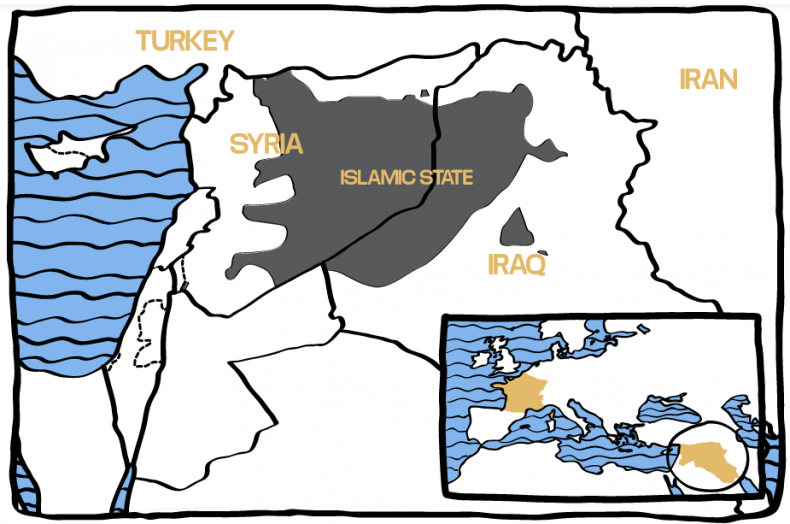 Sam Hackworth, an Austin-based child psychologist and CEO of AskaChildPsychologist.com, says P'tit Libé's Paris attacks edition covers what children need to know, but suggests the content might be more suitable to those slightly older than the 7- to 12-year-olds it's intended for. After large-scale, traumatic events like what occured recently in Paris, adults should try to emphasize to children, especially those under eight, that such incidences are rare and, hopefully, far away.
"The context for [young children] is, those same people could be here any minute or any hour now," says Hackworth. "The repetition of the news is that it's happening over and over and younger kids see it as, 'Oh my God, it happened again.'"
Even using child-friendly images to represent violent attacks can be tricky, says Hackworth. Younger children might see fluffy toys at the memorial and think that children were targets or victims, says Hackworth. The widely-publicized photograph published in ISIS's magazine, Dabiq, of the supposed bomb used to down a Russian passenger jet last month includes a common everyday item: a soda can. For young children, that could translate to "any soda could be a bomb," says Hackworth.
Ellen DeVoe, an associate professor of social work at Boston University, says important lessons were learned about explaining traumatic events to children in the aftermath of the September 11, 2001, attacks. "We learned to tell the truth to very young children, but don't need to include all the nitty gritty details," says DeVoe. Parents should also make sure they deal with their own responses by talking with other adults, as well as helping their kids and answering their questions, she says.
Le P'tit Libé​ is not the only resource aimed at helping children understand the attacks. French media group Bayard has created a number of documents for teachers and parents to help explain the Paris attacks to children and adolescents. Earlier this week, Astrapi, a magazine for 7- to 11-year-olds, published a two-page leaflet with the image of a crying Eiffel Tower holding hands with children in front of a small pool of blood.
The leaflet, which has been endorsed by the French government and translated into English, includes questions from children. Antoine, 7, asks, "Can the terrorists come into our house?" while Julie, 8, asks, "Is it true that France is at war?" French President Francois Hollande said "France is at war" soon after the attacks.
Anna Seassau, a Paris resident and a project manager for photography campaigns, says she's trying to keep everything normal for her three children, aged 14, 12 and eight. Part of that means reassuring them that life must go on while being honest about the fact that another major event, be it man-made or natural, could occur. "It could be a nutter with a gun," says Seassau. "I'm not talking terrorists. It could be a natural disaster."
As was the case for most Parisian parents, last Friday was the second time Seassau had to help her children try to understand the unexplainable. After 12 people were killed in attacks on the offices of satirical French magazine Charlie Hebdo in January, she says she used Le Petit Quotidien, a news source for 6- to 10-year-olds, to help explain the attacks to her kids. The information in P'tit Libé, she says, is too complex for her 8-year-old daughter but not sophisticated enough for her 14-year-old son, who reads The Economist. One option for Seassau has been to show her children videos, including a moving clip of Antonine Leiris, who lost his wife, the mother of his 17-month-old son, in the attacks last week.
Seassau says she's thinking about suggesting a terrorism drill alongside the fire drill at her children's school so that children know what to do and how to act in case someone bursts in with a gun. (The U.K.'s National Counter Terrorism Security Office recently issued new guidelines on what to do during a shooting or bomb attack and said you should run and hide instead of playing dead.) A school counsellor was available for her children all week in case they needed to talk, she says.
She's also considering taking her children to the Place de la Republique, which became a de facto site of collective mourning after the Charlie Hebdo attacks in January. This week, it continued its role as a defiant place of gathering after the shootings and suicide bombs.
"I don't want them to be frightened on the streets," says Seassau. "We just have to keep going."